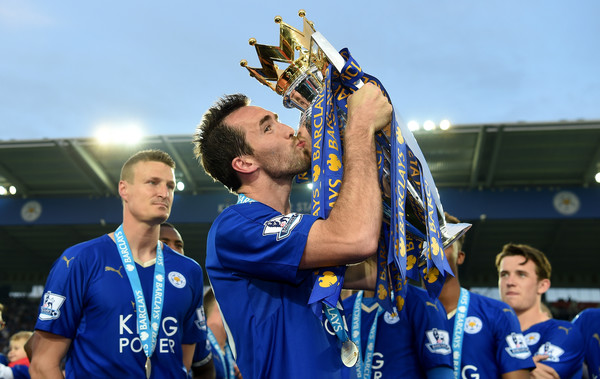 Leicester City's Christian Fuchs remembers the first time he saw New York City. Merely a tourist, he was awe-struck, a bit overwhelmed, as he gazed upon the bright lights and monstrous skyscrapers. But after adopting the city as a second home, Fuchs is now looking to continue his post-Premier League career in the Big Apple.
Fuchs is just months removed from one of the most incredible runs in soccer history. As a member of Leicester City, the Austrian left back shocked the world by claiming the Premier League title, capping off a miraculous run that seemed to be little more than a fairy tale until it finally wasn't. A title defense and Champions League berth await in the coming weeks and months, but the Austria captain has his eyes set on finally making a permanent move to his second home.
Now in New York for a series of camps, Fuchs is looking forward to eventually relocating permanently, a move he expects to make within the next two years, and he even has a club in mind that could help him further his version of the American dream.
"I'm still a pretty good age to be a soccer player. I'm not one of those old guys coming to the U.S. that comes here just to retire," Fuchs told SBI, "That's not how I see it. I want to retire here obviously, but I'm still in pretty good shape, not too old. What I want to do is to stay in New York and play for one of the clubs here. If they would take me, I like the New York Cosmos. They have a great history and my friend, Raul, played there. I think this club has a good future and I would love to play for them.
"The Cosmos back in time were big in the U.S. They had Beckenbauer, Pele. They had Raul. That's something that feels good to me, so why not there?"
Throughout Leicester's Premier League run, Fuchs' family remained stationed in Manhattan. They made it work, because they truly had no other choice. Fuchs says his wife, Raluca, remained his rock, while motivating him to return to his family as a Premier League champion.
Now, Fuchs is tired of seeing his family jump on airplanes every other week, and is looking to continue his illustrious career in a country he now sees as home.
It wasn't always home, though. Born in Neunkirchen, Austria, Fuchs joined Wiener Neustadt as an 11-year-old before truly making his name on the Austrian scene with SV Mattersburg. A move to Germany's VfL Bochum followed before Fuchs truly broke out on the international stage for German powerhouse Schalke, where he played with former Cosmos star Raul.
After four years at the Bundesliga club, Fuchs made the move to Leicester on a free transfer, signing a three-year deal with a club that looked set to battle relegation again. They didn't, and Fuchs defied the odds by playing a total of 34 matches for the club en route to a Premier League crown.
"It's special, but I don't think I've really realized how big it will be in the future," Fuchs said. "There was pressure, because obviously we wanted to do it. We wanted to win it. Did we believe in it? Yes, we had to go for it. Did it for real that we could really make it? There was always this feeling in your stomach. 'Can we do it?' At the end, we simply said, 'Let's try. Let's give everything and try out best'. Obviously, it worked out pretty well.
"We just want to continue the form that we started on last season. That's the biggest goal. I retired from the national team, so I can devote myself 100 percent to Leicester. When we keep the squad together, we have a good chance to have a great season again. Is it going to be qualifying for the Champions League for next season? I don't know, but I think a good spot in the next year, top 10 would be amazing."
While the highs of Leicester will always prove memorable, the process of educating the next generation is another highlight of Fuchs' career.
For each of the past two years, Fuchs has organized the Fox Soccer Camp in the New York/New Jersey Area, where he joins a series of coaches including former MLS goalkeeper Michael Gspurning in teaching the next generation.
The idea of running a camp stemmed from Fuchs' own experience with his son. Several years back, Fuchs sent his son to a soccer camp, but the defender was dismayed when he realized his son "was just standing there with his lunchbox; it was more or less day care". It wasn't the training Fuchs envisioned, and his goal is now to make sure kids in the U.S. can receive the proper training needed to develop proper players.
While the camps allow Fuchs to teach in his second home, it also allows him to fill what he sees as a need in the U.S. Camps like Fuchs' are commonplace throughout Europe, but Fuchs sees so many diamonds in the U.S. just waiting to be unearthed.
"It satisfies me," Fuchs said. "When you go there and see all the kids, when they have a smile on their face and you see the programs in a week, we have really good coaching, I can tell the kids make progress with their skills and their abilities. They come back the next year. This is the second year this time, and there are so many second-time campers and they love to be there. It shows, and it makes me really happy.
"I just think that U.S. soccer can develop lot," Fuchs added. "The kids, they have pure determination, and they give everything to make their dream come true. I had one kid that went last year for two weeks in Europe, all by himself, and he did very well. I think there's a lot of potential here in the U.S. It just takes the right training and the right people to push it."
With his camp coming to an end, Fuchs will jet back to Leicester to begin preseason training before returning to the U.S. in several weeks to take on Paris Saint-Germain in California as part of the team's preseason tour.
It gives Fuchs another chance to experience soccer in the U.S. The Leicester defender says he's frequently in contact with Seattle Sounders midfielder and fellow Austrian national team member Andreas Ivanschitz, discussing the ins and outs of playing in America. While in Leicester, Fuchs follows MLS on Sky Sports, and has enjoyed several MLS games while on vacation in the states.
A grueling Premier League run awaits. Following a busy summer that saw Fuchs captain the Austrian national team in the Euros, Fuchs heads into another campaign in the world's most unpredictable league. Fuchs will once again be tested by the best England has to offer, but the defender will always keep one eye on a country that he is ready to call home sooner rather than later.
"I think, overall, soccer in the U.S. is growing very fast. People love the game," Fuchs said. "When the World Cup was in Brazil, the national team played a pretty big role. For the past couple of years, soccer really developed fast. There are new clubs coming up in America and I think soccer here has a very big potential to grow very fast if the right people have their say. Three years from now? I don't know, but in the future, the U.S. will play a big role in the soccer world overall.
"Getting to know the (New York City) other than being a tourist, it's special. The people here, they're very helpful, very nice and they have fun. I have a lot of friends over here. There's always something to do, always something new going on. That drives me… I love it. I don't want to be anywhere else."