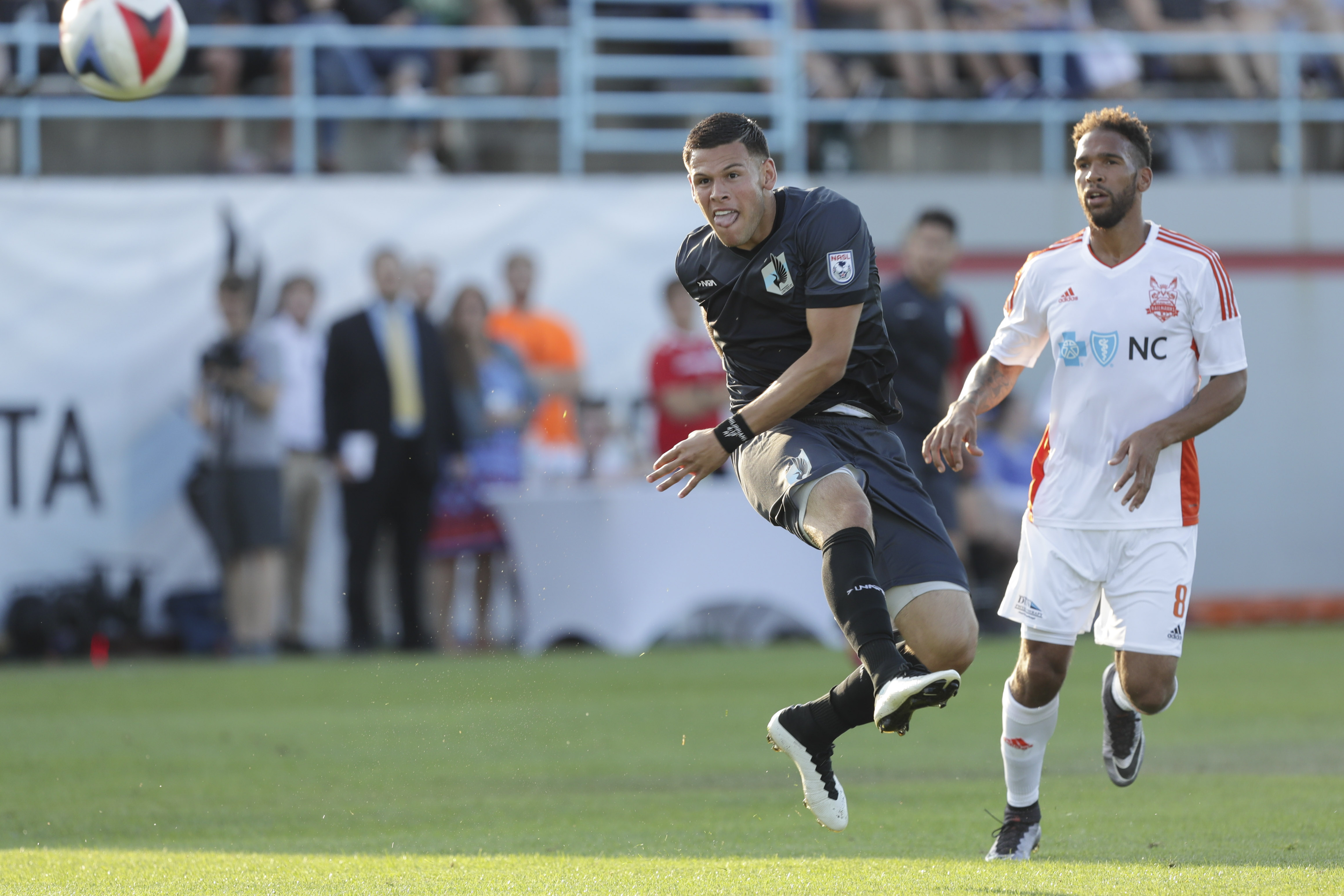 After a healthy dose of goals in the last seven days, NASL is starting to really heat up at the start of the Fall Season.
While the New York Cosmos have a healthy lead in the combined standings, only five points separate six teams in the race for a post-season spot. FC Edmonton's tactical play and narrow wins have them sitting third on 21 points, but they'll face a tough defense this weekend against Canadian rival Ottawa Fury.
Minnesota United will have a chance to right the ship at home, coming back up against after Indy Eleven after a loss on the road last weekend.
Meanwhile, two teams in need of confidence boosts will have a good chance at three points when the Tampa Bay Rowdies host Puerto Rico FC and Miami FC faces Jacksonville Armada.
Here's a closer look at this weekend's NASL action:
FORT LAUDERDALE STRIKERS VS. CAROLINA RAILHAWKS (SATURDAY, 7 P.M., ESPN 3)
The Fort Lauderdale Strikers have gotten off to a rough start this Fall, suffering two losses in their first three games. The Southern Florida side have continued their up-and-down trend from last season, failing to find consistency in 2016.
Similarly, the RailHawks have either been red-hot or leaking goals this year. Recently, they've been on the up, with Nazmi Albadawi back in great form, as well as the major acquisition of striker Omar Bravo from Chivas.
TAMPA BAY ROWDIES VS. PUERTO RICO FC (SATURDAY, 7:30 P.M., CBS Sports)
Stu Campbell's Tampa Bay Rowdies are yet to reach expectations set for them by their off-season acquisitions, but the team play is getting there. The goals will be expected to start hitting the back of the net soon, with Georgi Hristov finding form and Tommy Heinemann yet to truly find his stride.
Puerto Rico FC have acquitted themselves well in their three league matches, earning two draws. But they showed frailty in a loss to an unimpressive Armada team, and could possibly be in for a tough match this Saturday in Tampa.
MIAMI FC VS. JACKSONVILLE ARMADA (SATURDAY, 8 P.M., ESPN 3)
Miami FC's new stars started to show well last weekend, as they were minutes away from a draw against the league-leading Cosmos. Kwadwo Poku scored to keep his hype train moving, while Dario Cvitanich continued his impressive season.
A home game for Miami against the Armada could be a real chance for a statement victory for the expansion team. Tony Meola's side has been leaking goals this year as they struggle to find an identity under their new coach.
MINNESOTA UNITED VS. INDY ELEVEN (SATURDAY, 8 P.M., beIN Sports)
Minnesota United host Spring Season champions Indy Eleven in what is undoubtedly the matchup of the weekend. Indy Eleven has had the Loons' number for a while, and have continued their success against the northern side this year. United will surely be up for this home game, though.
Anything could happen as the league's top two goalscorers in Christian Ramirez and Eamon Zayed face off. Expect fireworks in this one.
RAYO OKC VS. NEW YORK COSMOS (SATURDAY, 9 P.M., ESPN 3)
The New York Cosmos have continued their dominance into the Fall Season, recording three wins to sit atop the table. They'll face a challenge, though, in breaking down a Rayo OKC side that hasn't lost in five league games.
The biggest strength of the Cosmos this year is their incredible depth, with a number of attacking options all contributing at different times. Recently, Lucky Mkosana has come back into form after being relegated to a substitute role, but Yohandry Orozco, Juan Arrango and Andres Flores have all also been scoring lately.
Rayo's strength has been the MLS veterans that make up their core. Futty Danso, Michel, Robbie Findley and Sebastian Velasquez have all been important for the expansion side. If Georgios Samaras can start finding the back of the net, Okaloma City has a good shot at the post-season.
FC EDMONTON VS. OTTAWA FURY (SUNDAY, 4 P.M., ESPN3)
The final match of the weekend is an all-Canadian affair, pitting the fourth place FC Edmonton against the Ottawa Fury in dead last.
The Eddies are riding the success of Jake Keegan and Daryl Fordyce in the attack, but its their solid defensive play that has them so high up the table. Meanwhile, the Fury have allowed 17 goals this year after the loss of several key players from 2015.