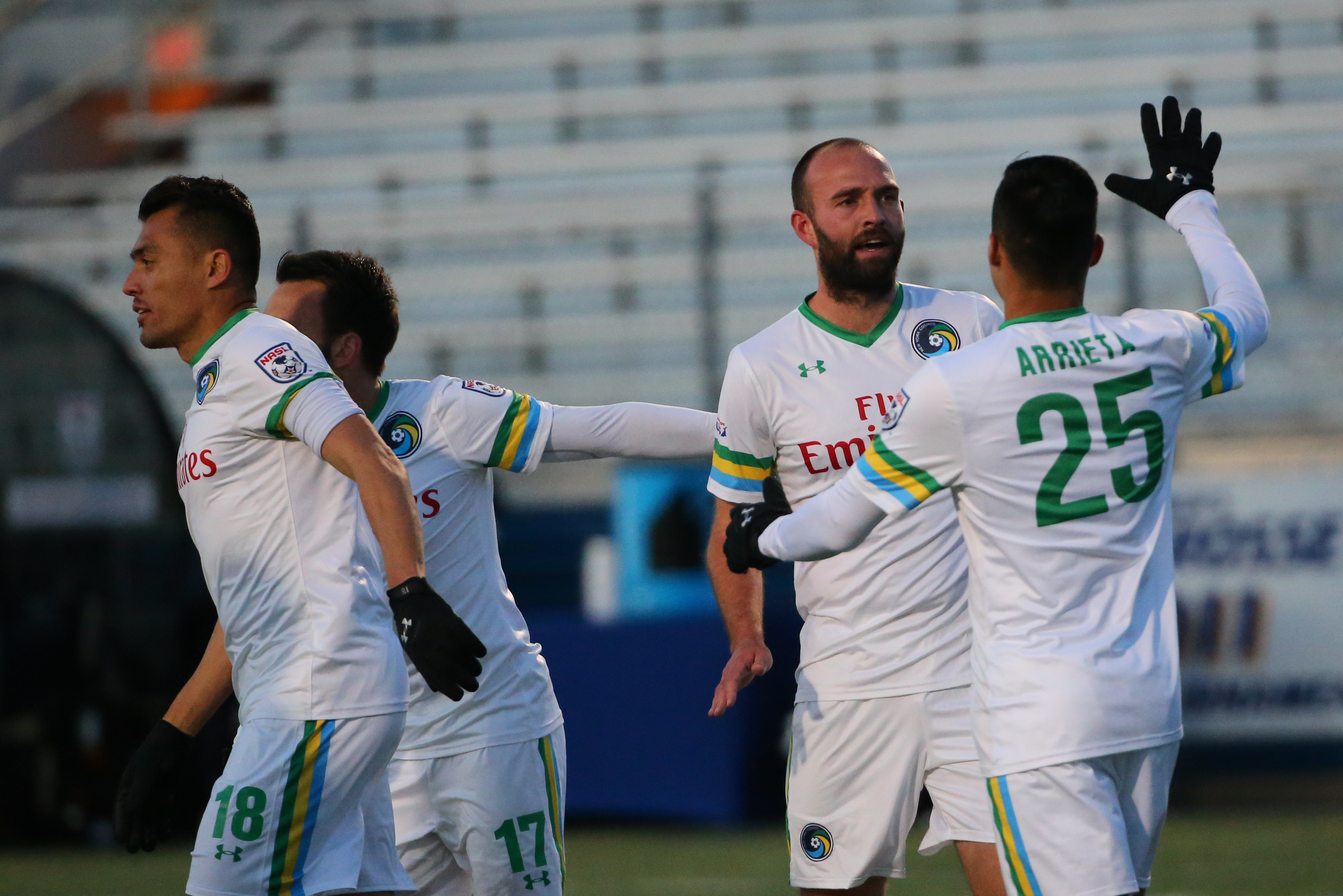 The results on Wednesday night in NASL served to further enforce the trends of the league this season.
Indy Eleven, with a completely retooled squad from previous years, continued to roll with anther big victory at home. The New York Cosmos proved once again their dominance in the league, further punishing an unstable Jacksonville Armada side.
Elsewhere, two expansion teams played to a thrilling draw, with Rayo OKC earning a point late courtesy of two former MLS players.
INDY ELEVEN 3-0 FORT LAUDERDALE STRIKERS
Indy Eleven has been red-hot in 2016, and the trend continued for the club and their top striker Eamon Zayed as early as the 10th minute in this match.
Zayed received a high cross near the penalty spot and put it in the top corner for Eleven's opening goal. In the 21st minute, the lead was doubled when Duke Lacroix received a ball from Zayed, dribbled into the box and placed the ball brilliantly past the advancing keeper. The scoring capped off just five minutes later, with Greg Janicki finishing a Nicki Paterson corner kick.
NEW YORK COSMOS 3-0 JACKSONVILLE ARMADA
The Cosmos played Jacksonville Armada off the field in this midweek matchup in New York.
The goals started with an Andres Flores goal that completed some impressive short passing. David Diosa added a second before halftime, poking home a driven cross from Flores. Adam Moffat ended the scoring in the 79th minute, blasting in a strike from distance after winning the ball off Pascal Millien.
RAYO OKC 2-2 PUERTO RICO FC
Puerto Rico FC looked to continue their flying start with a win on the road, with the side boasting a 2-o lead at the hour mark. Two strikes in the final 10 minutes of the match, though, showed the resilience of Rayo OKC.
Hector Ramos finished off a cross from six yards out to put the visitors up 1-0, and then Tyler Rudy took advantage of a horrible giveaway in the box by Derek Boateng to double the lead.
Sebastian Velasquez halved that deficit in the 83rd minute, when his high shot finished off a long sequence in the box. Michel then put away a 90th minute penalty to ensure the point.