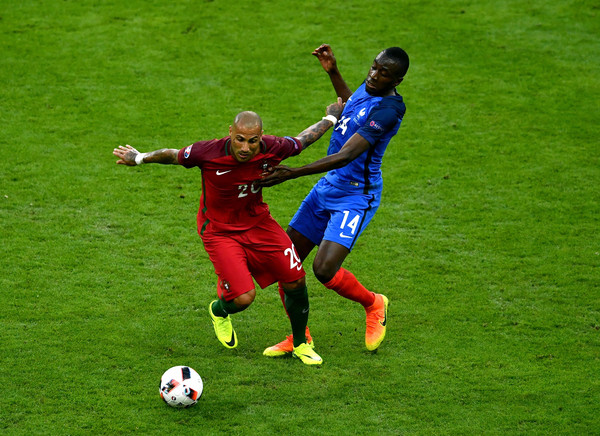 In a match where Cristiano Ronaldo was forced to exit due to injury and France dominated the majority of the game's chances, Eder proved to be the difference for Portugal in Sunday's final.
Portugal captured its first major tournament title at Euro 2016, knocking off hosts France, 1-0, in extra time. Eder had several key chances after making his way onto the field in the second half, but none bigger than his winner in the 109th minute.
The French looked the more dangerous side early on, and nearly took the lead after 10 minutes. Winger Dimitri Payet played in a perfect cross from the left wing to Antoine Griezmann, but the Atletico Madrid attacker's header was tipped over the bar by goalkeeper Rui Patricio.
Portugal's talisman, Ronaldo, didn't have the afternoon he would have liked, as the 31-year-old battled injury from the early moments of the match. After coming out of a challenge with Payet in the eighth minute with what appeared to be a left leg injury, the Portuguese star tried to play on despite a noticeable limp.
Ronaldo exited the match in the 25th minute, being replaced by veteran winger Ricardo Quaresma.
The speed of play slowed down in the second half, however, Olivier Giroud found his best chance of the match with a quarter hour remaining. The Arsenal striker hit a powerful effort towards the bottom corner, but Patricio managed to keep the attempt out.
Portugal responded with their best opportunity during regulation, when Quaresma's shot was headed for goal but French keeper Hugo Lloris made an acrobatic stop to keep the match scoreless.
Second-half substitute Andre-Pierre Gignac had an opportunity to stamp his name on the match, after striking the post in the 92nd minute, but his chance wasn't enough to beat the Portuguese keeper.
MAN OF THE MATCH
Few would have picked Eder to decide a major tournament final, but Rui Patricio's seven saves kept Portugal in Sunday's match and performed at a high level throughout the tournament.
MOMENT OF THE MATCH
The 109th minute will go down in history as one of the greatest moments in Portuguese soccer, after Eder's winner gave A Selecao their first major championship.
MATCH TO FORGET
Antoine Griezmann was brilliant for France at Euro 2016, capturing the competition's Golden Boot award, however, the Atletico attacker and his teammates couldn't find the net when it counted the most.