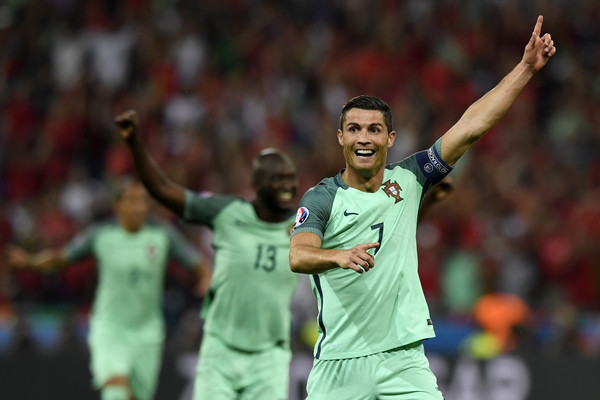 Portugal's run through Euro 2016 hasn't always been pretty, but Wednesday's semifinal performance against Wales proved their most decisive effort of the tournament.
It took the Portuguese stars time to find their rhythm, but Cristiano Ronaldo and Nani led the way with a pair of second half finishes in a 2-0 defeat of Wales. The win sends Portugal to the tournament's finale, where they will meet either Germany or France on Sunday.
Following a tense first half, Portugal found their breakthrough just five minutes into the second stanza with their biggest star leading the charge. On a corner kick, Ronaldo darted through the Welch defense before rising high above anyone else in the box. What followed was a rocket of a header, driving Portugal into the lead just moments into the second half.
Less than three minutes later, Nani all but sealed Portugal's spot in the final with Portugal's second goal. Following a knocked down header from Renato Sanches, Ronaldo fired a driven shot through the box. It was off target, but Nani lied waiting at the penalty spot to redirect the effort and earn Portugal a 2-0 lead.
On the other end, Wales were held quiet throughout a majority of the game, even after switching tactics to a back four. The Welch had several chances flounder out in the box, while Gareth Bale was typically held too deep to ever make a real difference. Wales' best chances came from set pieces, but Bale's crosses never truly threatened on the day.
Portugal, meanwhile, remained on the front foot, even after their goals. Jose Fonte nearly added a third off a header shortly after Nani's finish, while a 78th minute shot from Danilo Pereira was cleared off the line by Wayne Hennessey.
MAN OF THE MATCH
When his team was in need of a big play, it was Cristiano Ronaldo who stepped up. After heading home the opener, Ronaldo created Nani's second finish, all but sealing a spot in the tournament final.
MOMENT OF THE MATCH
Big players make big plays, and Ronaldo made the play Portugal needed just shortly after halftime. Ronaldo's goal changed the game and, because of it, Portugal's run towards an international trophy continue into Sunday.
MATCH TO FORGET
With a team as top heavy as Wales, it becomes much easier to effectively take a star player out of the game. Gareth Bale found that out the hard way on Wednesday, as the Welch star was held quiet by swarms of Portuguese defenders.