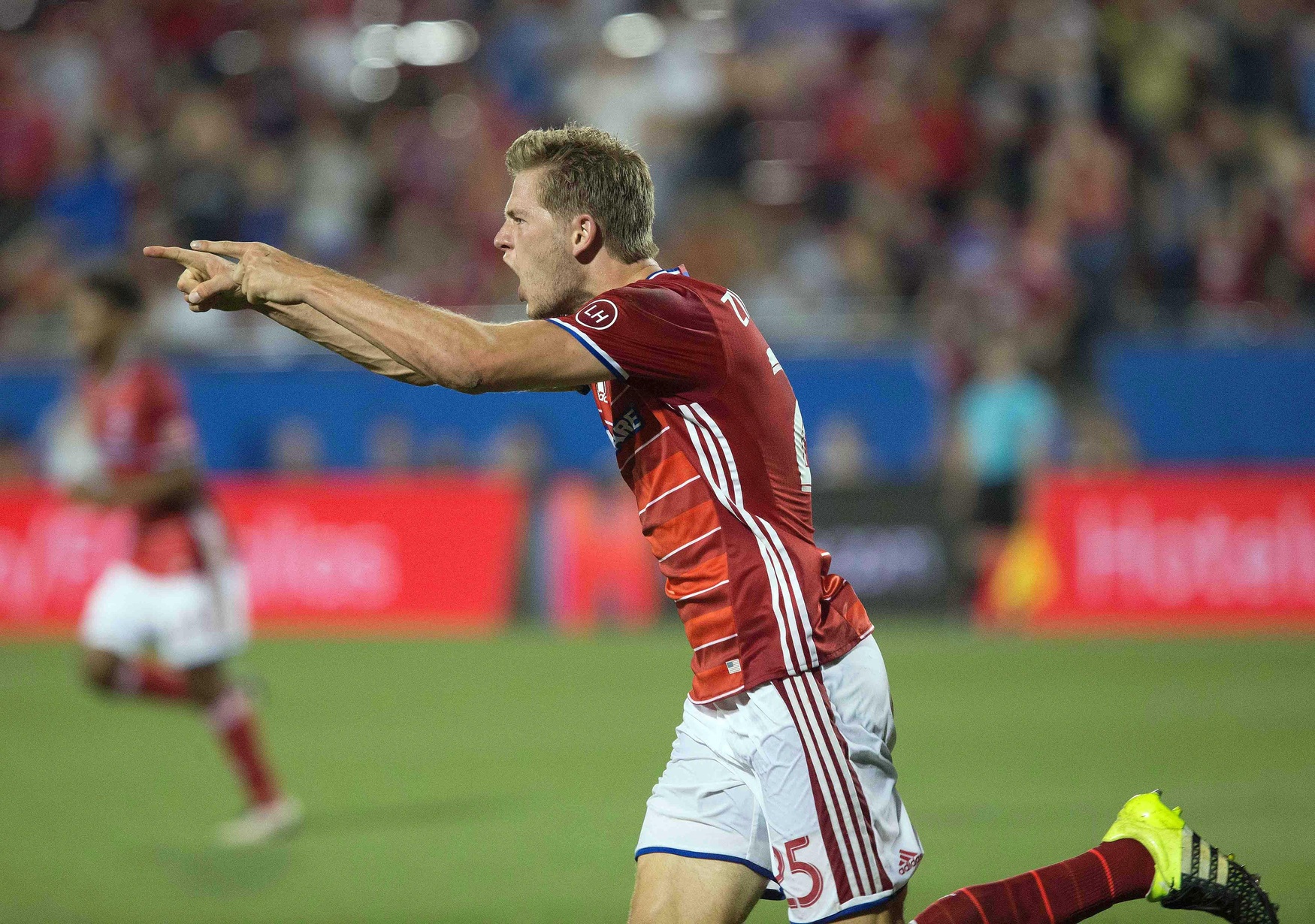 Walker Zimmerman took time to develop as a defender. Drafted seventh overall in 2013, Zimmerman worked his way through the FC Dallas system while honing his craft in central defense. A three-year push earned the defender a spot in FC Dallas' starting XI in 2015, and Zimmerman has more than justified his position in 2016 while leading FC Dallas to the top of the table.
After truly breaking into the starting lineup last season, Zimmerman has shined throughout 2016. The 23-year-old defender has started 18 games for FC Dallas, and has proven to be a dominant presence in the air throughout the season. Tested repeatedly throughout the year, Zimmerman has proven to be a rock in defense, repaying FC Dallas' faith in him with a half-season full of strong performances.
Without the presence of Matt Hedges next to him, Zimmerman has reached a new level while pushing towards the league lead in interceptions. However, Zimmerman's impact is not just felt in his own box. The centerback has contributed a pair of goals, joining an potent FC Dallas attack that seems to always attack from all sides.
Zimmerman's contributions have earned the centerback SBI MLS Midseason Defender of the Year honors, beating out several worthy candidates from across the league.
Here's a look at the rest of the candidates, as voted on by the SBI Editorial Staff:
2. AXEL SJOBERG
The hulking Swedish defender endured his growing pains throughout his rookie campaign, but the Colorado Rapids centerback has proved nearly unbeatable throughout his sophomore effort. Sjoberg anchors a defense that has allowed just 13 goals in 18 games.
3. LAURENT CIMAN
The reigning MLS Defender of the Year missed a chunk of time this season, but the Montreal Impact star has been as good as one would expect. Despite a trip to Euro 2016 with Belgium, Ciman has made 14 appearances for the Impact this season, helping lead the team to Eastern Conference contention.
4. DREW MOOR
Defense has always been an issue for Toronto FC, but the addition of Moor has helped patch up a now-solid backline. The veteran defender has enjoyed a strong defensive campaign with a TFC team frequently hurt by absences, while also adding a pair of goals on the season.
5. AARON MAUND
The Real Salt Lake defender has been in MLS for several years, but 2016 has been a breakout campaign. After earning a starting gig last season, Maund has made 16 appearances for RSL, even if his defensive stability has been a bit overshadowed by the team's free-flowing attack.
————-
What do you think of our selection? Which player has stood out to you as Defender of the Year in 2016?
Share your thoughts below.