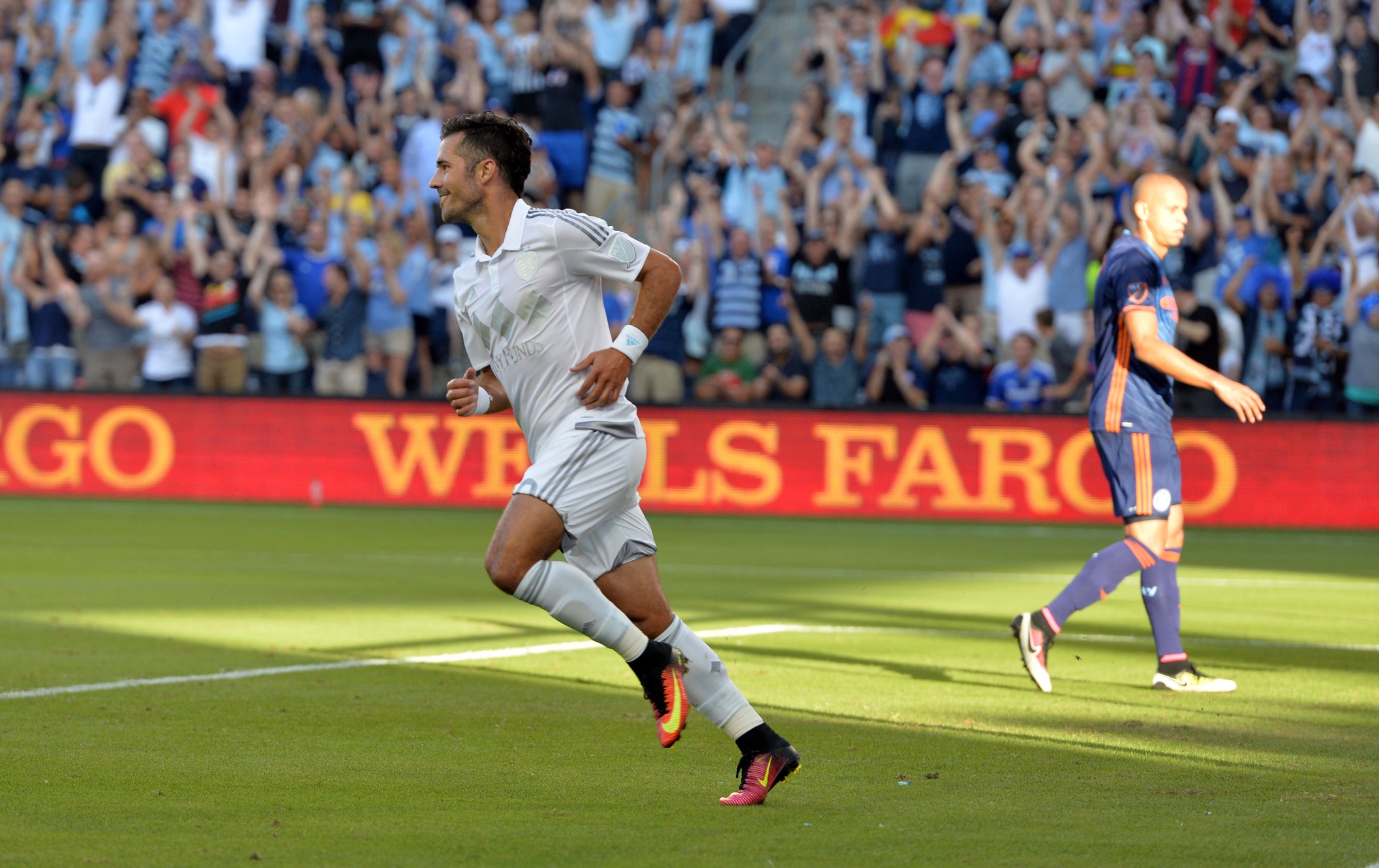 As the goal that sealed a 3-1 win and extended an unbeaten streak to five, Sporting KC center back Ike Opara's 51st minute goal sent a few important messages.
The first was that Opara was back, performing at the level Sporting KC knows he can, as Opara put in a strong defensive effort against MLS's leading scorer David Villa.  The second was that the finish proved that Sporting KC is beginning to find some form in the attack after months of struggling in front of goal.
Sunday's win highlighted Sporting KC's ability to spread the ball around as a team. Three different scorers found themselves on the scoresheet, while Opara hadn't scored since March 2015, in an away match against NYCFC.
Over the team's now five-game unbeaten streak, Sporting KC has won with three different scorers twice in a row and has only had one game in which one player scored all the team's goals, a 2-2 draw at Montreal Impact. Benny Feilhaber, who quipped that he thought Opara was offside on his 51st minute goal that counted anyway, said the balance in scoring is part of the reason for Sporting's good form as of late.
"It's nothing that we're doing consciously. I think it's just that we're producing more chances than we were at the beginning of the season. Our set pieces have been better, our runs too," Feilhaber said. "We're getting more guys inside the box and that was one of the things we wanted to make a point on from earlier games this year. That's what happens you get goals from different guys."
Since the struggles earlier in the season, Sporting KC has been scoring a lot more. The team has recorded 10 goals in the last four games. In the four games before that, Sporting  KC only scored three goals.
One of the biggest reasons for Sporting's success last season was its three-pronged attack comprising Feilhaber, Dwyer and Krisztian Nemeth. Nemeth was sold to Qatari club Al-Gharafa in the offseason.
"It's big for our team and we have to take away some of the pressure that we put on our forwards," Feilhaber said, "but with Dom [Dwyer] scoring so many of our goals and Diego [Rubio], with the way he plays as well, its good to spread [goals] out."
Sporting KC coach Peter Vermes had demanded more effort from his side earlier in the season, particularly in a 2-0 away loss to the Houston Dynamo. Now on a five-game unbeaten streak, Vermes said his team managed to change its ways.
"It's indicative of the way that we're playing," Vermes said. "When you're winning the ball high up the field like we are, when you are relentless in and around the box, and not letting them clear the ball and winning the second balls back.
"When you're doing all of that, those second and third chances happen and the other team winds up either losing concentration or they're just not in the right place and we take advantage of it. And so it's just a product of what we're doing in the game. And again, you get rewarded when you work as hard as we do on the field."
As the norm has been over the last few seasons with Sporting KC, strong defense leads the way to success. The defensive core is starting to look a lot more formidable. Not only does Matt Besler return from the Copa America, offseason signing Nuno Coelho returns to health in sync with Opara's good run of form.
Opara made a personal accomplishment with his performance, appearing for the 50th time in a Sporting KC shirt. The 27-year-old center back has a long history of injuries, and has now made 13 appearances for Sporting this season, the most since his first year in 2013 with 18.
Having held David Villa to a tiny contribution on the pitch Sunday night, Opara said one thing kept him sharp all 90 minutes.
"Attitude," Opara said. "Mentally I prepped myself for the last 48 hours, challenging a top quality striker, and some other guys that they have on the wings that come out of the midfield. I was just ready for that challenge."
"For me it just means a lot," Opara added. "I owe a lot of people that goal: the training staff [and] the coaching staff for believing in me and staying with me. And the guys on this team for supporting me as I was coming back."
With Opara back in the fold and a team of goalscorers starting to find their way, Sporting KC remains in their best run of form of the season.