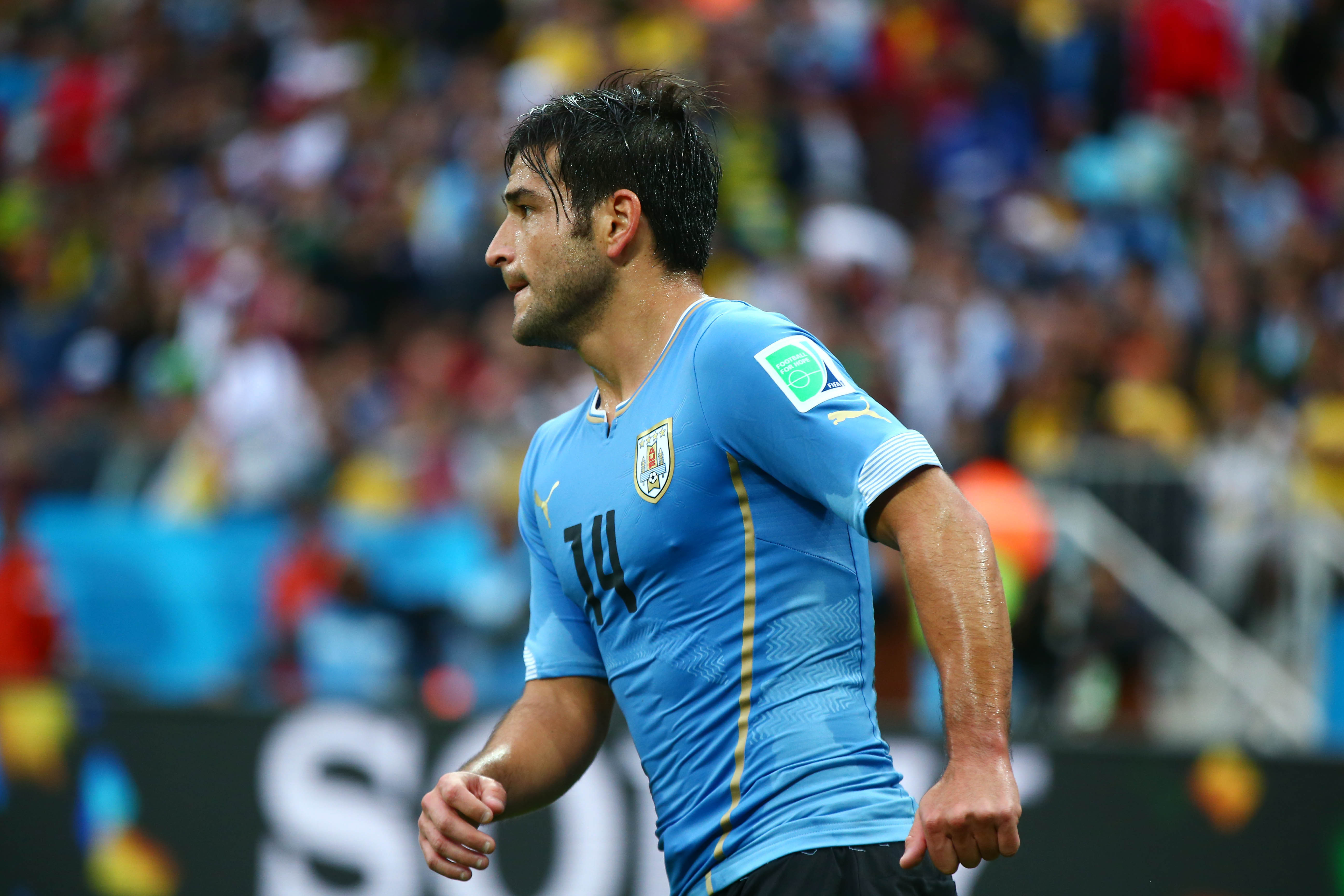 SEATTLE– They had to be music to the ears of Seattle Sounders fans, Garth Lagerwey's words on Wednesday afternoon.
Through 20 matches this season the Sounders have dumped hopeful cross after hopeful cross from the touchlines into the penalty area, treating the heart of the park like some sort of quarantine zone. The anodyne product, often difficult to watch, was the most impotent attack in MLS and the second-worst record in the Western Conference, enough to cost longtime head coach Sigi Schmid his job on Tuesday.
Enter designated player Nicolas Lodeiro, the brainy playmaking midfielder boasting the Boca Juniors, Ajax, and Uruguayan national team pedigree. Left-footed veteran of two World Cups, one World Cup semifinal, and a Copa Libertadores champion. In the prime of his career at just 27 years of age and under contract until 2019, a statement signing for a team and a league.
At a press conference in downtown Seattle announcing the acquisition, Lagerwey, the Sounders' general manager and president of soccer operations, spoke in sweeping terms about what the signing means for how the club plays soccer.
"Philosophically, this is a new beginning for us," Lagerwey said. "This is an opportunity to play with the ball on the ground, to be a possession-based team, to be a passing team, to be a creative, attacking, entertaining team. (It's an opportunity) to say that the solution is not to sign yet another attacker, but to sign a midfielder who can dictate the game, to say that we want the ball, that we can drive the game and we can dictate the game. I believe Nico is going to help us do all those things, and I believe it's an exciting way to play, and I believe it's (what) our fans want to see. I think it's also the way of the modern MLS, as the league becomes increasingly tactical."
While looking to fill the club's vacant designated player slot, Lagerwey has spoken frequently about his desire to land a so-called force magnifier, a player whose mere presence amplifies the abilities of those around him. The Sounders employed just that player for the last three seasons, but lost Obafemi Martins to the Chinese Super League mere weeks before the 2016 campaign.
Martins' departure left a hole not wholly described by statistics. Yes, he delivered 40 goals and 23 assists in just 72 appearances, but he also brought brains and vision and passion. He ran for days. He ran with purpose. He initiated countless attacks, seemingly always made the pass before the assist. He drew defenders like iron filings to a magnet, creating pockets of space all over the field — space players like Tyrone Mears and Andreas Ivanschitz desperately miss this season. He spotted and rewarded smart runs, springing teammates time and again. He cajoled, cheered, chastised. He back-flipped.
In his absence the Sounders have seemed bereft of ideas, incapable of building an attack on the ground, and sometimes plain listless, lacking both joy and urgency. It took nearly five months and negotiations with Boca Juniors that Lagerwey conceded were both "tortured" and "anguished," but the front office clearly believes it has found a force-magnifying replacement in Lodeiro.
"He sees passes that I think a lot of players don't see," Lagerwey said. "More than anything we need a brain. We have elite players who can score and who have scored goals. We just need to get them balls in better spots, and we need to do it more often. I think Nico is going to be our giant soccer brain, and he's going to drive us from a soccer IQ and soccer acumen perspective and make the entire group better."
With Lodeiro under contract for multiple years, the Sounders clearly see his signing as more than a short-term fix.
"I think (he) can transform the way that we play, and I think that's going to be important for us for the next several years, not just the next several weeks," Lagerwey said.
While the Uruguayan expressed a willingness to play anywhere on the field, it seems likely interim head coach Brian Schmetzer plans to deploy his new weapon in the middle of the pitch — beginning this weekend against the LA Galaxy, pending paperwork.
"I want to put him in a spot where he touches the ball as often as Clint," Schmetzer said of Lodeiro. "I think those two, if they get as many touches as they can, something good is going to happen."
While not going into specifics — "We face a pretty wily coach this weekend," Schmetzer said about the Galaxy's Bruce Arena — Schmetzer's initial plan for what he called a "pretty dynamic duo" sounds reminiscent of the playground soccer Dempsey and Martins played to such lethal effect over the past few years.
"I'm not going to tell Clint how to attack the goal," Schmetzer said. "I'm not going to tell Nico how to pass the ball. I just want to make sure that I put them in the right spots, surround them with the right players, and then let them do what they do best."
Critically, Lodeiro should allow Dempsey to get away from the center circle and back to haunting defenders in and around the penalty area.
"(Dempsey) did have to come back at times to help get the ball from our defensive half and into the attacking half," said Schmetzer. "And as he did that he was sacrificing a little bit of his game to help the team, and we appreciated that. But now I think we have a player that can get Clint to focus on what he does really well."
Just a day after a difficult divorce from the only head coach the club has ever known, Wednesday seemed like an emotional balm, a chance for a fresh start, a reason to believe.
Whether the Sounders can turn a reason to believe into actual belief is the question whose answer will define a season.
"Yesterday was a rough day for a lot of people, but today was a good day," said Lagerwey. "And we gotta get up tomorrow and make tomorrow a good day."