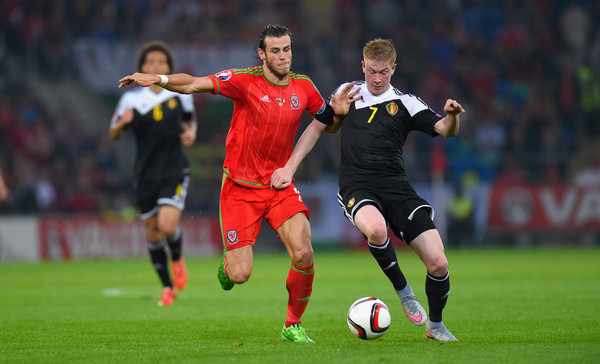 Belgium's golden generation make the Red Devils one of the favorites, but Gareth Bale and Wales stand in their path to the Euro 2016 semifinals.
Wales will look to continue their historic run through the Euros on Friday when they take on the Belgians in Lille. The two sides will battle for the right to take on Cristiano Ronaldo's Portugal, who slipped past Poland in penalty kicks on Thursday.
The Welch enter the match ranked 26th in the world, while Belgium sits 24 places above them. However, Bale and Co. will have confidence stemming from a qualifying win over Friday's opponent.
Still, the Belgians will be carrying a confidence of their own. After falling to Italy in their tournament opener, Belgium has rattled off three straight wins. The match's location may also play a part, as Lille sits just a few miles from the Belgian border.
Belgium will be fighting to cope with some major absences in defense. Jan Vertonghen is set to miss an extended period of time due to torn ankle ligaments, while Thomas Vermaelen is also banned, opening the door for a potential start for the Montreal Impact's Laurent Ciman. Eden Hazard does appear fit, though, giving Belgium one of its key attackers alongside Kevin de Bruyne and Romelu Lukaku.
Wales captain Ashley Williams will be the man charged with stopping that attack, and it appears he's fit to do so after a shoulder injury scare. Leading Wales' typical five-man backline, Williams will look to clog the final third before springing Bale and Aaron Ramsey to create havoc going forward.
How do you see Friday's match panning out? What will you be watching for?
Share your thoughts below.