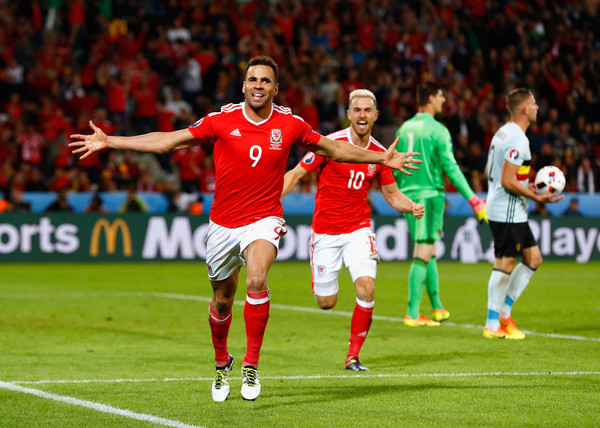 No one will be mistaking Hal Robson-Kanu for Johan Cruyff, but the Welch forward's execution of the legend's famous turn led Wales to a historic upset of Belgium on Friday's Euro 2016 quarterfinal.
Robson-Kanu's late goal, setup by a Cruyff turn past a trio of defenders, proved the difference on Friday, as Wales toppled the highly-favored Belgians, 3-1, in Lille. The win sees Wales book a semifinal clash with against Portugal on Wednesday.
It was Belgium who opened the scoring just 13 minutes in, as Radja Nainggolan fired the Red Devils to an early advantage. Following a thrashing of Hungary last time out, Belgium appeared set for another big game, but it was Wales who wrestled control of the game from that point forward against a makeshift Belgian defense limited by injuries.
The Welch got their deserved equalizer in the 30th minute through captain Ashley Williams, who was left unmarked on a headed effort to send the two teams to the locker room level. Wales continued to have the better of the play, with Belgium struggling to adapt tactically until the game's closing moments.
Finally, the Welch found their game-winning breakthrough via Robson-Kanu, who wiggled past several Belgian defenders before placing a wide-open look past Thibault Courtois to seal Wales' spot in the semifinal round. A late insurance goal from  Sam Vokes served as an exclamation point, sending Wales into the final four  in their first tournament since the 1958 World Cup.
MAN OF THE MATCH
Aaron Ramsey has found his ideal role throughout Euro 2016. Played just behind the striker and with room to roam, Ramsey was dominant yet again on Friday, leading a Wales team that played the better soccer on the day.
MOMENT OF THE MATCH
Hal Robson-Kanu's finish proved golden for the Welch, who advanced to the semifinals on a goal that was certainly worthy of several replays.
MATCH TO FORGET
He may not have been on the field on Friday, but Belgium manager Mark Wilmots was tactically outclassed on Friday. With his side in need of adjustments, Wilmots never truly made them, and his team was knocked out of Euro 2016 because of it.