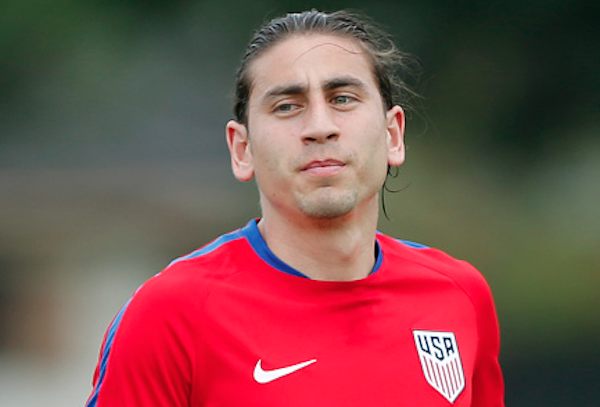 The acquisition process in Major League Soccer has never been an easy one, and Alejandro Bedoya is the latest to attest to that statement.
Before he could land where he wanted in Philadelphia, the U.S. Men's National Team midfielder  went through a difficult process with three teams interested in his services.
"There were three teams interested," Bedoya said during his introductory press conference on Tuesday. "The whole process was longer than expected. I think everybody knows that Chicago reached out to me. I had a conversation with their coach. I thought I was going there for sure, but with MLS there's a lot of twists and turns and that didn't work out for whatever reason.
"Columbus was in there as well," Bedoya said. "At the end of the day, I'm happy I ended up in Philly because that's where I wanted to be. It was a lot more complicated and confusing than it needed to be. With this league, with TAM, whatever it's called, throw in my buddies Sam and Cam and you get me. It was quite the process."
Bedoya was sold on joining the Union due to the club's ongoing rebuild on the pitch led by sporting director Earnie Stewart and head coach Jim Curtin.
"I think the bigger picture here is not just me coming back, but what this organization is doing and where it's heading," Bedoya said. "The direction the club is going in is something I bought into and I want to be a part of it.
"I'm really looking forward to this next challenge," Bedoya said. "There's some bigger things here than soccer too. I think it's a great group of guys and hopefully I can help them make a push to the playoffs and a run through the playoffs. I'm here for three and a half years and I hope I can make the big difference and give Philly the respect back that they've given me." 
Bedoya mentioned the off-the-field factors that led to his decision were the birth of his first son and being closer to where he grew up in New Jersey.
The signing also confirms the new direction the Union are heading in under Stewart and Curtin. Besides Maurice Edu, the Union never went out and made splashes in the transfer market like they did with Bedoya.
As for where Bedoya will play, he doesn't have a preference. The Union have an opening in the holding midfield spots after the departure of Vincent Nogueira and Brian Carroll's recent injury, but Bedoya is also comfortable further forward.
"I really don't have a concrete answer to that," Bedoya said. "As much as you'd like to hear me say that I play a certain position, I can play behind the striker, in a 4-3-3 as a No. 8. Throughout my career in Europe and even with the national team, I've been a versatile player so I'm comfortable playing wherever Jim wants me to play. It doesn't matter to me, I'm gonna go out there on the field and do the best to get the team the win." 
Now with Bedoya and fellow new acquisition Charlie Davies in the fold, the Union are looking to make a move back up the Eastern Conference standings after a recent slide that has dropped them to fifth.
"I think it's a great group of guys and hopefully I can help them make a push to the playoffs and a run through the playoffs," Bedoya said. "I'm here for three and a half years and I hope I can make the big difference and give Philly the respect back that they've given me."