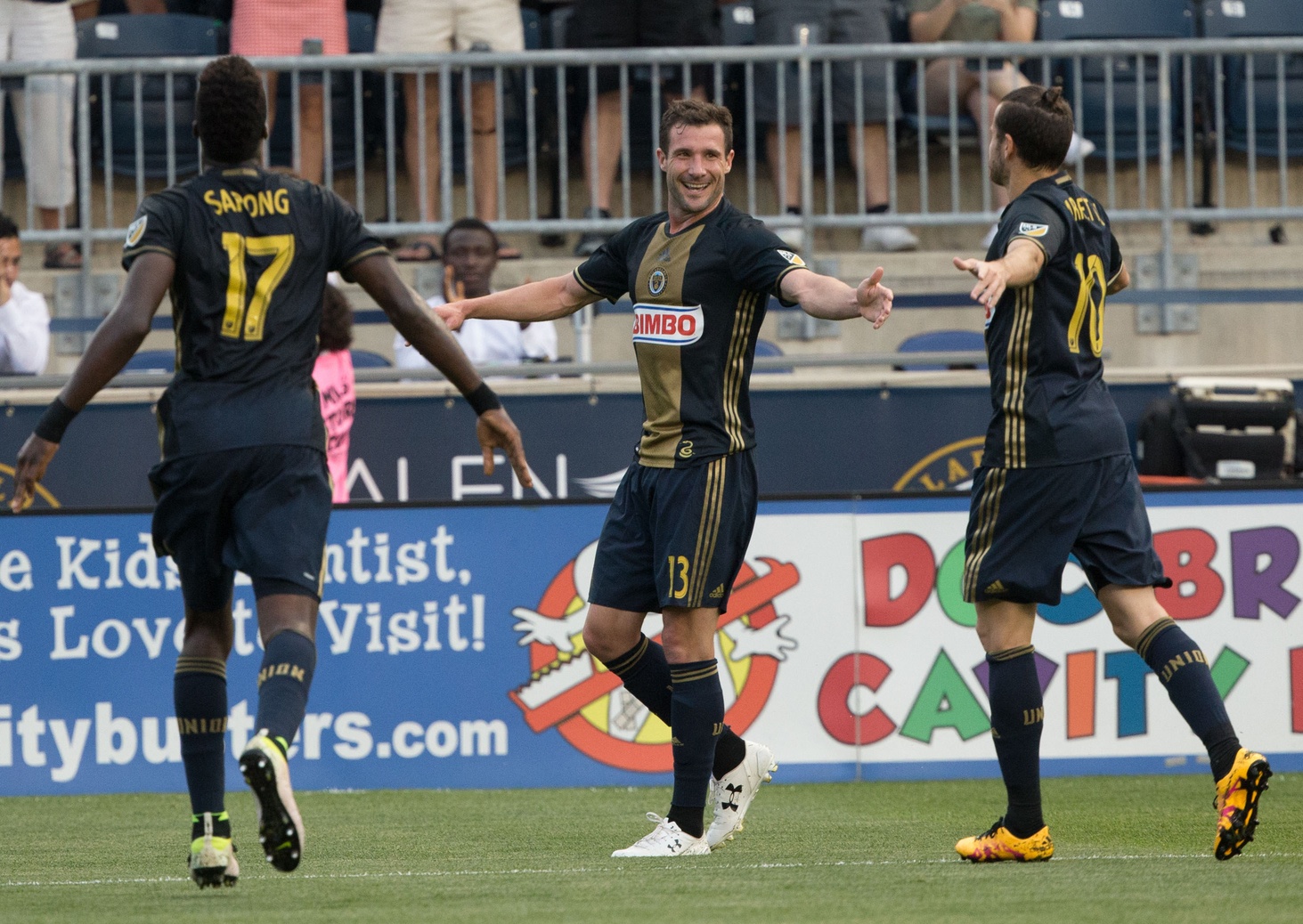 CHESTER, PA– When Jim Curtin sat down with midfielder Chris Pontius before the 2016 regular season, the pair set some goals.
Pontius hit one of those goals on Saturday in the Union's 4-0 win over the New England Revolution. The 29-year-old recorded his 10th goal of the season. It also moved him to the top of the American scoring chart in MLS.
"Chris and I sat down at the beginning of the year and we said 10 (goals) & 10 (assists) was our goal for him," Curtin said. "We talked about him getting back in the national team picture. I think that that's a realistic goal. I think he's that talented and has a knack for scoring goals, popping up at the right time in the box. A good year in terms of offensive production." 
The former D.C. United man has found the back of the net in four of his last five games to move two strikes away from the career high he set with the Black and Red in 2012.
Pontius wasn't aware of the achievement at first, and it's in the back of the mind as the Union search to lock up a playoff position in the Eastern Conference.
"I saw someone tweet me about it," Pontius said. "That was the first I heard of it." 
"There's a lot of guys that have put up big numbers in terms of goal scoring across the league," Pontius said. "It's cool to be up there with them, but it's even better to get the 4-0 win." 
Pontius leads Chris Wondolowski by one in the race to be the best American scorer in the league in 2016.
In addition to Pontius, Union forward C.J. Sapong sits fourth on the American scoring chart with seven tallies. That statistic is a sense of pride for Curtin, who wants to build the club with an American base.
"I've said it a lot, we want to build with American players," Curtin said. "We think that it's important to be known as a club that brings young Americans up within our academy. One that has U.S. national team players. You see the (Alejandro) Bedoya addition and that's no coincidence."
Seven of the 11 starters in the Union's latest match with New England were American and three of them, Keegan Rosenberry, Ken Tribbett and Richie Marquez, are still developing talents. The Union also added homegrown players Derrick Jones and Auston Trusty in recent weeks to add to the American foundation.
"I want the U.S. national team to be good and I think it's our job as coaches in this league to make our national team stronger and I think we have a lot of top players right here at our club," Curtin said. "I think some of them are right on the fringe of their call-up and we'll push and continue to do all the little things to find the blend of a core of American players and the right international guys that sprinkle in like Tranquillo (Barnetta). We have a good foundation now for hopefully a long time."