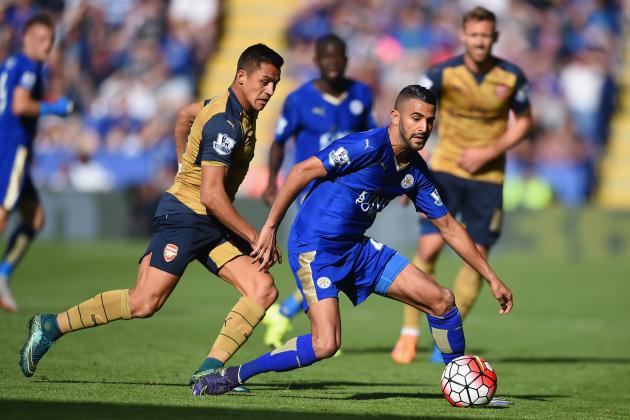 It's kickoff weekend in Spain and Italy as the Primera Division and Serie A play their first matches of the season, respectively. Meanwhile Germany begins their domestic cup while waiting another week for Bundesliga action to start. England and France continue where they left off after exciting opening weekends.
The weekend in England is highlighted by the match between defending champions Leicester City and title hopefuls Arsenal. Each team started off slowly, with the Foxes losing 1-0 to Hull City and the Gunners falling 4-3 against Liverpool in the most exciting match of last weekend. Which team will right the ship and get their first win of the season?
Meanwhile, the newly named Primera Division returns to action in Spain on Friday night with two matches between Malaga and Osasuna as well as Deportivo meeting Eibar. Barcelona begins the season with Real Betis and Real Madrid kicks off with Real Sociedad.
Serie A starts on Saturday afternoon with two matches featuring title contenders. Roma takes on Udinese in the debut match of the season, followed shortly thereafter by Juventus and Fiorentina in the premier match of opening weekend.
The French Ligue 1 continues on Friday with Lyon taking on Caen. Elsewhere title favorites Paris Saint-Germain take on lowly Metz to close out the weekend action on Sunday.
Unfortunately for German fans, they'll have to wait another week for Bundesliga action. Instead, the DFB Pokal kicks off this weekend. Bayern Munich opens their proceedings with FC Carl Zeiss Jena on Friday and Borussia Dortmund play on Monday against Eintracht Trier.
Here's a closer look at this weekend's action:
ENGLISH PREMIER LEAGUE
Leicester City and Arsenal may headline the weekend, but there's plenty of other action in England to watch. Manchester United open the weekend on Friday against Southampton as they attempt to build on Jose Mourinho's 3-1 debut victory last weekend.
Elsewhere, Stoke City and Manchester City meet early Saturday morning in what should be an exciting second match for Pep Guardiola's side. Sunday's action will be headlined by West Ham hosting Bournemouth, as each side looks to earn their first win of the season after losing against Chelsea and Manchester United, respectively.
FRIDAY
Manchester United vs. Southampton
SATURDAY
Stoke City vs. Manchester City
Tottenham vs. Crystal Palace
Watford vs. Chelsea
West Brom vs. Everton
Swansea City vs. Hull City
Burnley vs. Liverpool
Leicester City vs. Arsenal
SUNDAY
Sunderland vs. Middlesbrough
West Ham vs. Bournemouth
SPANISH PRIMERA DIVISION
The Spanish Primera Division kicks off this weekend with a match between Malaga and newly promoted Osasuna on Friday, followed by a meeting of Deportivo and Eibar.
Barcelona and Real Betis headline the Saturday action as the defending champions seek to start on the right foot after winning the Spanish Super Cup over Sevilla by a 5-0 aggregate scoreline.
Real Madrid and Atletico Madrid start their seasons on Sunday as they face Real Sociedad and Alaves respectively. Real Madrid will remain without their biggest star, as Cristiano Ronaldo has not yet fully recovered from his Euro 2016 injury.
The weekend closes with a match between Valencia and Las Palmas on Monday afternoon.
FRIDAY
Malaga vs. Osasuna
Deportivo vs. Eibar
SATURDAY
Barcelona vs. Real Betis
Granada vs. Villarreal
Sevilla vs. Espanyol
SUNDAY
Sporting vs. Athletic Bilbao
Real Sociedad vs. Real Madrid
Atletico Madrid vs. Alaves
MONDAY
Celta Vigo vs. Leganes
Valencia vs. Las Palmas
ITALIAN SERIE A
Soccer returns to Italy this weekend with a pair of exciting kickoff matches. Roma takes on Udinese to begin the season on Saturday and the match is followed by one between defending champions Juventus taking on Fiorentina.
The remaining matches of the weekend fall on Sunday, headlined by AC Milan's season debut vs. Torino. Pescara host contenders Napoli on Sunday afternoon, and the other afternoon headliner sees Inter Milan visit Chievo.
SATURDAY
Roma vs. Udinese
Juventus vs. Fiorentina
SUNDAY
AC Milan vs. Torino
Chievo vs. Inter Milan
Pescara vs. Napoli
Genoa vs. Cagliari
Atalanta vs. Lazio
Bologna vs. Crotone
Palermo vs. Sassuolo
Empoli vs. Sampdoria
FRENCH LIGUE 1
Ligue 1 action returns to France for its second weekend. Caen visiting Lyon opens the entertainment on Friday afternoon as the hosts look to continue their success after a 3-0 debut win last weekend.
Nantes hosts Monaco in the opening action of Saturday morning. But the real headlining action of the weekend is on Sunday as Marseille visit Guingamp in the morning before Paris Saint-Germain host newly promoted FC Metz in the afternoon to close the weekend.
FRIDAY
SATURDAY
Nantes vs. Monaco
Toulouse vs. Bordeaux
Angers vs. OGC Nice
Rennes vs. Nancy
Lorient vs. Bastia
Lille vs. Dijon FCO
SUNDAY
Guingamp vs. Marseille
ASSE vs. Montpellier
Paris Saint-Germain vs. FC Metz
–
Which matches are you excited to watch? Will Leicester City or Arsenal right the ship? How will the three Primera Division giants start their seasons?
Share your thoughts below.