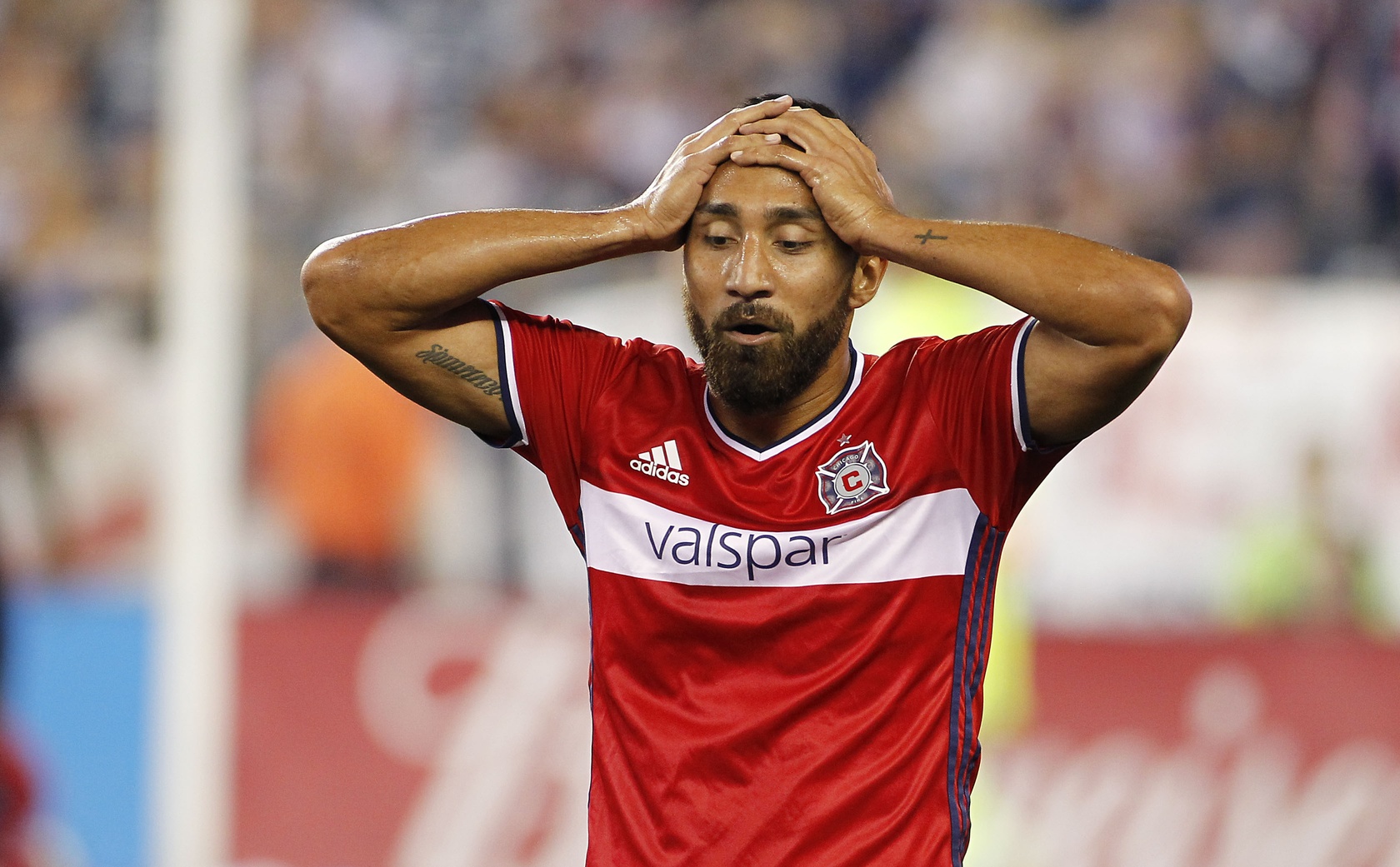 In a season spent rebuilding and stuck in last place, the U.S. Open Cup seemed to provide the Chicago Fire with a glimmer of hope. Five wins to a trophy seemed like the most realistic chance for silverware and a chance for the first-year management team to buy goodwill among frustrated fans.
Those hopes ended Tuesday with a semifinal loss to the New England Revolution.
The Fire had reached their fourth consecutive Open Cup semifinal with three home wins and a couple of their best performances of the season. There was talk about how much the competition meant, both as a needed dose of positivity and in the history of the club that was won four previous Open Cup titles.
On Tuesday, however, the Fire's road struggles continued and their 2016 Open Cup run ended with a 3-1 loss to the Revolution, their third loss to the Revs this season in all competitions.
"For us, it's a disappointment and it's very hard," Fire head coach Veljko Paunovic said afterward. "The whole locker room feels very, very bad at this point."
An early penalty conceded by Rodrigo Ramos and converted by Kei Kamara put the hosts ahead. David Accam's first-half equalizer was canceled out moments later by Je-Vaughn Watson and then Teal Bunbury sealed it late from long range.
Accam was the star for the Fire on Tuesday as he has been throughout the competition. He ended an eventful Open Cup competition by scoring the team's lone goal and then being sent off in the 89th minute after getting into a shoving match with Kelyn Rowe.
Throughout the Open Cup, Accam often seemed to be the Fire's most passionate player and was certainly the most productive. He scored the extra-time equalizer and made the game-winning penalty in the fourth round, scored a brace in the round of 16, scored and assisted in the quarterfinals. His five goals are tied for best in the competition.
"For me, the guys showed a lot of passion, but today we weren't good enough and for us, we need to learn how to start games earlier," Accam said Tuesday. "We didn't do that. We sat back and they put pressure on us and that dictates the game for us which isn't good. So next time, we need to dictate the game."
Paunovic also rued that the Fire started played better once going down a goal, something he said he's seen too often this year.
"I would like to add that we did our best. This is the best we can do at this point, but we will work hard and we will come back next year," Paunovic said. "We believe being a better team and more competitive and most of all, we want to have another final and play to win.
"We still have the issue that once we concede a goal, we start to play the way we want to play. We feel a relief of having the negative result, so now it's actually when we react. We want to be the team that is more, who imposes his style, but still we are working on that we are not ready to do and play that kind of soccer. The second half was the same thing. After the second goal and the third goal, we pushed hard, we tried to do some adjustments, but the team, I'm really proud of our guys. I think our team did a huge effort and, as I said, this is the best we can do at this point and we learn from everything. It was a great experience for us and we just expect and we work on improving and not making the same mistakes in the future."
The Fire return to league play this weekend when they host Orlando City SC on Sunday. The MLS playoff format means they are still mathematically alive, but with 13 games left and the worst points per game in the league, the Fire are staring down long odds.
Now, the Fire are left trying to make up their current eight-point gap to the playoff positions, trying to snap their two-year, 36-game road winless streak. With this season all but over, it's now about trying to figure out how to keep rebuilding with their allocation money and Designated Player slots when the January transfer window comes around.