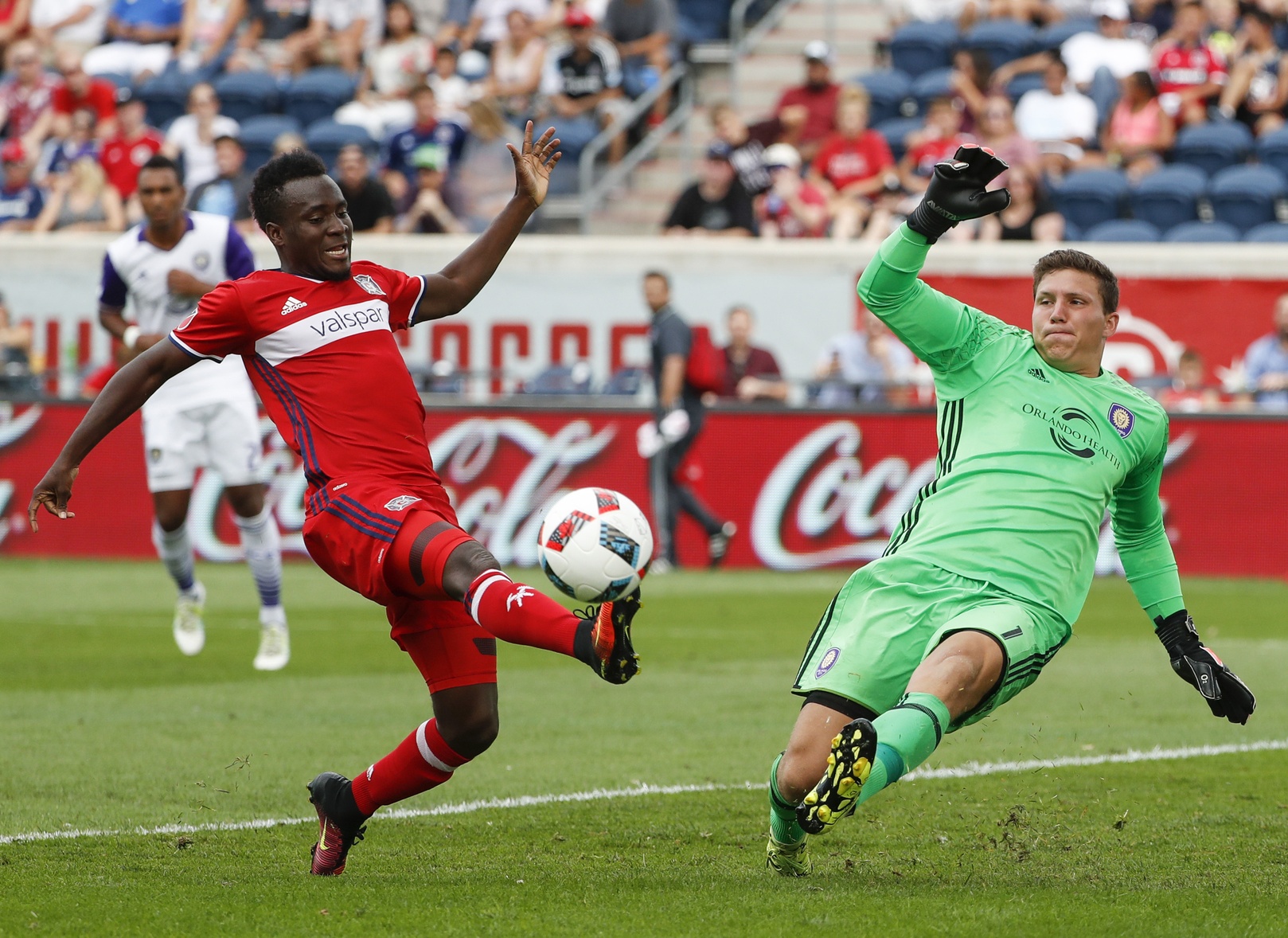 BRIDGEVIEW, Ill. – Sunday marked the end of a rough week for the Chicago Fire.
On Tuesday, the Fire's best chance at a trophy ended when they crashed out of the U.S. Open Cup semifinals. Then Sunday in league play, the team squandered an early lead but came back to settle for a 2-2 home draw against Orlando City. It's now been more than a month since the Fire won an MLS match.
"It wasn't easy," captain Razvan Cocis said. "We had a tough week, not the greatest, we lost two games and lost in the Cup, which hurt us a lot, it's still hurting us. We talked about it, and we just have to keep going, there's no other way. We talked about who wants to be in the locker room, and who wants to keep going, then who needs to stay more and more in the practice session to get better, and be better, as a team and as an individual."
Taking the one point Sunday however, rather than blowing the lead and losing, seemed to leave the Fire with a better taste in their mouth than might have been expected.
"Maybe a little bit, but we're playing at home and for us we want to dominate every game at home," David Accam said. "We gave them a lot of chances, but for me at the moment I will take 2-2 because we were 2-1 down and came back 2-2 and almost had a winner. So I think 2-2 is a fair result."
It was the first time in seven chances this season that the Fire had earned a point when trailing at halftime.
"I think we are all happy with the point today," head coach Veljko Paunovic said. "I think we opened the match very well, scoring the early goal and then I think we lost the game plan in the first half and we conceded goals just by feeling, maybe too excited in the first ten minutes, having that early lead that we took and I think these are the things we have to improve again. We don't have to be afraid when we have a good result in our hands and we have to manage better with that.
"Second half, of course, we did adjustments, I think our guys did very well. I think we pushed for the game, I think our fans at least can be happy, they could see their team pushing hard until the end, leaving our heart until the end and that's what I'm happy about. At the end I think we were close to scoring the third goal, we just needed a little more, again, again, a little bit more of that killer instinct that we lack of during all this year."
For most of the second half it looked like the Fire would be left ruing the lost lead. After going ahead in the sixth minute, Chicago allowed two goals and trailed at halftime. Razvan Cocis scored in the 78th minute to split the points.
"A comeback tie, obviously we want the result of a win, but a comeback tie keeps us in it,"Fire defender Brandon Vincent told SBI. "We know that it's better than a loss. I think we take the point here today and then we move on to the next game and that's how we approach every game from here on out, we try to get the three points every single time, we come up short we just keep on going."
The Fire (4-11-7) are still last in the Eastern conference with 19 points. The draw leaves Chicago still eight points back of the final playoff positions.
The first task preparing for Sunday's match was getting over the Open Cup exit, a loss that denied the Fire, languishing in last place for most of the season, a chance to host a final.
"We put it behind us," Vincent told SBI. "It's obviously a tough loss and the guys wanted to win that, but for us it's just a mentality shift and now the next game and that's all we're concerned about is next game. Tough to take the loss but we bounced back well and I think we're going to keep on showing that strength, keep on playing with pride and keep going forward."
Paunovic said that after the Open Cup loss he told the team they had two choices going forward.
"We had a meeting, we said that there are only two ways here," Paunovic said. "One is non-acceptable, which is abandon and the second one is we continue working hard and work together and we have to keep the spirit and positivity in our group, which is very important because this is all the process and this is all a great opportunity for us all to become better professionals and for sure better people because these kind of challenges are very important and we have to appreciate this opportunity. And that's not all of course. We have to improve, we have to perform better but at I think today we were the team that wanted to win the game. And at least the sensations are we gave our best."