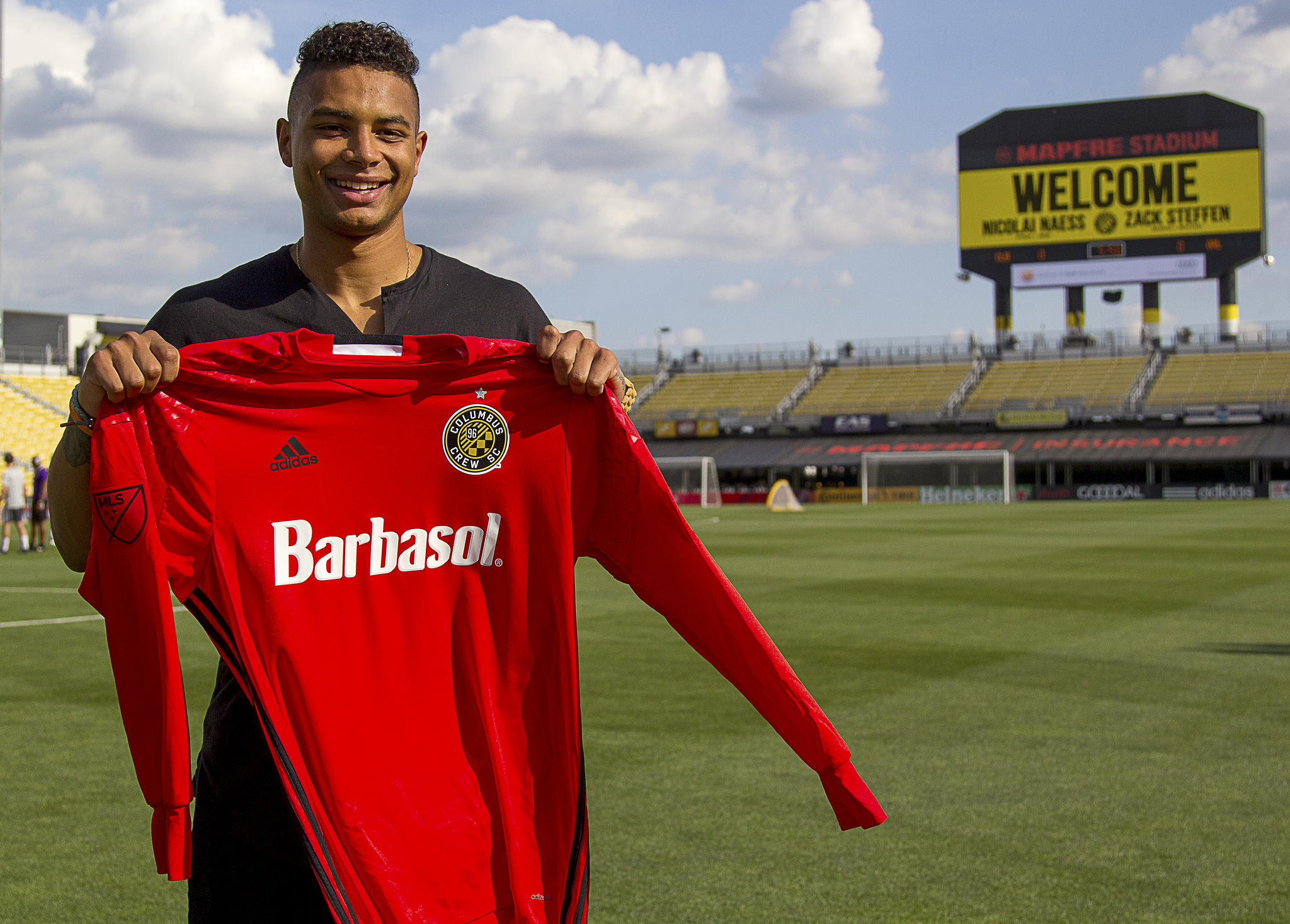 Day after day, Zack Steffen returned home from training with Bundesliga club Freiburg and day after day, he felt the same uneasiness.
On the field, he was rising through the club's ranks, all but sealing a spot with the first team ahead of what could have been a breakthrough season. But off the field Steffen had never felt more alone, more isolated, as days came and went.
He was unhappy. He was frustrated. He was sad. A phone call was made and wheels started turning. A process began, and it felt like a whirlwind, but Steffen sealed his return home. With it, the 21-year-old found the happiness that had all but disappeared during his time abroad.
On July 22, the Columbus Crew shocked many throughout American soccer by announcing they had signed the up-and-coming goalkeeper. Regarded as a future U.S. Men's National Team contributor, Steffen was on the fast track with Freiburg. After featuring heavily for the reserves throughout his year-and-a-half long tenure with the club, Steffen was on the precipice of finally joining the first team.
But Steffen felt "stranded" and "out of the loop." On the field, Steffen could brush away everything and focus on the game he loves, but off of it, frequent calls home reminded him just how far he was from where needed to be if he was to truly make the most out of his career in its current stage.
"Freiburg, they had a really good plan for me. It was a really good opportunity, and I'm glad I took it," Steffen told SBI, "but at the same time it was tough to be over there. It was kind of like I was in a different little world. There's a six-hour time difference and it's a nine-hour flight and I'm a big family person, so it was tough to not have a support system over there, especially being a goalkeeper. After having a tough training, not being able to just relax with some family or some friends. When the opportunity with Columbus came up, I talked to my agent and my family and friends and it was a good opportunity to come back to the states and be just a few hours from my family and friends.
"It was tough at first because, being in Germany, that opportunity and that experience is so great and so rare for Americans," Steffen added. "The talent over there and the training and the games and the exposure, it's really good, obviously. They've had a great history with their goalkeepers, but after I thought about it, I knew that coming to Columbus, it gives me a better chance to strive in my career right now with having my family close and being in America, so I think it was the right step."
The road to Columbus was a long one for Steffen. Since high school, the goalkeeper has been recognized as an elite prospect, with the Philadelphia Union registering their interest in the young goalkeeper before he earned his diploma. At the time, it didn't feel right. An education at Maryland beckoned, and with it, two games a week that would allow Steffen to further develop as a goalkeeping prospect.
Steffen didn't just meet expectations; he exceeded every single one. In two seasons at Maryland, Steffen played every minute in net, logging 17 shutouts throughout his Terrapins tenure. Accolades rolled in and hype began to grow. In December 2014, following his sophomore campaign, Steffen made the leap, signing with Freiburg as he looked to begin his professional career in one of the world's elite soccer nations.
The transition wasn't easy. More than ever, Steffen was learning to live like a professional. While at Maryland, Steffen took care of his body and his diet, but his time in Germany showed him a whole new level. In peak form, Steffen featured for Freiburg's reserves, registering a trio of shutouts in 14 appearances. Meanwhile, internationally, Steffen was forging a reputation. At the 2015 Under-20 World Cup, Steffen all but carried the U.S. team at several points throughout the tournament, single-handedly pushing the U.S. through games before suffering elimination in the quarterfinals.
2016/17 looked to be the year Steffen would make the leap to third-string goalkeeper, but Steffen needed change. A call to his agent produced the information that Steffen's MLS rights were owned by the Crew. After talking to head coach Gregg Berhalter and head coach Pat Onstad, Steffen jumped at the opportunity to move within driving distance of his hometown of Downington, PA.
The move is far from a sure one. Ahead of Steffen is MLS veteran Steve Clark, a player that was vital in the Crew's run to the 2015 MLS Cup Final. Despite the team's struggles this season, Clark is firmly entrenched as the team's No. 1, making Steffen's path uncertain, at least for the time being. Still, Berhalter sees something special in Steffen, something the Crew were certainly interested in adding to the fold: "Potential".
"We're not forced to play him from Day 1," Berhalter recently said of Steffen, according to the Columbus Dispatch. "We have two goalkeepers now. He'll be a good complement to our goalkeeping corps… We expect the goalkeeper position to be highly competitive going forward."
"It's definitely tough getting minutes, but I'm a young goalkeeper. I'm only 21, so I have a lot of areas to grow in," Steffen added. "It's not like I was going to get big first team minutes in Germany. It's more of a process and trusting that process. It's learning from the older goalkeepers, the veterans. Steve has helped me. I learned a lot in Germany from the first team goalkeepers, and I've already learned a lot from Steve, from Pat in these first two weeks. It's just being patient and trusting that process.
While he may have felt frustrated during his stay in Germany, Steffen very much remained on the radar. As a member of the U.S. Under-23 Men's National Team, Steffen featured throughout the team's qualifying run before an injury robbed him of a roster spot in March's two-legged playoff against Colombia. Then, in May, Steffen had the honor of joining the U.S. Men's National Team, earning his first call-up to a senior camp.
For Steffen, it was an honor. The goalkeeper said it was a special experience competing with the Brad Guzans, the Tim Howards, learning from them and seeing how they apply themselves on the field. He couldn't earn his first senior cap as match with Puerto Rico came and went, but the camp served as yet another lesson in patience, a sign that his time may someday come in the USMNT jersey.
Since making his move to the Crew, Steffen has yet to talk with USMNT head coach Jurgen Klinsmann, although the goalkeeper knows that his happiness will be the most important part of his development. At just 21-years-old, Steffen is blessed with time, and may someday follow in the footsteps of Guzan and Howard by earning a starting gig in Europe.
But for now, Steffen is focused on the Crew, a team that gave him the chance to once again find some smiles on and off the soccer field. Following all of the loneliness and unhappiness that came with a life-changing move abroad, Steffen finally feels free, feels happy, for the first time in quite awhile.
"It's been an adjustment period obviously. They're in the middle of their season and I'm coming back from Germany in preseason," Steffen said. "It's getting back into season shape and season form. It's taken a couple of trainings to really get back. It's taken a week or two to get in the flow that they're all in but I'm starting to find my way and I'm starting to feel good.
"It's more about happiness right now," he added. "It's obviously really good to get the experience and exposure in Europe because those are the best leagues, but right now, it's about happiness. I'm young. Maybe I'll go back over there, but right now I'm just focused on happiness. This opportunity came up, and I'm happy to be here."