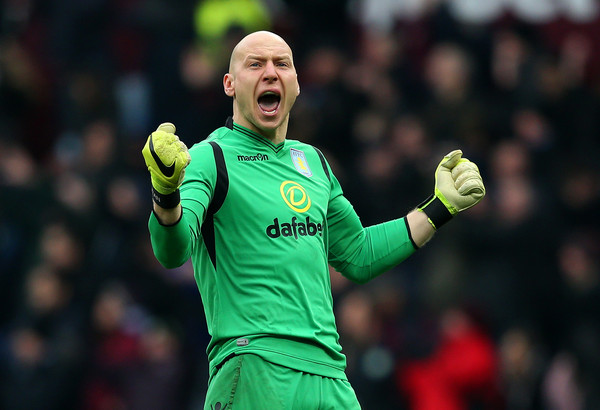 Brad Guzan is not the only veteran goalkeeper Middlesbrough has added this summer, but the U.S. Men's National Team No. 1 is hoping to be the one that emerges as the team's go-to keeper heading into the Premier League season.
After experiencing relegation with Aston Villa last season, Guzan officially joined Middlesbrough last week with a move that keeps the goalkeeper in the Premier League. With the move, Guzan joins former Barcelona goalkeeper Victor Valdes at the club, while incumbent starter Dimitrios Konstantopoulos and Real Madrid product Tomás Mejías remain from Boro's 2015/16 promotion-winning side.
"They are great goalkeepers and I'm very fortunate and happy to be part of this group," Guzan said. "There's a belief and truth in the goalkeepers' union for sure. You want to battle – you need competition for places and that brings the best out of players. There's an understanding between goalkeepers that everyone competes day in and day out to try and be selected on a matchday."
"You need that competitiveness so that when the matchdays roll around, everyone is ready to get a good result. You want your name to be called and you do that by proving your worth Monday to Friday on the training field. Hopefully Saturday afternoon you can do the job, help the guys in front of you and keep the ball out of the back of the net."
The move is an important one for Guzan, whose status as USMNT No. 1 could come into question if he fails to find the field. USMNT head coach Jurgen Klinsmann has always placed a major emphasis on club playing time, and Guzan will have one eye fixed on the starting job as the U.S. marches towards the 2018 World Cup in Russia.
But for now, Guzan is focused on settling in and helping Middlesbrough avoid a drop back down the Championship in the club's first Premier League campaign since 2008/09.
Guzan is expected to make his club debut on Wednesday, as Boro takes on Udinese in Italy.
"It's been a great experience so far and everyone around the training ground's been fantastic," he said."There's a good amount of banter as well. You need seriousness and hard work but at the same time you need a laugh and a joke – it keeps everyone on their toes. It's only been a few days but if it's an insight into what's to come, it's going to be a great time here."
What do you think of Guzan's move to Middlesbrough? How will he fare with his new club?
Share your thoughts below.