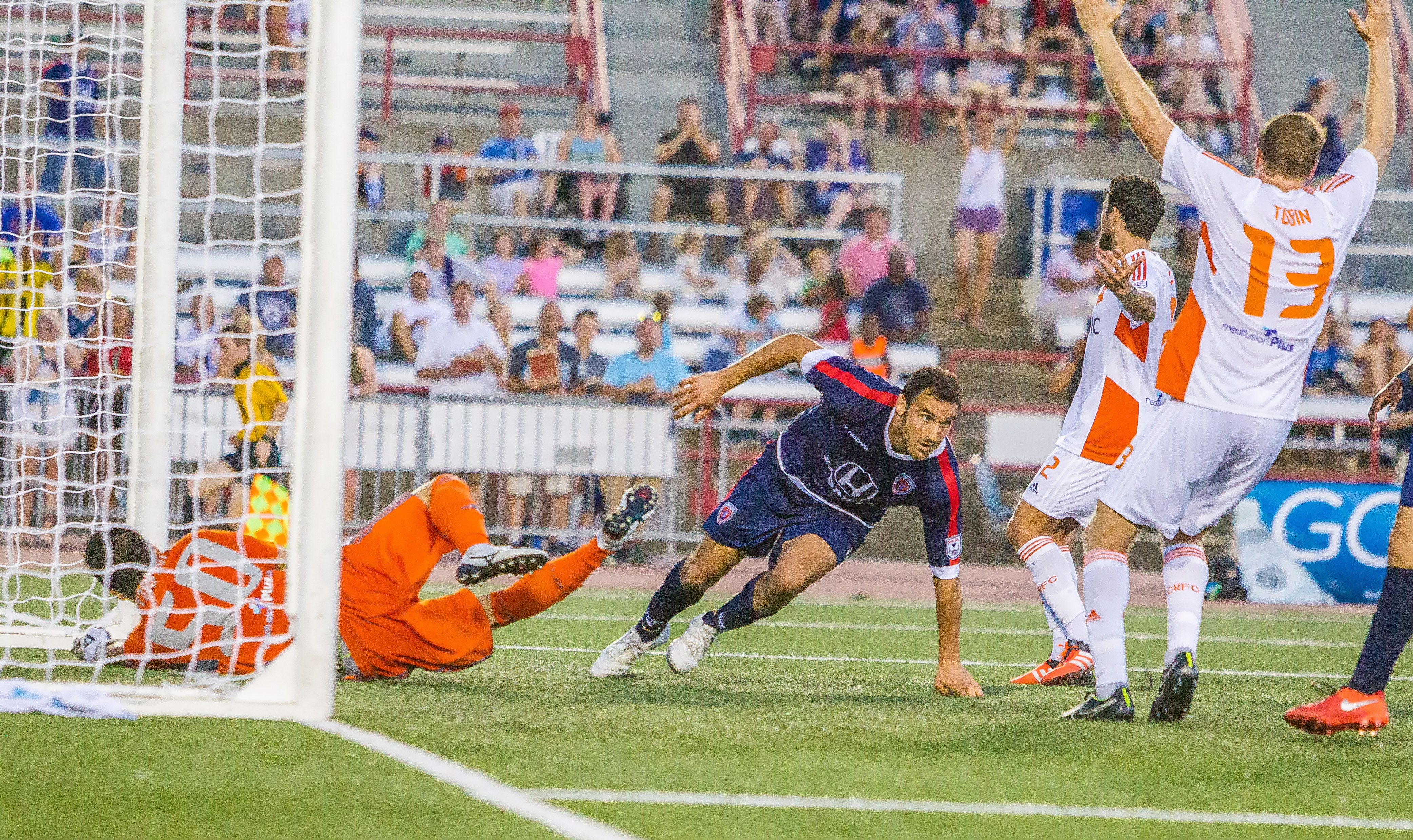 Three teams sit within two points of one another atop the Fall Standings, making each match vital as the NASL's second phase nears its midway point.
Entering Week 8 of the Fall campaign, Spring Season champions Indy Eleven remain atop the standings due to goal differential. Just behind them is FC Edmonton, who can make up ground on Saturday with a visit to the Tampa Bay Rowdies. The third and final team in the league-leading triumvirate is the New York Cosmos, who sit two points back ahead of a visit to Puerto Rico FC.
While an MLS announcement looms, Minnesota United takes on a much-improved Jacksonville Armada team, while a clash between Rayo OKC and Miami FC sees expansion partners square off.
Here's a closer look at this weekend's NASL action:
JACKSONVILLE ARMADA vs. MINNESOTA UNITED ( Saturday, 2:30 p.m., ESPN 3)
Since the departure of Tony Meola, the Jacksonville Armada have seen some major improvements. With four points from two games, the second-year club has looked competitive for the first time in a long time ahead a clash with one of the league's perennial contenders.
Minnesota United currently sits fourth in both the combined and Fall Standings, and will be in need of a push if they hope to officially secure a playoff spot.  A midweek win over the Tampa Bay Rowdies helped their case, but the Loons remains seven points out of the the league's top spot. With an MLS announcement looming, Minnesota must remain focused on an increasingly-difficult Armada team that has stepped up under interim boss Mark Lowry.
FORT LAUDERDALE STRIKERS vs. OTTAWA FURY FC( Saturday, 7 p.m., ESPN 3)
The Fort Lauderdale Strikers have emerged from a poor string of results with four points from their past two games. It's a perfect time to trend upward as the Strikers begin play in a new stadium.
Central Broward Stadium will play host to its first Strikers match on Saturday for a clash with Ottawa Fury FC. Jose Angulo has led a recent turnaround with a goal and assist over the past two games, helping lead the Strikers out of the basement and into 11th place. Fury FC sits just one point above them in seventh following a loss to the Armada, a game that saw Carl Haworth fire his sixth goal of the year.
CAROLINA RAILHAWKS vs. INDY ELEVEN (Saturday, 7:30 p.m., beIN Sports)
Omar Bravo and Matthew Fondy have turned the Carolina RailHawks into a solid attacking team, but they will need a step up in performance to take down Spring Season champions Indy Eleven.
The strike duo of Bravo and Fondy have combined for seven goals throughout the fall, but the club has settled for two draws in the team's three-game home beaten run. A draw against Indy Eleven would be a respectable result, given their play this season. A match with RailHawks to close the Spring Season proved a defining moment in club history, as the Eleven historically erased a three-goal deficit to win the Spring crown.
PUERTO RICO FC vs. NEW YORK COSMOS (Saturday, 7:30 p.m., ESPN 3/ONE World Sports)
The New York Cosmos have been very poor away from home and now face an unfamiliar trip to Puerto Rico FC.
Adam Moffat has carried the Cosmos in recent weeks, firing a pair of goals in last week's 3-2 win over the Tampa Bay Rowdies. However, the Scottish midfielder will be suspended for Saturday's clash due to a red card. In Puerto Rico FC, the Cosmos face off with a team led by  Héctor Ramos, who has scored six goals in the Fall Season, good for second in the Fall Season behind only Christian Ramirez.
TAMPA BAY ROWDIES vs. FC EDMONTON (Saturday, 7:30 p.m., ESPN 3)
The Tampa Bay Rowdies fell in a midweek clash with Minnesota United, and now they will have to bounce back on short notice against FC Edmonton if they hope to end their current losing skid.
With four losses in five games, the Rowdies have slipped all the way to 10th place in the Fall standings, a full 11 points behind Saturday's opposition. The Eddies sit in second, with a game in hand, after winning the club's ninth-straight home game last time out. Saturday's match will be held at Al Lang Stadium, though, against a Rowdies team that claimed a 1-0 win in their Spring Season clash earlier this year.
RAYO OKC vs. MIAMI FC (Saturday, 7:30 p.m., ESPN 3)
Following a pair of road matches, Rayo OKC will look to continue their six-match home unbeaten run against their expansion partner.
Rayo OKC collected two points from their two-game road swing, a sequence of game that included a draw with the Cosmos and a 2-1 loss to the powerhouse that is Indy Eleven. In the home debut of new head coach Gerard Nus, Rayo OKC will look for a repeat of their Spring Season effort against Miami FC, a 3-2 victory. On the other end, Miami FC will look to bounce back after seeing their four-game unbeaten run snapped with a loss to the rival Fort Lauderdale Strikers last time out.