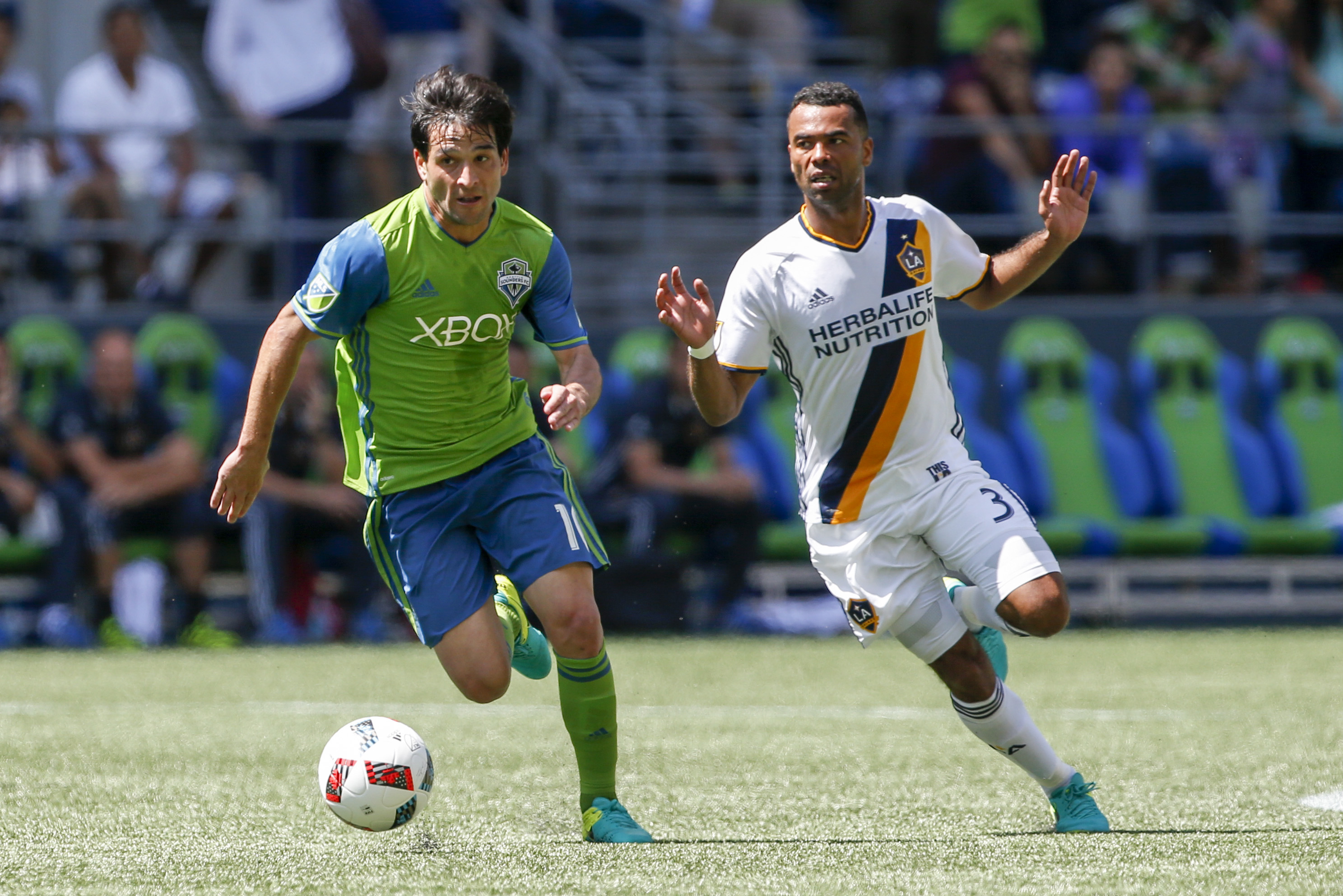 SEATTLE– There hasn't been much cause to congratulate the Seattle Sounders this season, but at first blush it looks like they got this one right, the first all-caps acquisition of the Garth Lagerwey era.
After delivering an impressive 90-minute effort for the Seattle Sounders on Sunday afternoon, this much seems clear: Nicolas Lodeiro is as good as advertised. The 27-year-old Uruguayan seems every bit the hardworking, technically gifted and intelligent playmaker the front office told fans to expect.
"You saw his ability to cover ground at a high level," said interim head coach Brian Schmetzer after the match, "to connect passes, to run the team."
When it comes to Designated Players, you never really know if the goods merit the bill until that sexy name dons an MLS uniform and kicks a ball in a meaningful match or two. More than a few fan bases have quickly realized a big-name player was available for good reason. Plenty have seen a much-ballyhooed signing arrive disinterested, temperamental (see: Freddie Ljungberg), out of shape, slowed a step too many by age.
Even midseason acquisitions that eventually blossom often thrive only after months of acclimating to what is still a fairly odd league in a vast foreign land.
But Lodeiro looks ready to roll from day one.
"He busted it for 90 minutes," said center back and team captain Brad Evans. "He was the one on the field saying, 'Let's go, let's go. Keep it up, keep it up. Keep the ball, keep the ball.' He's a massive addition to the team."
In some ways, Sunday's draw with the LA Galaxy — Lodeiro's debut after signing midweek — was the same tired story, told for the umpteenth time this season with little variation. It was far from the first time the Sounders looked like the better side for most of the day but walked away disappointed with the result. And it was far from the first time they created chances galore, only to allow an unlucky goal on the other end, only to watch the playoffs creep farther into the horizon.
Yet in other ways Seattle looked like an entirely different team.
The Sounders aren't necessarily strangers to possession this year, but never in 20 previous games was that possession so comfortably composed or so consistently threatening. And while Seattle has at times put up plenty of shots, too often the corresponding chart clustered around the edge of the 18-yard box. Rarely this season have the Sounders generated so many high-quality chances, so many open looks from lethal range.
And Lodeiro, diminutive spark plug, anchored most everything, piling up a team-leading 124 touches just about evenly split across two halves. On the Sounders, those are numbers usually approached only by defensive midfielder Osvaldo Alonso. That alone says much about why Seattle looked so different against the Galaxy.
An inability to build through the center of the park has plagued Seattle this season. The cause has been an inability to spot or hit runners, an occasional reluctance to make runs (perhaps because so many runs have gone unrewarded), a plodding predictability, a tedious indecisiveness. No one to pull the strings, in short. That led Clint Dempsey to try and play central midfielder, which meant Clint Dempsey was not in the penalty area. Pair all that with the lack of a big brainy motor in the absence of Obafemi Martins, and the result is the most impotent attack in the league.
Enter Lodeiro, the rare bird who knows what he's going to do with the ball before he receives it. The kind of player who not only gets rid of the ball quickly, but gets rid of it quickly and with purpose, finding the seam that starts to unravel the opposition, springing teammates into space time and again. If he needs a moment to read the field, his first touch gives him space and time to read the field. And then the ball is gone, and so is Lodeiro.
"He's obviously an extremely skillful player, one who can keep the ball," said Evans. "If he gets touched he's a small enough guy that he's going to fall over, so defenders play a little bit off of him, and that creates space, it allows him to turn. He sees passes that not a lot of players see."
Zipping around the field, the Sounders' latest DP was more than willing to track back and help out on defense or serve as a release valve, completing 32 of 34 passes in his own half of the field.
A whirling nuisance in the penalty area, he nearly scored himself three times, made clever pass after clever pass, and drew attention time and again, as he did on Cristian Roldan's  goal. Perhaps most surprisingly, Lodeiro and the entire Seattle attack at times played a high line, giving the Galaxy defense and midfield fits as they tried to push forward.
If anything besides the result disappointed on Sunday, it was that Dempsey again found himself playing fairly deep. Lodeiro should theoretically provide the link between Alonso and the front line that frees Dempsey to return to the attacking third. Somehow the lanky Texan kept popping up in the center circle.
"We just need to fine tune to make sure that Clint and (Lodeiro) figure out the right spacing," said Schmetzer. "Because I thought a couple of times we could have done better in keeping Clint a little higher, which would be my preference: Get Clint closer to goal, because we're going to need to rely on Clint to score some goals."
A problem, to be sure, but one that might be resolved with more time together.
"Sometimes we rushed things," said Roldan. "But that's also because we haven't practiced together. I think we'll get in a rhythm. It'll take a little bit of time. But even one practice in, we looked good, I thought. We just finish our chances and that's game."
Lodeiro may or may not have arrived in time to help the Sounders turn around their season. But the club's long-term future looks far sunnier than it did a few days ago.