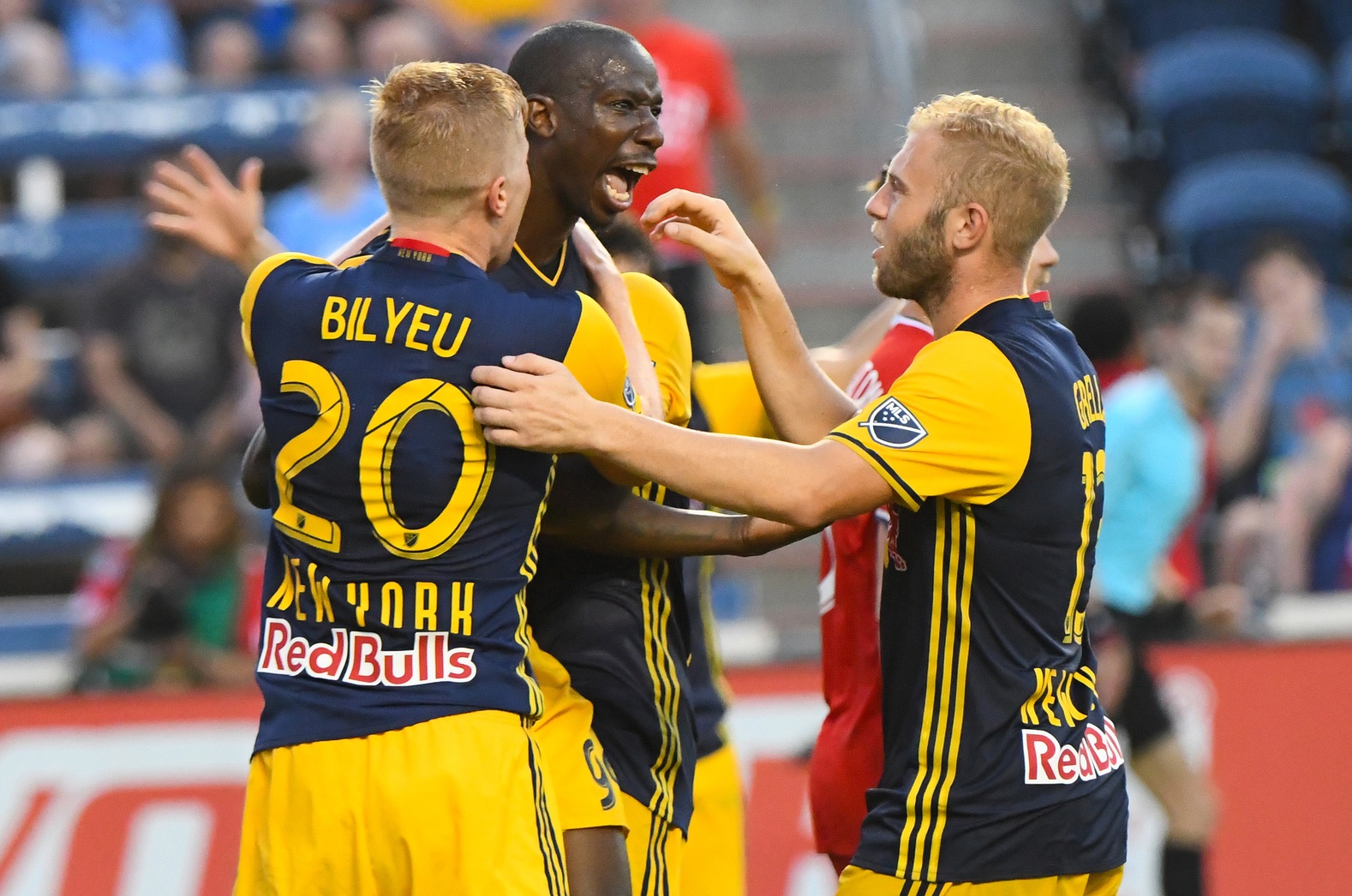 BRIDGEVIEW, Ill. – When the New York Red Bulls went to the locker room at halftime Sunday they had lost their captain to injury, were being outshot 4-0 and had just conceded two goals in 12 minutes, allowing an early lead disappear against the Chicago Fire.
"We dared everybody at halftime to not be scared to play," Red Bulls midfielder Sacha Kljestan said. "We've had different games on the road this season where we've gone up then we've given goals and we've shrunk and we haven't played like big men and had players that need to change the game.
"So we dared everybody at halftime to do more, to open up, to want the ball more, to try to create more chances, try to move off the ball and just try to attack. We kind of had nothing to lose. They're a difficult team to break down and I feel like we wore them down a lot in the second half and finally got that goal. So much better second half, I'm very glad with the response."
It took all 45 minutes of the second half, but the Red Bulls finally found their tying goal. Bradley Wright-Phillips scored in the 90th minute from a Connor Lade cross to earn a 2-2 draw. For New York it was just the fifth time they've gotten points (one win and four draws) in 12 games away from home.
"I think it'll be a good away point," Wright-Phillips said. "When we move further on into the season and we look back, it's a difficult place to come, no matter where they are in the league, they made it tough. Me particularly, I think I had a quiet game, their defenders were tough. It's a decent point, but because we were a goal up it kind of hurts, but it is what it is."
New York head coach Jesse Marsch said he though the second-place Red Bulls might have been a little too deferential to the home side, currently last place in the East.
"I'll take some responsibility because we altered our pressing a little bit to try and address certain things with Chicago and maybe we invited them and let them play too much," Marsch said. "I even said to the team that I'll take some responsibility for our lackluster performance in the first half, but I think there's also part of it that's about those guys going after the game with more courage. … Overall it's a combination of the tactics and then making sure that we step on the field with courage and belief."
Kljestan was one of the difference makers in the second half, creating four chances after the break. Lade created three more, including the tying goal. Even as the Red Bulls kept 74 percent of the ball in the second half and outshot Chicago, 11-3, the tying goal didn't always seem like it was coming.
"The response was 'Keep going, keep going, it's coming, it's coming, don't get frustrated,'" Kljestan said. "Brad hasn't scored a lot of late goals this season. He hasn't had a lot of rest, he pretty much plays 90 minutes every game. So I'm very happy for him to finally get that late goal. It changes the mood around the team a lot for the next week. Overall it becomes a decent result. It was a bad result for a while, now it becomes a decent result so overall we're happy right now."
Coming through late in games was something Marsch said he's wanted to see from his star striker.
"I've been challenging him to make more plays late in the game," Marsch said. "I thought that yeah they did a pretty good job of being hard on him, every team we play knows that Bradley's important and they focus in on him and Sacha, and Brad still manages to find ways to get goals. The key was in the second half keeping everyone's mentality about the next play and not worrying about plays not coming off and that the goal didn't come right away and just trying to encourage them to continue to have a positive mentality and to push and push and push. For Brad to make a big play like that late in the game it's a big step for him and obviously a big play for our team so that part was good.
"I'll build on that and say, as good as Brad is, we're trying to help encourage him to have a cutthroat mentality that even if he doesn't have many touches on the day he only needs one touch to make a difference. So that part was really good, he stayed after the game and made a big play."
It was also a special goal for Wright-Phillips as his 12th of the season made him the club's all-time leading scorer with 63 goals in all competitions.
"Of course, I won't lie I like to break records," Wright-Phillips said. "I try not to think about it but when you say these kinds of things it makes me proud. I put a lot of work into what I do and when you can get an achievement like that it makes me feel happy and proud."
The Red Bulls were happy to leave with something to show for their second-half adjustments, even if the opening 45 minutes left a lot to be desired.
"Somehow we have to find a way to cut out performances like the first half and build on performances like the second half," Marsch said.