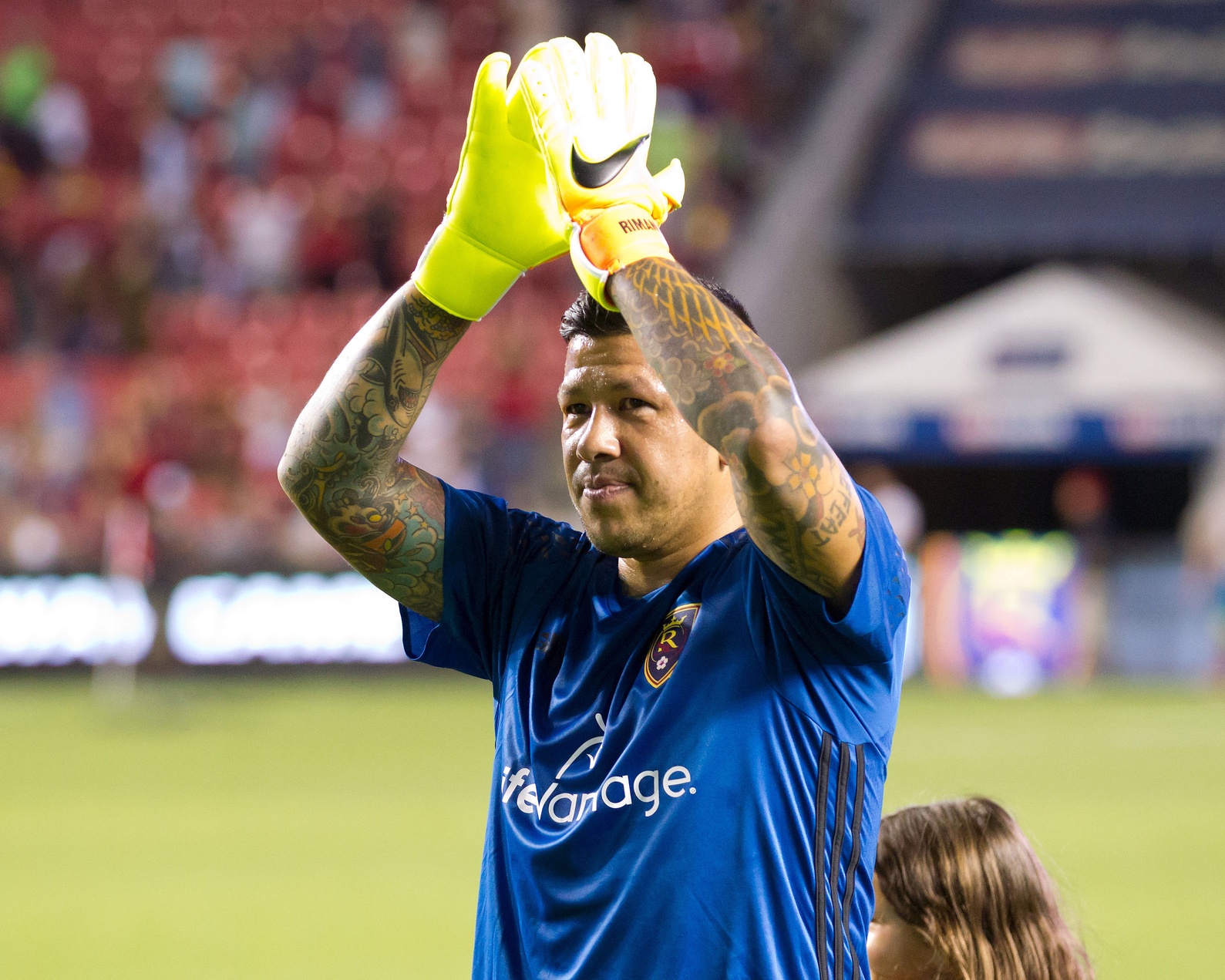 Even before Saturday's record-breaking win, Nick Rimando was considered among the best goalkeepers ever to play in MLS. For 17 years, Rimando has defied expectations while accomplishing virtually everything a player could in MLS.
No matter how you spin it, Rimando is one of the greats, but is he the best goalkeeper to ever ply his trade in MLS?
The U.S. has always produced elite level goalkeepers and, over the past 21 years, several elite shot-stoppers have called MLS home. For as long as many can remember, Rimando has been counted among them. On Saturday, Rimando's longevity at the highest level was rewarded, as the Real Salt Lake star broke the MLS record for wins by a goalkeeper, eclipsing Kevin Hartman's previous mark of 180 victories. Rimando now sits alone atop several MLS categories as he now also holds the record for most starts, most shutouts, most minutes and, in true Rimando fashion, most penalty kick saves. His play throughout RSL's run to the 2009 MLS Cup speaks for itself, making Rimando one of the most decorated goalkeepers in MLS history.
Yet, Rimando's resume still has its flaws. The RSL shot-stopper has never been recognized as MLS Goalkeeper of the Year, something several of his contemporaries have earned multiple times. When discussing Rimando's potential status as the best ever, you have to compare him with some of the greats, players who have defined MLS throughout the league's short history.
It starts with the man Rimando passed, Hartman. Throughout a 17-year MLS career, Hartman claimed two U.S. Open Cups, two MLS Cups and three Supporters' Shield trophies. Hartman, who was 1999 MLS Goalkeeper of the Year, still holds the record for most saves in MLS history.
Throughout the early stages of MLS, it was Tony Meola that was the league's most recognizable goalkeepers. One of the first in a great line of U.S. Men's National Team shot-shoppers, Meola was the 2000 MLS Goalkeeper of the Year. While he never claimed an MLS Cup with the New York Red Bulls, Meola is one of the legends of the club, while his run with the Kansas City Wizards in 2000 is still regarded as one of the best in league history to this day.
While Rimando, Meola and Hartman have combined for just two MLS Goalkeeper of the Year award, there are several names who could match the feat on their own. Zach Thornton, Donovan Ricketts, Pat Onstad and Joe Cannon have all claimed the award twice.
Of the bunch, Onstad has enjoyed the most team success, as the Canadian star claimed three MLS Cups and a Supporters' Shield. However, both Thornton and Cannon rank in front of Onstad when it comes to MLS wins, with Thornton amassing 131 victories in just 282 games, giving him the best win percentage of any goalkeeper with more than 150 appearances. Meanwhile, in his prime, Cannon led the Earthquakes to the 2001 MLS Cup while earning votes in the 2004 MLS MVP race.
With that said, who do you think has earned the title of best goalkeeper in MLS history? Which star stands out?
Have your say in the poll below and state your reasoning in the comments section:
[polldaddy poll=9493492]