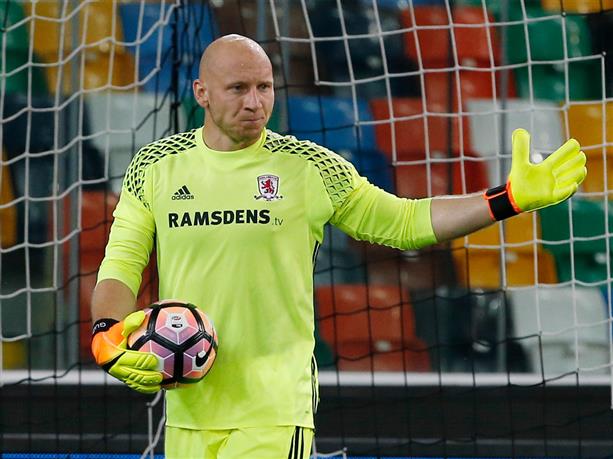 The 2016-17 Premier League season is just days away with several Americans set to face interesting club situations as play begins in England's top flight.
Following the departure of Tim Howard, Brad Guzan is now the longest-tenured American in the Premier League. However, the U.S. Men's National Team goalkeeper faces a new club situation following the relegation of Aston Villa. A spot with recently-promoted Middlesbrough now awaits, as does a competition with former Barcelona regular Victor Valdes.
Joining Guzan among the Premier League veterans is Geoff Cameron, who is likely in the most stable situation of the Americans in England. The Stoke City star has proven a key part of the club's plans for several seasons, and the 2016-17 season should be another with plenty of gametime for the former Houston Dynamo star.
The club situations of players like Matt Miazga and DeAndre Yedlin are a bit more tumultuous, with both potentially set for new homes in the coming weeks. Meanwhile, Emerson Hyndman is set to make the step up to the Premier League after several seasons in the English Championship. Finally, there are several youngsters looking to make the leap into the first team, providing several interesting storylines heading into the new season.
Here's a closer look at the Americans scattered throughout the Premier League, at least for now:
GEOFF CAMERON (Stoke City)
Among the Premier League-based Americans, Geoff Cameron's situation is likely the most stable.
The Stoke City defender has been a mainstay for several years, featuring in a variety of positions for the perennial midtable club. The USMNT defender made 34 total appearances for the Potters last season, proving himself indispensable for a team that finished ninth in the league. A spot with the national team is all but locked down for Cameron these days, and the veteran defender will look to help push a Stoke City team that focused on bolstering its midfield group in the summer transfer window.
CAMERON CARTER-VICKERS (Tottenham)
Cameron Carter-Vickers is probably not ready to make a meaningful contribution to Tottenham's title push, but the club has shown a lot of faith in the young centerback throughout the preseason.
With the club's first-choice defense absent due to international commitments, Carter-Vickers was a mainstay in the Tottenham defense throughout preseason friendlies. In total, Carter-Vickers appeared in three preseason contests, and Tottenham's makeshift backline allowed just two goals in the trio of matches the 18-year-old played in. With Toby Alderweireld and Jan Vertonghen ahead of him, Carter-Vickers is unlikely to break into the first team soon, but he may very well be ready for some sporadic appearances for a team competing in the Premier League, Champions League and domestic cups.
LYNDEN GOOCH (Sunderland)
After battling a relegation fight, Sunderland remains in the Premier League, giving Lynden Gooch another chance at perhaps earning his league debut.
The 20-year-old spent last season on loan in League One with Doncaster Rovers, but injury issues limited Gooch to just 10 appearances. The midfielder signed a new deal with Sunderland in April, furthering his commitment to a team that could be in for another relegation battle. In terms of transfers, Sunderland has yet to bring in anyone to boost the midfield, but Gooch will have to leapfrog players like Wahbi Khazri, Jack Rodwell, Jordi Gomez and Sebastian Larsson to earn a spot in the Black Cats' midfield.
BRAD GUZAN (Middlesbrough)
A familiar Premier League face begins his career in a new place, and his road to the field may not be an easy one.
Last year's Aston Villa team could easily be described as a disaster, one which saw a totally deserved relegation to the Championship. Fortunately for the USMNT No.1, hewas able to emerge from the wreckage and into a new home with Middlesbrough. Joining Guzan at Boro is another veteran looking to return to the top level, Victor Valdes, formerly of Barcelona fame. The Spanish goalkeepers' presence ensures a hotly-contested goalkeeping competition, one which will see plenty of pressure on whoever emerges as Day 1 starter.
EMERSON HYNDMAN (Bournemouth)
Emerson Hyndman is set for a step-up in competition, making the midfielder's situation one of the more interesting among Americans Abroad.
After emerging with Fulham, Hyndman has played his way to the Premier League with Bournemouth, who survived last season with a 16th-place finish. Preseason has been a bit rough for the 20-year-old midfielder, who has missed a majority of the summer due to injury. Bournemouth is in for a fight to remain in England's top league, and Hyndman will have to rise to meet the challenge in case the club begins the scramble through another relegation battle. Fellow signing Lewis Cook will likely earn a spot in the midfield, while returning veterans Harry Arter and Andrew Surman could command a starting gig.
MATT MIAZGA (Chelsea)
The Premier League season is just days away, but it continues to look more and more unlikely that Matt Miazga will have a part to play in England's top division.
Unsurprisingly, Miazga has been linked with a loan move away from Chelsea, one that could take him to any number of the world's top leagues. The most recent rumor is Eintracht Frankfurt, although the club recently denied they were in pursuit of the young centerback. Should Miazga shockingly remain with Chelsea heading into the season, he enters fairly far down the centerback pecking order. John Terry, Gary Cahill, Kurt Zouma and Branislav Ivanovic are all ahead of the young American, while it looks like new boss Antonio Conte may not be done in the transfer market. Miazga's best path is away from Chelsea, at least for the time being, as he adjusts throughout his first full European season.
DEANDRE YEDLIN (Tottenham)
DeAndre Yedlin shined down the stretch in his first Premier League season, and the USMNT fullback will look to do so again, even if it isn't with Tottenham.
Throughout the summer window, Yedlin's club situation has been a bit unclear. The 23-year-old has featured at both right and left back for Tottenham throughout preseason, but was recently left off of the club's final traveling roster. Yedlin spent last season on loan with Sunderland, and it appears the club is interested once again. With that said, Yedlin's future is a bit up in the air at the moment as he looks like he could be moving to a team that should provide regular minutes.
GEDION ZELALEM (Arsenal)
A year abroad helped Gedion Zelalem develop physically. However, the young playmaker doesn't appear to be quite ready for an Arsenal spot.
Zelalem joined the Gunners once again as the club toured the United States for friendlies that included an appearance in the MLS All-Star game. Zelalem's growth while with Scottish side Rangers has impressed Arsene Wenger, but with stars like Santi Cazorla, Jack Wilshere and new signing Granit Xhaka in front of him, there's little room for minutes for Zelalem. Expect the 19-year-old to go on loan once again as he continues to develop the physicality to match his ability to create.