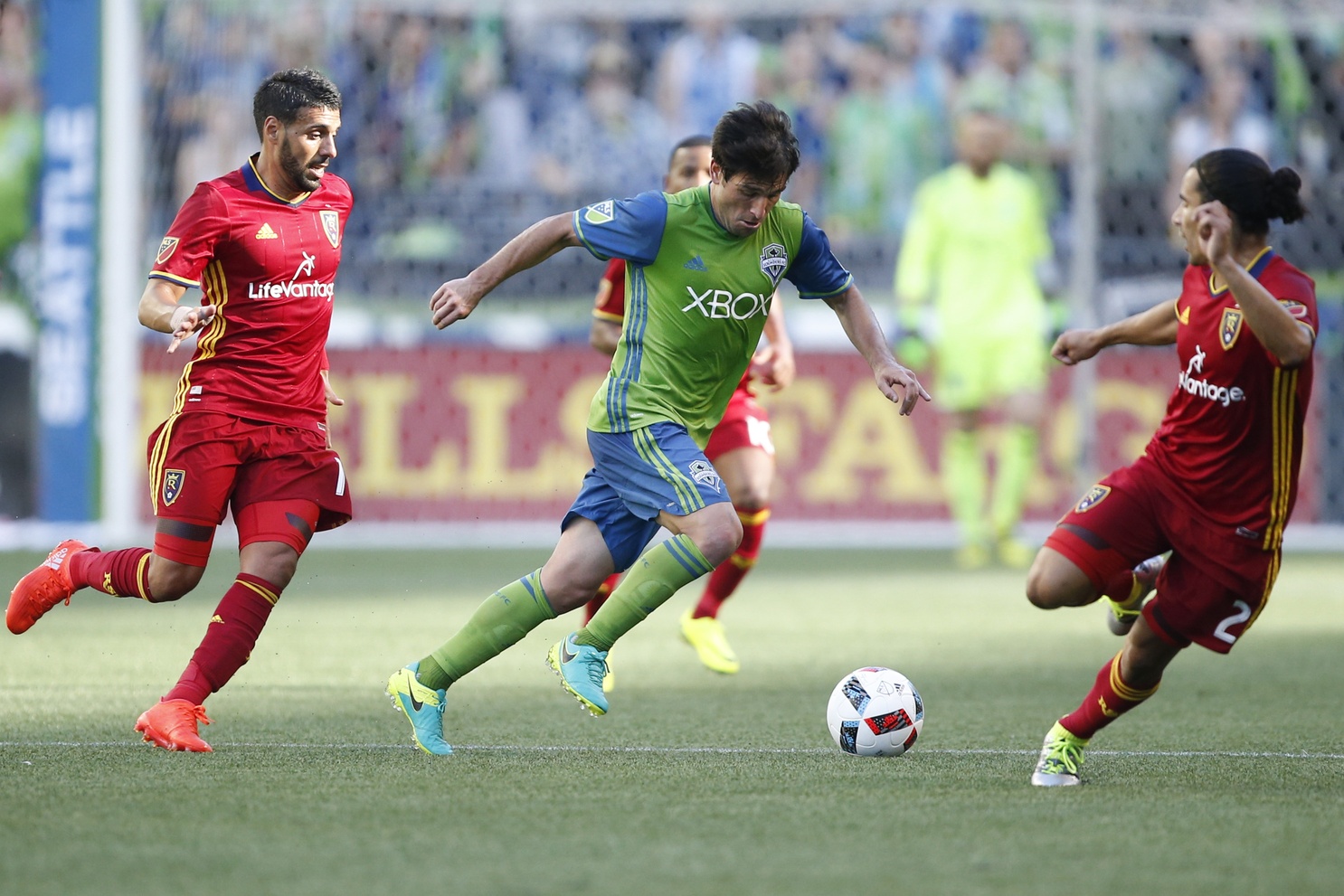 Nicolas Lodeiro and Jordan Morris both impressed and found the back of the net for the Seattle Sounders against Real Salt Lake, while Philadelphia Union and new signing Alejandro Bedoya took down the New England Revolution with style to cement fourth place in the Eastern Conference.
Here's a closer look at The Best of MLS Week 23:
PLAYER OF THE WEEK
While Nicolas Lodeiro has impressed thus far into his stint for the Sounders, his extraordinary performance this Sunday against Real Salt Lake put any doubters to rest as the Uruguayan created two goals with just two touches of the ball. Lodeiro smacked home a Andreas Ivanschitz pass first-time to beat Nick Rimando from close range in the 24th minute to both open the game's scoring and his MLS account. Then, just fourteen minutes later, Lodeiro turned provider, getting on the end of a Clint Dempsey pass and sending in a lovely cross towards rookie Jordan Morris, who headed home for the game winner.
Lodeiro's sparks of brilliance have Sounders fans ecstatic at their new DP signing, as the playmaker beat out Tim Howard, Sean Davis, Ethan Finlay, Steve Birnbaum and Chris Pontius for the SBI Player of the Week award.
TEAM OF THE WEEK
The Philadelphia Union and their new Designated Player, Alejandro Bedoya, cruised past the New England Revolution with some great link-up play and smart finishing. The tone of the match was set early on, with C.J. Sapong scoring in the early moments of the game. Chris Pontius then contributed with a goal of his own, and an assist for Richie Marquez. Near the end of the match,  Roland Alberg put the fourth goal in, to further cement what was a commanding Union win.
The Union's comprehensive win showed the team's cohesiveness and dominance when on their game, easily winning SBI Team of the Week over New York Red Bulls, D.C. United and San Jose Earthquakes.
ROOKIE OF THE WEEK
It was Jordan Morris's 38th minute header against RSL that turned out to be the game winner for the Sounders this Sunday, which may well come as quite a relief to many Sounders fans. Morris has come under fire lately for missing some goal-scoring opportunities, but was little doubt on Sunday as the Stanford product fired his team to another much-needed victory.
The young forward's movement off the ball and runs into the box were vital for the Sounder's win, earning him SBI Rookie of the week, outplaying Keegan Rosenberry, Jonathan Campbell, and Alex Muyl.
 GOAL OF THE WEEK
With the game already out of hand, Roland Alberg fired the Union's prettiest goal of the night. After receiving the ball with a smooth turn, Alberg played a quick one-two before rocketing a shot for the Union's fourth goal. The finish was good enough for SBI MLS Goal of the Week honors, just ahead of Colorado Rapids forward Shkelzen Gashi.