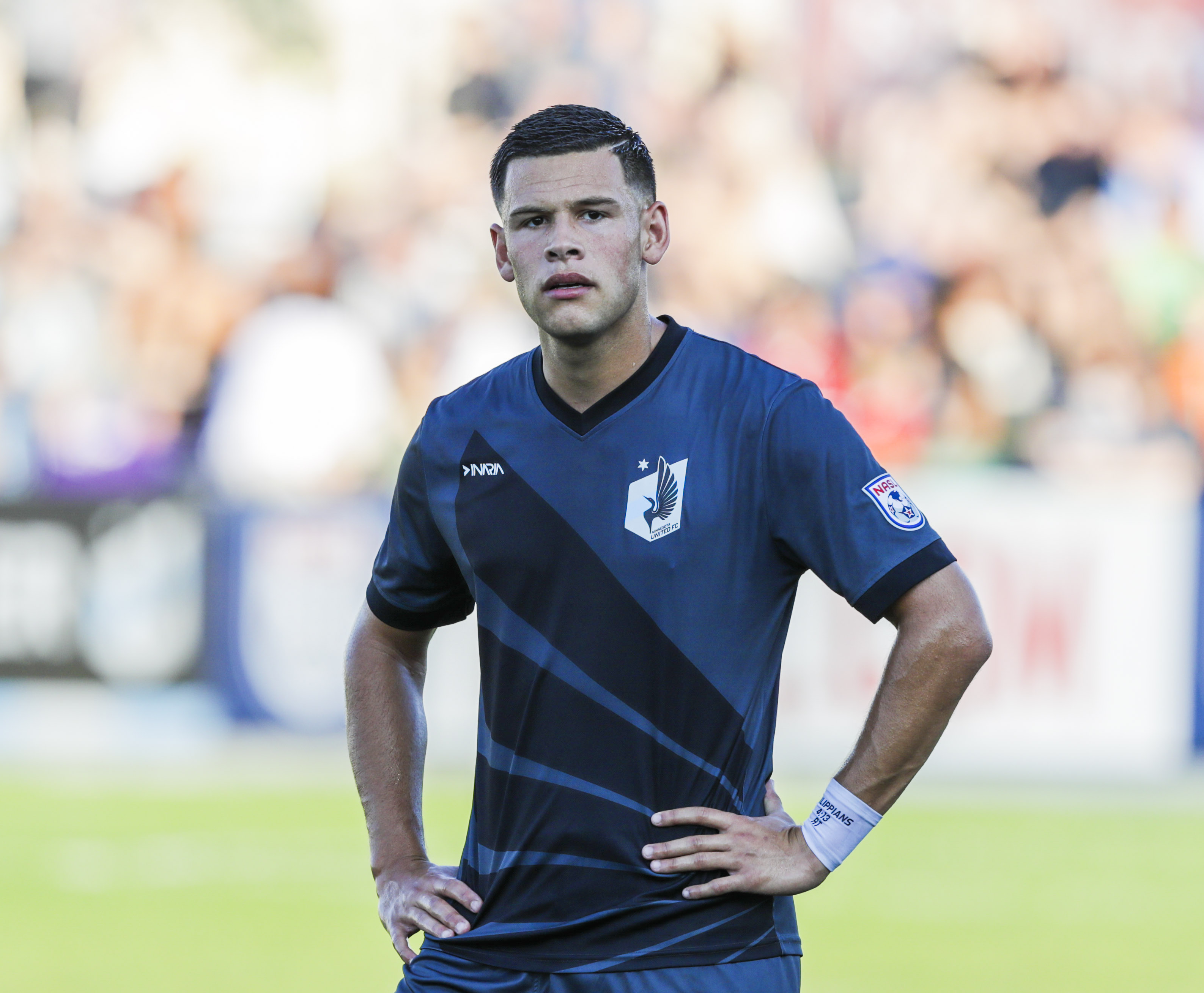 For years, Minnesota United star Christian Ramirez was motivated by his past. Unheralded and, in many ways, unwanted during his early years, Ramirez staked his claim as the NASL's best goalscorer time and time again, all while nursing a chip the size of Minnesota that sat firmly upon his shoulders. Even as accolades and praise came his way, the forward always looked towards the doubt that drove him to becoming one of America's brightest young goalscorers.
But 2016 is a bit different. After years of pushing past perceived slights, Ramirez has finally let go of the doubts that defined his early career. His motivation now? An uncertain future, one that he is still desperate to define on his own terms.
Since joining the team in January 2014, Ramirez has been the face of Minnesota United. In just 78 games, Ramirez has fired 45 goals and 14 assists while earning the 2014 Golden Ball and two NASL Best XI selections. Yet, as the Loons prepare for a 2017 jump to MLS, Ramirez remains unsure of where he will be playing next season. That uncertainty has become Ramirez's rallying call as the forward looks to impress not just Minnesota United, but anyone willing to watch.
"The motivation that has pushed me to continue with the year that I'm having is the fact that I don't have anything guaranteed for next year," Ramirez told SBI. "I feel I should already know where my future lies for the next couple of years. Not knowing where my future lies, it's an uncertainty that drives me. I continue to push, continue to score goals and that's all I can really do.
"At the end of the day, I know that soccer is a business and I'll find a home somewhere if things don't work out, but that's been a real driving force for me: putting my name out to the world and seeing where that takes me. I feel, if the roles were reversed, if I wasn't having a good year, I'd be in desperation mode, so it's good to be affirmative in the way that I've played this year and strived to play and score goals and push the boundaries."
Still, the forward remains "open" towards continuing to call Minnesota home. Ramirez says he understands that the salary cap restricts how the Loons can operate heading towards MLS, but the 25-year-old added that, if the numbers work out, he'd love to continue to build his career in Minnesota.
However, Ramirez also insists he's realistic as he looks to build upon what has been another spectacular season. As of Tuesday, Ramirez once again leads the league in goals with 13 as the Loons remains in the hunt for a postseason berth.
"Soccer is a business," Ramirez said. "Maybe they go in a different direction and I go elsewhere. There's always speculation and rumors of teams interested and that sort of thing, so for me, I don't want to wait two or three months to figure that out. If it was up to me, it would have already been figured out and put to rest so I could play freely.
"At the same time, I enjoy playing with this added pressure. It's fun going out there knowing everyone is watching and one game can turn one way and the next game can turn a completely different way. It keeps me on my toes, keeps me focused on the main goal. I want to be on a winning team, and that's what I'm focused on: winning and ending this year with a championship. At the same time, you have to be selfish at some point and realize that it is a business and separate that and I think I've done a good job of that."
So early in a process that promises so much change, Minnesota United remains focused on the existing challenge. According to Minnesota United general manager Manny Lagos, the team is still assessing  the current group ahead of making what the longtime coach calls "hard and tough decisions". Lagos says that the middle of an NASL season is not the time to make and announce those decisions, as the team remains focused on exiting the league with a trophy in hand.
Still, Lagos, who coached Ramirez for two years before moving to the front office, looks forward to Ramirez's continued growth. Lagos says that he, like every American soccer fan, gets excited at the idea of an American scoring goals at a top level, and Ramirez has certainly shown the potential to do just that.
"To me, he's an exciting player that scores goals and will continue to get better," Lagos told SBI. "He's certainly been challenged in a positive way to start his professional career. The future is bright for him. The future has a lot of growth for him. He's excited about where he thinks his career is going and the challenges ahead and how he can embrace them and use the experiences that he has now to become an even better player in the future."
While securing a club future remains one of Ramirez's immediate goals, it's far from his only target. Ramirez wants to push the Loons into the playoffs while helping to capture an elusive NASL crown. He wants to continue to thrive as the NASL's top scorer. He wants to be a part of one of the league's best attacks, joining players like Stefano Pinho, Lance Laing and Ben Speas in wreaking havoc for a team moving towards full health.
The ultimate goal, though, remains unchanged: a call-up to the U.S. Men's National Team. Ramirez says it's been "a lifelong dream" to wear the USMNT jersey, one that he knows is possible if he continues on the path. After seeing former teammate Miguel Ibarra earn a spot with the national team, Ramirez has been motivated to book his own place among the country's very best. From what he's seen, Ramirez knows that if he plays well and his team keeps winning, he has a chance, one that he intends on taking when the time comes.
That quest took a turn this past offseason, as a freak encounter helped put the forward in contact with the man in charge of making those sorts of decisions. While spending time in his native California, Ramirez ran into USMNT boss Jurgen Klinsmann while shopping at the local Nike store. The two exchanged contact information and discussed offseason fitness programs, as Klinsmann advised Ramirez to reach out if he was ever in need. Several months later, the German legend was tweeting praise at the Minnesota United forward, thrusting him into the national spotlight once again.
With a move to MLS or abroad likely on the horizon, Ramirez is looking to follow in the footsteps of former Fort Lauderdale Strikers star Fafa Picault, a player that earned his USMNT shot earlier this year after breaking out with German club St. Pauli.  Ramirez admits he reads the articles and tweets pushing for his call-up, and he admits that it is exciting to be in the conversation. For years, he's looked up to players like Clint Dempsey and, if all goes according to play, Ramirez hopes to someday be competing at the same level.
"You always wonder if maybe (playing in NASL is) what's holding you back from being called," Ramirez said. "Those are questions that may be answered if I was scoring 13 goals in MLS or Liga MX or overseas. You have a guy like Fafa who was playing in the NASL, had a good year with the Strikers in 2014 and then moved overseas and got the call for the Puerto Rico game. That's always exciting and it pushes you. I was competing with Fafa for the Golden Boot that year. To see him get the call-up is really nice because it gives us all hope.
"It's always been a lifelong dream to put on those colors," he added. "I know that if I play well and if coach Jurgen wants to take a look at me, I'll get that call. If I'm not playing well and the team's not winning, that won't happen."
Still, the call seems far away, especially as there's an NASL season to conclude. Like the rest of his Minnesota United teammates, Ramirez craves an NASL title, one that has slipped from grasp each of the last several seasons.
Ever since he first began his professional career in 2013 with the USL's Charlotte Eagles, Ramirez has been driven by a desire to prove doubters wrong. His motivation has changed as he has continued to make success a habit. Now he is focusing his energy on reaching new heights after reaching so many of the goals he previously set for himself.
"For myself, I want to end up with that Golden Boot in my hand at the end of the year," Ramirez said. "I know that Eamon Zayed is pushing and has had a fantastic year with a couple of hat-tricks. I want that second one because I want it. It's simple as that. Without my teammates and us winning and getting back on track, that won't be possible.
"I want to be in the playoffs and anything can happen in the playoffs," Ramirez said. "At any point, anyone who sees they're going up against Minnesota United doesn't think that they're a favorite going up against us. We have a lot to prove. Guys are playing for their lives this year, so it's good desperation that we will play with. There are chips on our shoulders and we'll continue to battle."