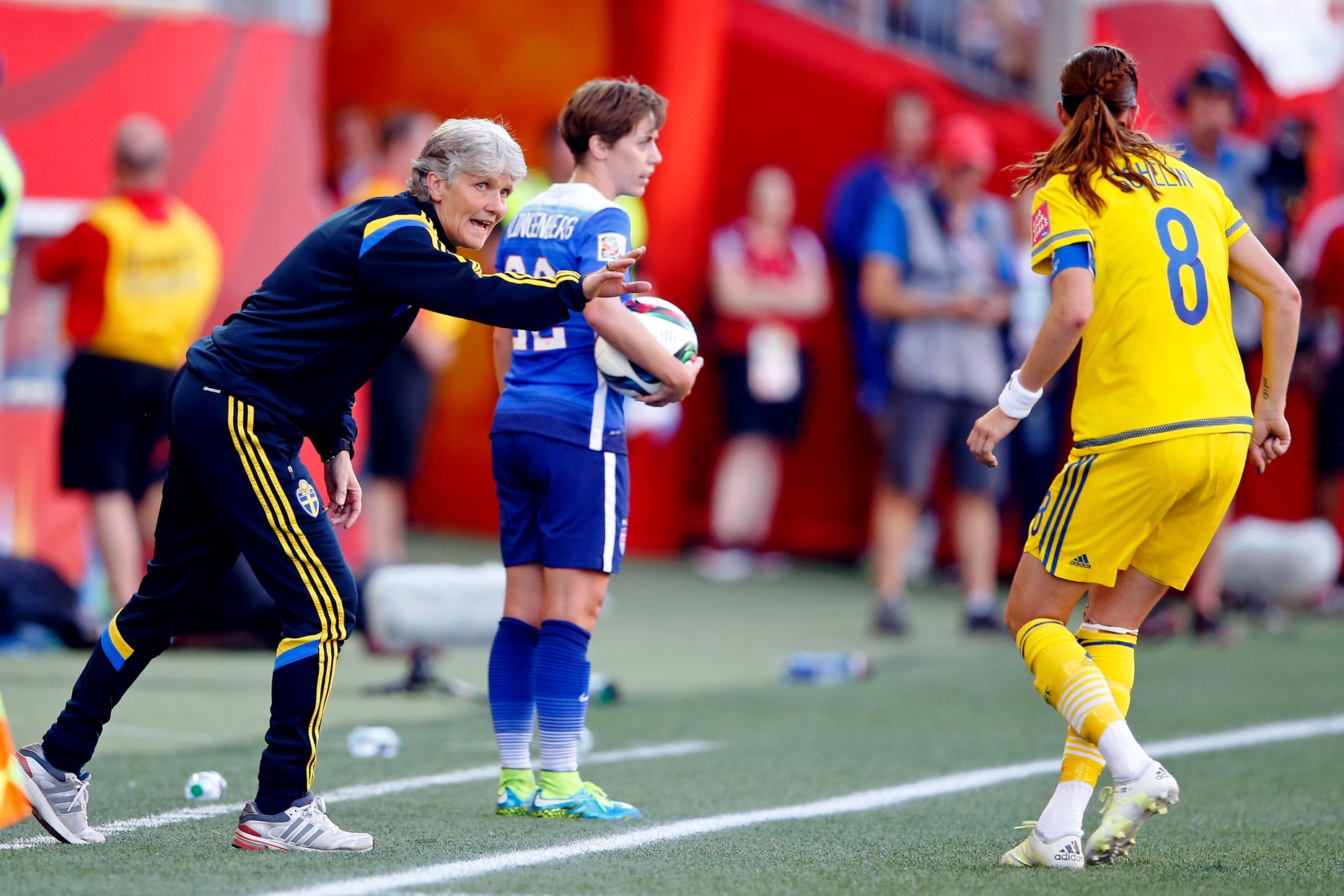 For five years and 107 games, Pia Sundhage was the leader of the U.S. Women's National Team, guiding the team to two of the program's four Olympic gold medals. On Friday, Sundhage won't be aiding the USWNT's pursuit of gold medal No. 5; she'll be standing in the way.
The USWNT are set to face Sundhage and Sweden in Friday's Olympic quarterfinal match, setting up a clash filled with emotion. On one side is the USWNT, a side featuring players who remain heavily influenced by the Swedish boss. On the other sits Sundhage, a manager looking to lead her birth country to the same heights that she reached as head coach of the U.S.
Two Olympic gold medals highlight Sundhage's tenure, while a second-place finish at the 2011 Women's World Cup served as a natural low. For her efforts, the Swedish coach was recognized as FIFA Women's World Coach of the Year in 2012 before stepping down in September of that same year.
It's not the first meeting between the two sides since Sundhage's departure, but it is certainly the most meaningful. The two sides collided in the group stage of the 2015 Women's World Cup in a match that ended as a scoreless draw, a clash that served as the third match between the two sides post-Sundhage's departure. Both teams are now familiar with the emotion and familiarity that will define Friday's clash, a match that the USWNT hopes serves as just another chapter en route to the team's fourth-straight gold.
"There's that rivalry because so many of us know them and the coaching," said Christen Press. "Us having (USWNT assistant Tony Gustavsson) and them having Pia, it heightens all emotions going into this game. That's what we love about this. We love this rivalry. After tying them in the World Cup, we want to show them what we can do and what kind of football we can play."
According to Press, Sweden brings a physical game, one that could prove frustrating to the USWNT. In the 2015 World Cup clash, Sweden was content to keep a tight backline, limiting USWNT attacks. It worked. Sweden sat deep and countered, relying on organization and discipline to keep a talented USWNT group off the scoresheet.
The USWNT expect something similar on Friday, so the emphasis has been on spreading the field. The USWNT will have to display technique and quality, moving the ball from side-to-side in an effort to break up the Swedish defense. It's the type of match that likely favors players like Alex Morgan and Tobin Heath, who possess the skill and technique to unlock even the best of defenses. Both of the two earned rest in the USWNT's group stage finale against France, a shocking 2-2 draw.
Megan Rapinoe made her tournament debut in that match, playing less than a half before returning to the bench. As the midfield playmaker continues to return to full fitness, head coach Jill Ellis could turn to Rapinoe to help unlock Sweden's defense as either a starter or a late option.
However, according to Hope Solo, Sundhage is always good for a few wrinkles, ensuring the USWNT must be on their toes mentally throughout Friday's quarterfinal.
"I'm not sure what to expect from Sweden actually," Solo said. "They've been playing different lineups and different formations lately. In the past, I'd say I knew what to expect from them.
"They're very good in the air, very good on set pieces, a strong team. In terms of formation and tactics, I'm not sure what they're going to bring. Pia Sundhage being their leader and being their head coach, she's a great tactician. I expect her to have a great gameplan to play against us."
In total, of the USWNT's 18-player roster, 10 played under Sundhage, while several of the eight attended a USWNT camp during the Swedish coach's tenure. Even away from the national team, there's a certain level of familiarity between the two sides. Sweden attacker Kosovare Asllani formerly played for the Chicago Red Stars, while Sweden's Caroline Seger has played both in the U.S. and at Paris Saint-Germain alongside Lindsey Horan. On the U.S. side, Whitney Engen, Christen Press, Ashlyn Harris, Ali Krieger and Meghan Klingenberg have all made stops in Sweden throughout their club careers.
However, the USWNT insist that Friday's clash isn't about club careers or former national team managers. Rather, it's about the pursuit of an Olympic gold, and emerging from the latest hurdle standing in their way.
"I think pressure raises the level. I think they know that and it brings the best out of them," Ellis said. "I think it's certainly a situation where everything is on the level and you have to deliver. They're in pursuit of a gold medal, and this is standing in their way right now."