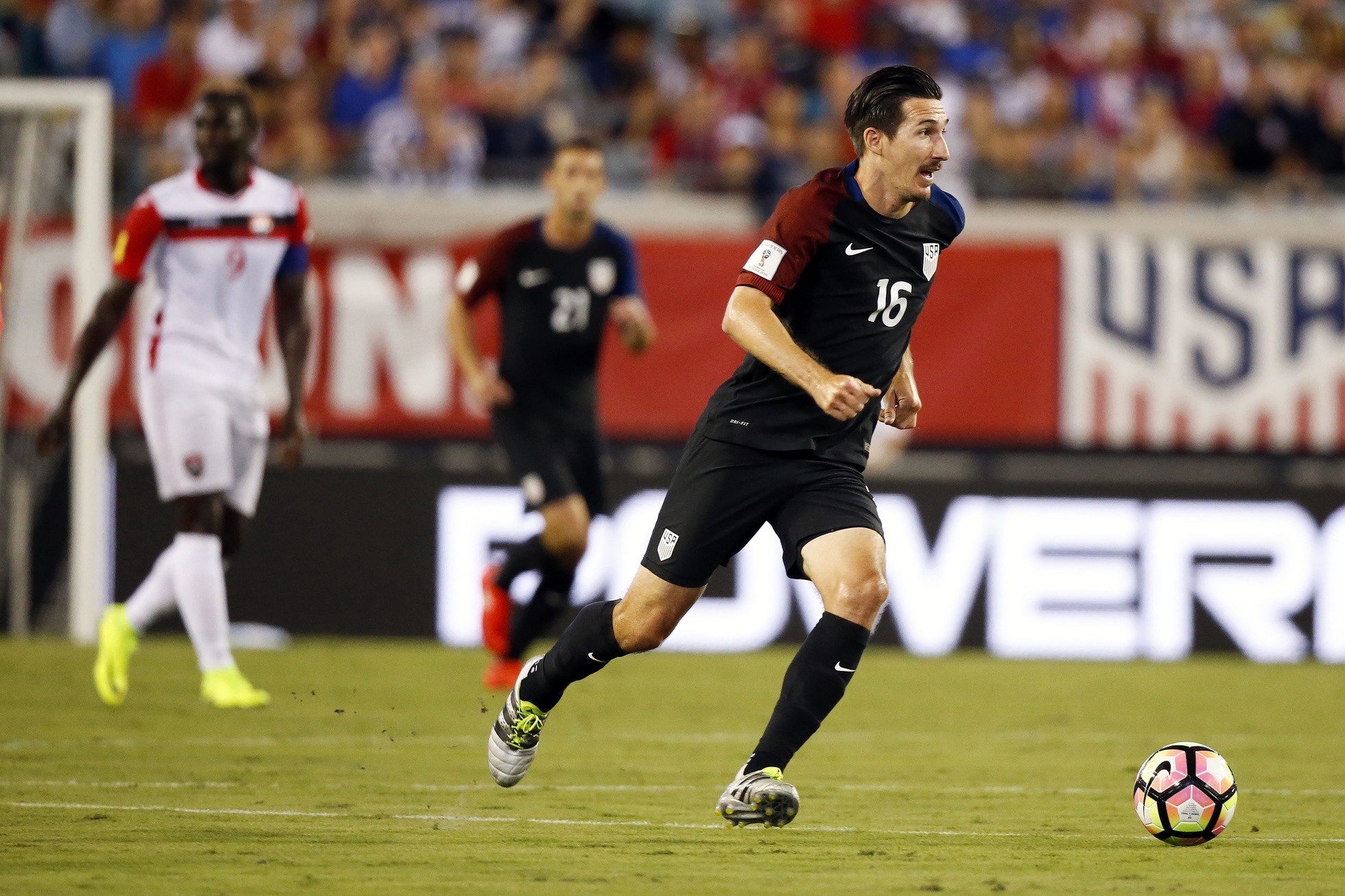 It was an iconic pose. Stood several feet above his teammates, arms raised into the Jacksonville sky, Sacha Kljestan's finally had his moment. It was a split-second reaction to a goal several years in the making, one which Kljestan believed would never come. But when it did, Kljestan simply jumped up, taking it all in, as he cemented a return to a team that seemed to have passed him by.
Excluded from the U.S. Men's National Team for the better part of two years, Kljestan's international career appeared all but over. Uncapped since 2014, a call-up was wishful thinking, and the most recent roster did nothing to alleviate the disappointment. Once again, Kljestan was left off, as the U.S. moved towards a pair of World Cup qualifiers without the New York Red Bulls star.
But, in need of an injury replacement, Kljestan finally received the call for what appeared to be a last-gasp chance at reclaiming his international career. Now, less than two weeks after suffering through yet another disappointment, Kljestan is firmly back in the fold. After returning with a goal and two assists against St. Vincent & The Grenadines, Kljestan fired the U.S. into the lead with the first of four goals against Trindad & Tobago in a shutout win. It was a goal that meant so much to the USMNT, but even more to a 30-year-old midfielder who wanted nothing more than a second chance.
"It came at an important time, and that was the biggest thing for me," Kljestan said. "We get into halftime winning 1-0 and it puts them under more pressure. They don't feel so confident coming out of the locker room after halftime. It just felt good. You can tell by my celebration that I was excited. It was right in front of the supporters group. It was a great moment for me. I'll never forget it."
"I had my head down for the past year-and-a-half, working hard, wondering if it would ever come. I was not sure if it would. Fortunately, the call came from Jurgen and he gave me a chance to prove myself with these last two games as well. Overall, I'm pretty happy with the way the last nine days have gone."
With 46 international caps prior to the most recent World Cup camp, Kljestan was far from a USMNT neophyte. He had played in a Copa America, an Olympic tournament, a Confederations Cup and a Gold Cup throughout his international career, firmly cementing himself as one of Bob Bradley's most frequent call-ups following his 2007 debut.
But under Jurgen Klinsmann, Kljestan fell back towards the pack. After appearing plenty of times throughout Klinsmann's first few years in charge, Kljestan made just one solitary appearance in 2014 in what proved to be his last call-up prior to the most recent qualifiers. Kljestan was in the USMNT wasteland and, as other midfielders began to prop themselves up, it didn't appear he would ever come back.
After scoring only four goals in his first 46 international appearances, Kljestan's two goals have done wonders for that perception. The pair of performances showed growth, and Klinsmann has taken notice.
"He helped his case big time. That's what happens in soccer all the time," the USMNT coach said. "Some players come in for whatever reason, if it's suspensions, if it's injuries. Other ones get their call and we always tell them, no matter if you were gone for two years, this is your chance now. Don't worry, the door is always open. He understood that from the first second on. From the first training session on he was on fire in this camp. 10 days.
"It's just great to see, because now we're going towards the Hexagonal. We're talking about Russia 2018. Things will heat up. We want the younger ones to push it even more, that's why we bringing Paul Arriola, that's why we bring in Caleb Stanko. I want these guys to send some signals out there. Sacha absolutely took advantage of his opportunity. And I told him already welcome back for next time."
Kljestan says the transition back into the USMNT team was easy. Playing alongside Michael Bradley once again, the 30-year-old midfielder felt right at home. With Bradley holding down a majority of the defensive duties, Kljestan was given free reign to make plays by making his mark in the attacking half of the field.
It was a system similar to that deployed by his club team, the Red Bulls. After contributing eight goals and 14 assists in 2015, Kljestan leads the league with 15 assists this season. One of MLS' elite playmakers, Kljestan's game has reached a new level, as the Red Bulls are once again soaring towards a postseason berth.
Now nearly two years into his stay with the club, Kljestan says he has grown leaps and bounds under the tutelage of former Chivas USA teammate Jesse Marsch, a coach that has helped make Kljestan a much better player than the one who last wore a USMNT shirt in 2014.
"I think we have a system and a style of play that really benefits me," Kljestan said, "and I have a coach that believes in me more than anybody else I've ever played for. Jesse is a guy, we played together for a long time and we have a great relationship. He really pushes me everyday and he challenges me.
"At some point last season, he told me, 'If we're going to win something, you need to be the MVP of this league, and you can be the MVP of this league. You can be one of the best players in the league'. Having a coach that has confidence like that has done wonders for me. His belief in me has been huge."
Kljestan now has the belief of Klinsmann heading into the biggest games of the qualifying cycle. A match with Mexico looms large as the USMNT head towards the Hex, while fellow powerhouse Costa Rica awaits right after. It's a stretch of games that will require a USMNT group at their best and, if Tuesday's performance was any indication, they may be getting there.
Right in the middle of that performance was Kljestan. After several years in the USMNT wilderness, the 30-year-old midfielder is back, and may be vital to the team's hopes going forward.
"I'm feeling confident," Kljestan said. "I feel like my level of play is at a very consistent level as well. I just hope to be back in with this team and to contribute any way that I can. "