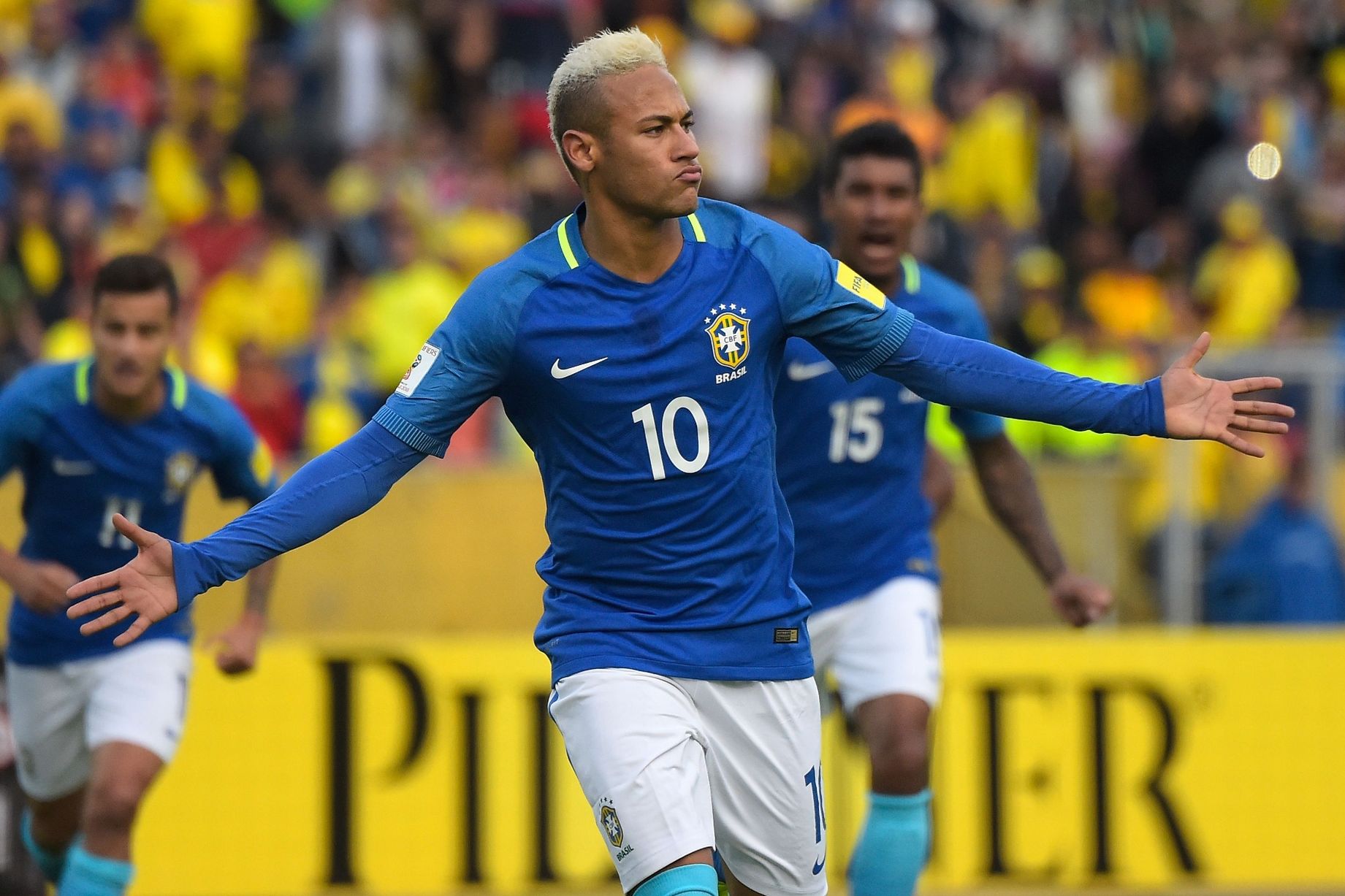 Two of the world's biggest superstars will face off on Tuesday night, and they will do so in a mouthwatering showdown that many fans around the globe will be tuning in to watch.
Neymar and James Rodriguez are set to do battle when Brazil welcomes Colombia for a World Cup qualifier that highlights CONMEBOL's eight round of action. The two talented playmakers enjoyed strong, goal-scoring performances in last week's international fixtures, and will be hoping to replicate those outings in order to help their respective nations move one step closer to Russia 2018.
The Brazil-Colombia affair might be the game to watch on Matchday 8, but it is hardly the only one that will receive attention. Tuesday's South American slate also includes another clash of teams split by just a single point in the standings, as Nicolas Lodeiro and Uruguay play host to Paraguay in what is sure to be a cagey encounter.
The other games on the day's schedule will see a Lionel Messi-less Argentina play Venezuela, Chile lock horns with Bolivia, and Ecuador travel to take on Peru.
Here is a closer look at the eighth round of CONMEBOL's World Cup Qualifying campaign:
URUGUAY vs. PARAGUAY (No live broadcast | tape delay on Sept. 7 at 10 a.m.,  beIN Sports Espanol)

Paraguay is seeking to move back into one of the top five spots after picking up a big win last week, but a Uruguay side aiming to reclaim the leader position stands in the way.
Uruguay and Paraguay will stand toe-to-toe at Estadio Centenario in Montevideo, and the match has plenty of intrigue given where the two teams stand in the table. Uruguay slipped to second place last week after falling to Argentina, and Los Charruas will need to rebound at home against sixth-placed Paraguay in order to guarantee that they remain in the top half of the standings. Currently, Uruguay has 13 points and Paraguay has 12.
If the Uruguayans are to bounce back on Tuesday, they will need a better showing from Luis Suarez and the rest of their attack. Uruguay was blanked by Argentina last Thursday, and now have another stiff test to tackle in Paraguay. Los Guaranies have conceded just seven goals to this point, and another strong showing at the back could go a long way towards helping them grab a result on the road.
VENEZUELA vs. ARGENTINA (7 p.m., beIN Sports)
It is a battle of first vs. the worst. David vs. Goliath.
Fresh off of moving into the top spot in the table, Argentina is set to visit last-placed Venezuela in a game that, on paper, looks to be as lopsided as any that has taken place so far. La Albiceleste is on a strong run right now, as it has won four straight matches in qualifying and gone unbeaten in six. Making things even more impressive for Argentina is the play of its defense, which has given up a CONMEBOL-low four goals.
All that spells trouble for Venezuela, but what will help La Vinotinto's cause at Estadio Metropolitano de Merida is that Lionel Messi will miss the game due to a groin injury. That will not guarantee anything, of course, but should help instill some confidence in the Venezuelans as they attempt to give their fans something to cheer about.
CHILE vs. BOLIVIA (No live broadcast | tape delay on Sept. 7 at 3 p.m.,  beIN Sports Espanol)
If winning cures all ailments, Chile better be on its toes here and not take anything for granted.
Bolivia grabbed a confidence-boosting shutout win over Peru last week, and is now dreaming of picking up three more points on the road vs. Chile. The challenge is a sizable one for La Verde, but getting at least a draw out of this game will be possible so long as it manages to put out fires as well as it did in the 2-0 triumph vs. the Peruvians.
For Chile, anything less than a victory will be seen as a massive disappointment. La Roja is in sore need of a win after coming out on top just once in its last five qualifiers, and will be hoping that its attack can get going again after netting just once via a set piece in last round's frustrating 2-1 loss to Paraguay.
An interesting tidbit in this one is that the Chileans will be playing this game away from their usual home venue in Estadio Nacional in Santiago as part of a FIFA punishment handed down in May because of homophobic chants. The match will instead be played at Estadio Monumental David Arellano in the same city.
BRAZIL vs. COLOMBIA (8:45 p.m., beIN Sports, beIN Sports Espanol)
Games between Brazil and Colombia have gotten increasingly feistier since their quarterfinals bout at the 2014 World Cup, and this one should only continue that trend.
Brazil and Colombia will renew acquaintances at Arena da Amazonia in Manuas, and the ill will that has festered between the two sides in recent years should be on full display here given what is stake. O Canarinho rose to fifth place after handing Ecuador a humbling 3-0 defeat, and can now leapfrog Colombia, currently in third, with a victory. Los Cafeteros, meanwhile, can claim the top spot in the table with a win and some outside help.
All eyes will be on talented stars Neymar and James Rodriguez in this one given how well they performed last week. Neymar dazzled in Brazil's slump-busting win in Ecuador, and Rodriguez shone brightly too despite missing a late penalty kick in Colombia's 2-0 win against Venezuela.
PERU vs. ECUADOR (10:15 p.m., beIN Sports, beIN Sports Espanol)

One team is on the decline. The other has yet to get going. Both are eager for a victory.
In the round's final contest, Peru and Ecuador will meet at Estadio Nacional in Lima in a rematch of a Copa America Centenario group game that ended in a 2-2 draw. Peru is hurting in a big way after picking up just one win to this point, and only a win here can help restore some confidence in a long-suffering fanbase that has started to wave goodbye to its World Cup chances.
It won't be easy for La Blanquirroja, though. Ecuador is champing at the bit to win again after losing its last two matches by a combined score of 6-1, and La Tricolor is also hungry to rediscover its best form in order to avoid potentially being surpassed in the standings by Brazil, Paraguay, and Chile.