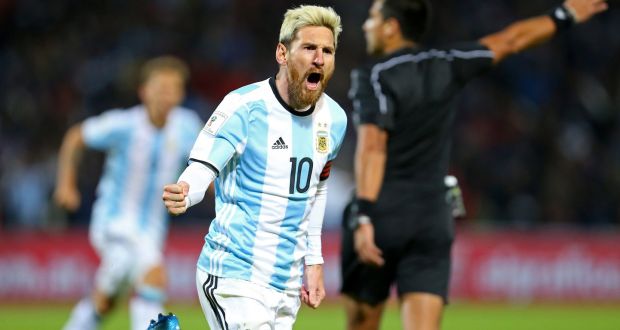 Drama, excitement, and golazos. World Cup Qualifying in South America returned with a bang.
So too did Lionel Messi.
The seventh round of CONMEBOL's qualifying campaign took place on Thursday, and it was Messi who stole a healthy portion of the headlines around the world. A 10-man Argentina side edged Uruguay, 1-0, at home, and it was none other than the superstar forward who scored the winner in his first game for his country since ending his brief international retirement.
Messi's Barcelona teammate, Neymar, also had a decisive tally as Brazil grabbed a 3-0 victory on the road vs. Ecuador. Paraguay, meanwhile, used a pair of early goals to hand reigning Copa America champion Chile a 2-1 defeat, James Rodriguez starred in Colombia's 2-0 triumph over Venezuela, and Bolivia blanked Peru, 2-0, thanks to a couple of set pieces.
Here is a look back at Matchday 7 in CONMEBOL World Cup Qualifying and the updated standings:
MESSI GOAL GIVES 10-MAN ARGENTINA TRIUMPH OVER URUGUAY
Talk about making a statement in your return.
Lionel Messi pushed Argentina past Uruguay in a 1-0 affair at Estadio Malvinas Argentinas in Mendoza in his first match since retiring and then returning to La Albiceleste. The winner came in the 43rd minute of the home game, with Messi doing a spectacular job of controlling the ball before hitting a low drive that was deflected past Fernando Muslera.
Uruguay was down a goal but up a man three minutes later, as Argentina attacker Paulo Dybala was sent off with his second yellow card just before halftime. Unfortunately for Los Charruas, the equalizer never came as Luis Suarez, Edinson Cavani, and Seattle Sounders playmaker Nicolas Lodeiro were all held in check.
The result saw Argentina leapfrog Uruguay for the top spot in the standings.
NEYMAR, GABRIEL JESUS SHINE AS BRAZIL HUMBLES ECUADOR
There is just no stopping Neymar right now. Ecuador found that out the hard way.
Fresh off helping his country win its first Olympic gold medal, Neymar scored a goal and assisted on another to help give Brazil an impressive 3-0 road win over Ecuador. O Canarinho also got a brace from debuting teenager Gabriel Jesus, who drew the decisive penalty kick that Neymar scored.
The affair at Estadio Olimpico Atahualpa in Quito was scoreless at halftime, but Brazil turned it up a notch after the break to prove too much for La Tricolor. Gabriel Jesus was fouled in the 18-yard box to set up Neymar's 72nd-minute winner, and then the 19-year-old killed off the game with two late goals, including one splendid shot to the top corner.
EARLY GOALS ENOUGH FOR PARAGUAY TO KNOCK OFF CHILE
If Chile was still on a high after winning a second consecutive Copa America this summer, La Roja just came back down to earth.
Two goals inside of the opening nine minutes paved the way for Paraguay to pick up a 2-1 victory over Chile at Estadio Defensores del Chaco in Asuncion. The first tally came in the sixth minute off a sensational, highlight reel-worthy strike from distance from Oscar Romero, and then veteran centerback Paulo da Silva doubled the lead with a close-range header moments later.
Shellshocked by Los Guaranies' strong start, Chile managed to muster up a good response. The reigning Copa America champion cut the deficit in half in the 37th minute when Arturo Vidal's nodded effort found the back of the net, but an equalizer never came. Making things worse was the ejection of Gary Medel, who was given his marching orders in second-half stoppage time.
JAMES LEADS COLOMBIA PAST CRUMBLING VENEZUELA
It is not every day that you can miss two penalty kicks and still come away victorious, but that was the case for Colombia.
James Rodriguez scored a goal and set up the other as Colombia downed Venezuela, 2-0, at Estadio Metropolitano Roberto Melendez in Barranquilla. Rodriguez netted the winner with a slotted finish in first-half stoppage time, and his assist to Macnelly Torres eight minutes before the final whistle sealed the deal for Los Cafeteros.
Colombia could have put the game on ice earlier, but Carlos Bacca had a penalty kick saved by Venezuela goalkeeper Dani Hernandez in the 81st minute. Hernandez prevented further punishment for La Vinotinto, which had two men sent off, by denying Rodriguez from the spot in the 94th minute. Ultimately, however, the two stops mattered very little.
SET PIECES SEE BOLIVIA BEAT PERU
Peru held Bolivia largely in check from the run of play. Set pieces were another matter, however.
In a battle of two teams near the bottom of the standings, Bolivia used a pair of dead-ball situations to hand Peru a 2-0 loss. La Verde was triumphant at Estadio Hernando Siles in La Paz thanks to a 38th-minute free kick from Pablo Escobar, and it got an insurance tally four minutes before the end of regulation when Ronald Raldes headed home a corner kick.
Peru looked to have found a lifeline when Christian Ramos nodded the ball into the back of the net a minute into second-half stoppage time. The goal was controversially disallowed because of an offside call, however, leaving La Blanquirroja with no hopes of pulling off a comeback.
STANDINGS (Round 7)
1. Argentina (14 points | 4-1-2 | 7 Goals For | 4 Goals Against)
2. Uruguay (13 points | 4-2-1, 12 Goals For | 5 Goals Against)
3. Colombia (13 points | 4-2-1 | 11 Goals For | 8 Goals Against)
4. Ecuador (13 points | 4-2-1 | 12 Goals For | 10 Goals Against)
5. Brazil (12 points | 3-1-3 | 14 Goals For | 8 Goals Against)
6. Paraguay (12 points | 3-1-3 | 9 Goals For | 7 Goals Against)
7. Chile (10 points | 3-3-1 | 13 Goals For | 12 Goals Against)
8. Bolivia (6 points | 2-5-0 | 9 Goals For | 13 Goals Against)
9. Peru (4 points | 1-5-1 | 6 Goals For | 14 Goals Against)
10. Venezuela (1 point | 0-6-1 | 7 Goals For | 19 Goal Against)
—
Expecting Messi to go on an absolute tear with Argentina now that he is back? How impressed are you with Neymar's current run of form? Is Chile in trouble, or do you expect the reigning Copa America champion to climb up the standings eventually?
Share your thoughts below.