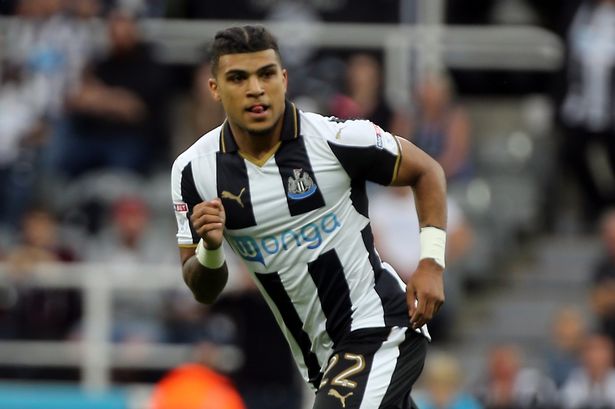 DeAndre Yedlin has only been at Newcastle United for a couple of weeks, but he's already feeling right at home in Tyneside.
The American defender is returning from international duty with the U.S. Men's National Team this week, and is eager to prove himself under manager Rafa Benitez as he faces competition for a spot in the starting XI.
Despite signing for a fee of about $6.6 million in August, Yedlin will have to work hard every day alongside Jesus Gamez and Vurnon Anita at right back. Considering how grueling the Championship is, and how vital promotion will be for Newcastle, the 23-year-old will earn opportunities, but he knows about the importance of a competition for places.
"Competition's always good," said Yedlin to The Chronicle. "Especially when you have players like Anita and Jesus Gamez on my side who has got a lot of experience in my position and I can learn from. I'm just trying to absorb everything, learn from them, learn from Rafa and just take all that experience in."
At this time year, Yedlin was on loan at Newcastle's bitter rival Sunderland under current England manager Sam Allardyce. He was still quite raw, but rapidly improved defensively, which caught the attention of USMNT fans. The full back said he took notice of those who saw a difference in his game at the Copa America.
"It was good," he reflects. "Whenever you're getting playing time, especially for the national team, it's a big honor, so it's good for your confidence. The red card wasn't the best thing for my confidence but that happens, it's football and I move on.
"I think people saw improvements in my defending, my positioning and things like that. I think people were impressed."
Sunderland were interested in signing Yedlin, but he said that it ultimately came down to both the Black Cats and Newcastle for his services.
"There were talks [with Sunderland] but it never really got to that final stage," Yedlin said. "That wasn't really an option and when Newcastle became involved I took that opportunity. It was never a choice between the clubs."
How do you think Yedlin will perform with Newcastle this season? Do you expect to see him in the Premier League next year with the Magpies?
Share your thoughts below.