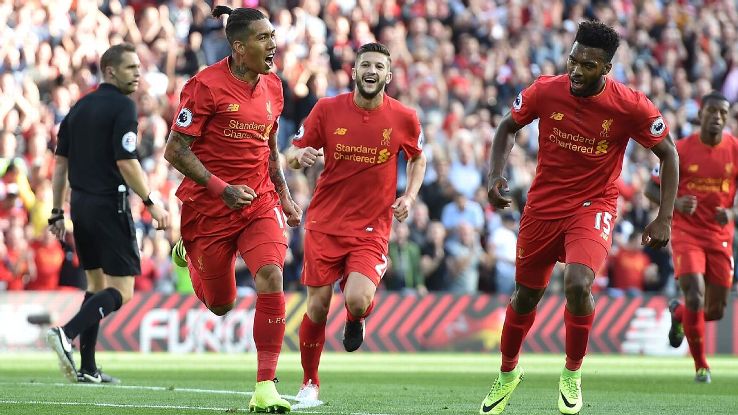 Plenty of big name matchups headline action across all five major European leagues this weekend after a fantastic slate of midweek European fixtures.
In England, the Premier League slate is led by a big Friday showdown between Liverpool, coming off a huge victory over Leicester City, and Chelsea, coming off their first dropped points of the year against Swansea City. An evenly split schedule of matches feature on Saturday and Sunday with many teams likely to rotate their squads after Champions League and Europa League matches during the week.
La Liga's schedule is quiet at first glance, but last week's stunning upset of Barcelona by newly-promoted Alaves shows that nobody is safe and every match matters. The defending champions will seek to bounce back against Leganes, while their undefeated rivals, Real Madrid, seek to keep their record unblemished against Espanyol.
The Bundesliga also reminded us that anything can happen last week, as newly-promoted RB Leipzig took down Borussia Dortmund in a surprising upset. Dortmund and rivals Bayern Munich return to action on Saturday while Hertha Berlin and Schalke 04 headline Sunday's closing matches.
Serie A features two fascinating Sunday showdowns as Inter welcome Juventus to town, while Fiorentina do the same for Roma. Genoa also return to action following a suspended match against Fiorentina last week that sees both teams with a match in hand early in the year. A win against Sassuolo would keep Genoa alongside Juventus at the top of the table.
Ligue 1 is a mash of chaos early this season, as a consecutive loss and draw by Paris Saint-Germain have the defending champions in seventh place and fighting to correct their form against Caen. Meanwhile, current leaders Monaco return to action on Saturday, as do surprisingly top three Metz against fellow promoted side Dijon FCO. The weekend is closed out by a big match between Marseille and Lyon.
Here's a closer look at this weekend's European action:
ENGLISH PREMIER LEAGUE
A massive top six clash leads the weekend action as Jurgen Klopp's Liverpool travel to London to face Antonio Conte's Chelsea. Liverpool come in on the back of a 4-1 thrashing of defending champions Leicester City, while Chelsea enter after a draw against Swansea City that represented their first points dropped this season. Can either keep up with early leaders Manchester City?
Speaking of the leaders, they're in action on Saturday as they welcome Bournemouth to town after defeating their local rivals Manchester United last weekend. Leicester City will look to bounce back against Burnley after their brutal loss to Liverpool, and Everton will hope to carry on their early season success against Middlesbrough.
Sunday has a full slate as well, with the bottom three all in action against their respective opponents. Stoke City welcome Crystal Palace, Sunderland visit Tottenham, and Southampton battle Swansea City. Manchester United are also in action on Sunday, seeking to recover from their derby loss when they take on Watford.
FRIDAY
SATURDAY
Hull City vs. Arsenal
Manchester City vs. Bournemouth
West Brom vs. West Ham
Leicester City vs. Burnley
Everton vs. Middlesbrough
SUNDAY
Watford vs. Manchester United
Crystal Palace vs. Stoke City
Southampton vs. Swansea City
Tottenham vs. Sunderland
SPANISH PRIMERA DIVISION
Four days of action feature on match day four of league play in Spain. Friday opens proceedings with a showdown between bottom half sides in Real Betis and Granada.
Saturday has the meat of the action, as Barcelona visit Leganes hoping to make up for a shocking 2-1 defeat to newly promoted Alaves last week. Atletico Madrid find themselves a bit down-table as well, but finally secured their first win of the season last week against Celta Vigo and look to make it two in two against a top-three Sporting side.
Sunday sees current leaders Real Madrid return to action with their unblemished record, facing off against lowly Espanyol. An entertaining mid-table clash between Athletic Bilbao is also on tap, as well as a bottom-three battle between Osasuna and Celta Vigo.
Monday closes the weekend with last weekend's surprise winners Alaves hosting middle of the pack Deportivo.
FRIDAY
SATURDAY
Leganes vs. Barcelona
Atletico Madrid vs. Sporting
Eibar vs. Sevilla
Las Palmas vs. Malaga
SUNDAY
Osasuna vs. Celta Vigo
Athletic Bilbao vs. Valencia
Villarreal vs. Real Sociedad
Espanyol vs. Real Madrid
MONDAY
GERMAN BUNDESLIGA
Friday sees week three of the Bundesliga return, as FC Koln and SC Freiburg bring football back with a top-six clash.
Saturday contains the bulk of the action, with leaders Bayern Munich facing a visit from lowly Ingolstadt, who've managed just a single point through their first two matches. Borussia Dortmund found themselves on the losing end of an upset as newly promoted RB Leipzig felled the German giants, they'll seek to bounce back against Darmstadt 98 while RB Leipzig visits Hamburg.
Sunday contains the weekend's premier match as second-place Hertha Berlin, likely minus John Brooks, face off against surprisingly bottom-two Schalke, who haven't had it easy with losses against Eintracht and Bayern Munich.
FRIDAY
SATURDAY
Hoffenheim vs. Wolfsburg
Eintracht vs. Bayer Leverkusen
Bayern Munich vs. Ingolstadt
Borussia Dortmund vs. Darmstadt 98
Hamburg SV vs. RB Leipzig
Borussia Monchengladbach vs. Werder Bremen
SUNDAY
FC Augsburg vs. Mainz 05
Hertha Berlin vs. Schalke 04
ITALIAN SERIE A
Week 4 of Serie A play is largely condensed onto Sunday, but the weekend opens on Friday with Sampdoria, currently in the top-5, facing against bottom half opposition in AC Milan.
Saturday is also light on action, as Lazio welcomes Pescara in a mid-table match before second-place Napoli battle Bologna in a top-seven fixture.
Sunday is funday for Italian fans, as the two biggest matches of the weekend find themselves at home on the last day of action. Four bigger sides duke it out as Inter Milan face off against leaders Juventus, while Fiorentina face a visit from top-three Roma. Interestingly, due to a suspended match last week, Genoa and Fiorentina will play only their third matches of the season this week, with the former possibly keeping pace with Juventus for the top of the table.
FRIDAY
SATURDAY
Lazio vs. Pescara
Napoli vs. Bologna
SUNDAY
Udinese vs. Chievo
Crotone vs. Palermo
Sassuolo vs. Genoa
Cagliari vs. Atalanta
Torino vs. Empoli
Inter vs. Juventus
Fiorentina vs. Roma
FRENCH LIGUE 1
The defending champions open week five of French Ligue 1 action, but find themselves down the table as a loss to Monaco and a draw against ASSE in their last two matches sees them down in seventh. They'll hope to turn their fortunes around against a mid-table Caen side.
Saturday sees leaders Monaco in action against Rennes, followed by some nice alliteration as Nancy faces Nantes and Lorient welcomes Lille. A battle between newly promoted sides also features on Saturday, though their fortunes thus far are polar opposites, as third place Metz face bottom five Dijon FCO.
Sunday closes the weekend with a fascinating match between French giants as Marseille welcomes a Lyon side that has cooled off since its hot start to the season.
FRIDAY
Caen vs. Paris Saint-Germain
SATURDAY
Monaco vs. Rennes
Nancy vs. Nantes
Lorient vs. Lille
Dijon FCO vs. Metz
Toulouse vs. Guingamp
Bordeaux vs. Angers
SUNDAY
Montpellier vs. OGC Nice
ASSE vs. Bastia
Marseille vs. Lyon
–
What do you think of this weekend's matches? Who wins the battle between Liverpool and Chelsea? Which Italian giants come out on top during Sunday's action?
Share your thoughts below.