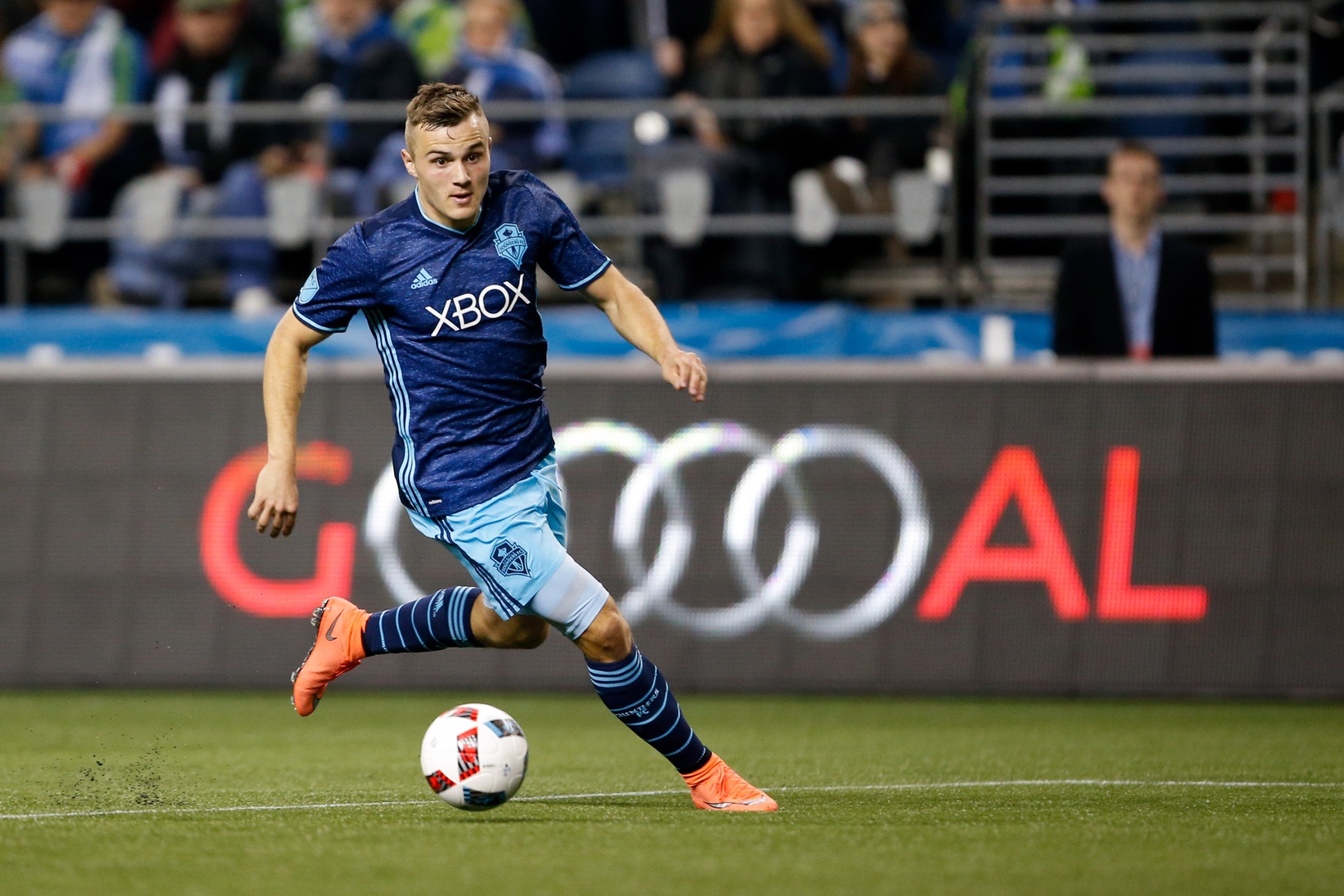 Jordan Morris had crossed paths with Landon Donovan before. As a member of MLS Homegrown roster this summer, Morris played under a man he idolized growing up, and a man that, fairly or unfairly, he's been compared to since breaking onto the scene as a Stanford student.
After Sunday's match against the former U.S. Men's National Team star, Morris hopefully darted towards Donovan in pursuit of a jersey swap. Nicolas Lodeiro beat him to the punch, claiming the shirt off Donovan's back before Morris could get the chance. However, while he may not have gotten a valuable piece of Donovan memorabilia, Morris did get something much more impressive after Sunday's win: his praise.
Morris shined in Sunday's match, a 4-2 Seattle Sounders victory over a fellow playoff contender in the LA Galaxy. In what was a momentous win for the Sounders' playoff hopes, it was Morris that led the way, scoring a pair of second half goals to decide the game and earn his side a vital three points.
The brace saw Morris score his 11th and 12th goal of the season, making him the most prolific American rookie in MLS history while also catching the eye of a certain star on the other side of the field.
"He's relentless in the way he attacks, and he's good in front of goal," Donovan said of Morris. "The first goal was terrific the way he finished it. The second goal was really calm. Most players at that age shoot it immediately…He's got all the makings to be very good and I thought I he was excellent today."
"It was really cool. I never thought that would happen," Morris added of playing against Donovan. "I tried to trade jerseys with him, but Nico (Lodeiro) snuck in there and took it. It was great and I thought he did really well when he came on."
Donovan went on to say that he sees Morris is "not potentially [special], he is special". The LA Galaxy star cited Morris' relentless work rate as vital in Sunday's win, while adding that he's a forward any player would like to play alongside.
That work rate was on full display on Sunday. On his first finish, Morris darted past defender Daniel Steres, battling his way through a hard challenge. Using his pace, Morris got just ahead of the defender before finishing with the outside of his right foot. Following the game, Morris joked about his oft-criticized one-footedness, but added that it felt a bit more natural in the situation at hand.
His second goal, coincidentally, did come off his weaker left foot. Just 10 minutes after scoring his first, Morris pounced on a rebound in the box, weaving past veteran defender Robbie Rogers before slotting a shot into the near post.
"As the season has gone on, the game has slowed down for me a little bit and in certain moments I don't panic as much," Morris said. "It was a little bit slower. I took the touch, where maybe earlier in the season I would have taken it first time.
"After the first five or so games, after I got my first goal, the monkey off my back, I think there were still a lot of chances I didn't put away. From there, I think things have just slowed down a little bit more."
Morris' newfound patience is an asset for the Sounders, who still remain very much alive in the Western Conference race. With Sunday's win, Morris and co. sit just three points behind the rival Portland Timbers, despite having two games in hand.
"You have to keep in mind, this is a rookie," Sounders goalkeeper Stefan Frei said of Morris. "We're talking about a rookie that has a lot of expectations for himself, but a lot of people putting high expectations on him. It comes with a lot of pressure and, for a young guy, it can be difficult to deal with that. You have Oba (Martins) leave and you got tossed right in and that's very, very difficult. For him to stay calm, believe in himself and his ability and his teammates, his teammates also reassure him that we believe in him. It allows him to grow and just play his game. He's an exceptional player… I'm excited he's part of my team."
"It's part of his growth as a player, for sure," added Sounders interim head coach Brian Schmetzer said. "Very proud of him again. The game could have changed on either moment, and big-time players come up in those moments and make a difference in games. Jordan's performance was a big-time performance tonight."