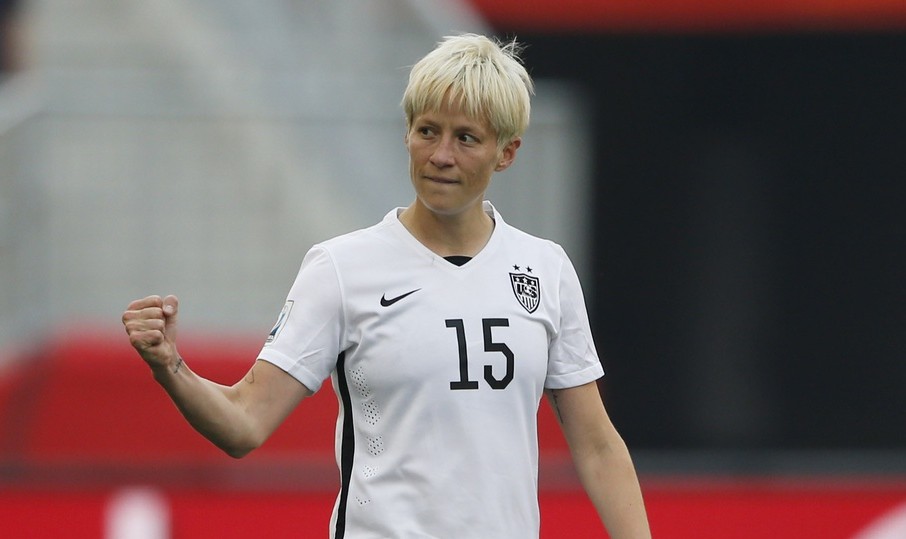 Washington Spirit owner Bill Lynch thwarted Megan Rapinoe's plans of a continued protest of the national anthem, and the U.S. Women's National Team star is far from happy about it.
Ahead of a clash with Rapinoe's Seattle Reign, the Spirit staff held the national anthem ceremony before teams took the field. The decision prevented Rapinoe from protesting by taking a knee during the proceedings, as she had done in the Reign's previous match. The USWNT midfielder's protests have come in solidarity with NFL quarterback Colin Kaepernick, who has been sitting during the anthem to raise awareness of racial inequality. Rapinoe recently stated that, as a gay woman, she understands what Kaepernick is attempting to say, and has lent her support to the cause.
In a statement, the club said it did not want to "subject our fans and friends to the disrespect" created by Rapinoe's protest. The Spirit went on to say that the club disagrees with Rapinoe's attempted "hijacking" of the event for a "personal – albeit worthy – cause".
Statement from Washington Spirit owner Bill Lynch on decision to play national anthem with teams not on field. #NWSL pic.twitter.com/RKgkIyvHUb

— Jeff Kassouf (@JeffKassouf) September 7, 2016
"I didn't hear it and I wasn't exactly sure why it wasn't played. It's (expletive) unbelievable. Saddened by it," Rapinoe said. "It's pretty clear what the message is I am trying to bring to light in Chicago and what I continue to try to talk about the last few days and what I intend to talk about. Clearly with (Lynch's) actions, it's a necessary conversation. I think it was incredibly distasteful, four days before one of the worst tragedies we've had in our country, to say that I tried to hijack this event.
"It's just really disappointing and disrespectful. I mean, we want to talk about disrespect, and me disrespecting the flag, he didn't even give both teams a chance to even stand in front of it and show their respects. It's unbelievable. It's truly an unbelievable act to me."
Rapinoe went on to say that she believes Lynch is "homophobic", while criticizing the Spirit's lack of Pride nights.
https://twitter.com/caitlinbuckley2/status/773729577281650688?ref_src=twsrc%5Etfw
The USWNT star stated that several teammates said that they support her actions, even if she was unsure if they would join in the protest. Rapinoe says that she is hoping to have an open conversation about Americans dealing with oppression. As someone standing up to fight for equal pay with the USWNT, Rapinoe says it's important not to forget that there are fights going on throughout America to improve relations.'
Rapinoe and the Reign return to action on Sept. 11 against the Spirit in Seattle.
—
hat do you think of the Spirit's decision to play the national anthem early? What do you make of Rapinoe's comments, and what kind of reaction do you expect going forward?
Share your thoughts below.