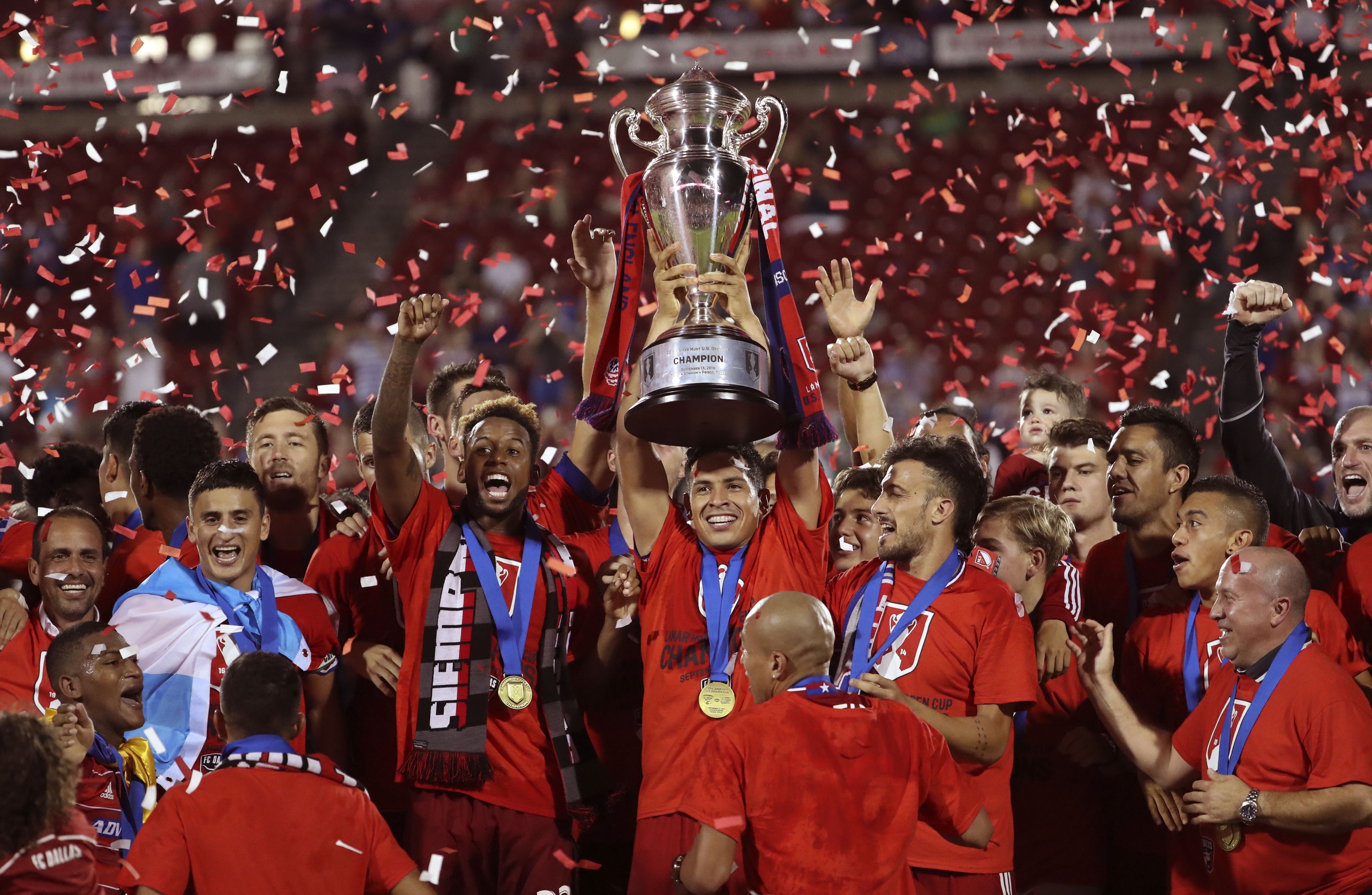 FC Dallas lifted the club's first trophy in 19 years on Tuesday night. With it, came a bit of vindication, a bit of validation, a bit of proof that the club's investments had finally paid off.
Build on a core that are yet to enter their prime years, FC Dallas surged past the New England Revolution, 4-2, on Tuesday night. The FC Dallas model had finally produced a trophy, one that was all too long in the making for a club that has led the call for youth in MLS.
Leading the charge for FC Dallas was their biggest star, Mauro Diaz, who picked apart the Revs defense time and time again with what was easily a Man of the Match performance. As the Revs defense crumpled, both metaphorically and physically, Diaz and Maxi Urruti shined, creating chance after chance en route to lifting a major trophy.
Here's a look at some of the biggest takeaways from Tuesday's match:
DIAZ SHINES ON BIGGEST STAGE
Anyone who follows MLS closely enough can see that Mauro Diaz is one of the league's elite players. On Tuesday, in one of the biggest games of his MLS career, the 25-year-old unleashed what might have been his masterpiece.
The Argentinian playmaker provided three assists to go with a penalty kick goal on Tuesday night. It was a spectacular game from a spectacular player, one that saw Diaz shine brightest on a team that was on a significantly higher level than the opposition.
But it wasn't just what he did, but how he did it. Far from the league's paciest player, Diaz's change of pace kept the Revs defenses uneasy all night as he ducked and dodged his way through defenders. When he wasn't gliding on the ball, he was firing it towards teammates with accuracy, as he misplaced just eight of his 44 passes on the night. As the FC Dallas attack found holes in the Revs' 4-1-2-1-2 set-up time and time again, Diaz was there, poking and prodding at those holes until submission.
From his pair of pinpoint crosses to his perfectly-weighted through-ball on FC Dallas' final goal of the night, Diaz was flawless. It was a magic game from a player more than capable of producing them down the stretch as treble talk now surrounds a surging FC Dallas team.
INJURIES CRIPPLE REVS' HOPES
Things seemed to be going well. Up a goal early, the Revs appeared to be on the right foot. Despite their roles as underdogs, the visitors had taken an early shot, announcing themselves as legitimate contenders to Tuesday's finale.
As things wore on and disasters continued to strike, it became quite clear that Tuesday just wasn't the Revs' night.
With just moments remaining in the first half, the Revs conceded, pushing the scoreline to 2-1. While unfortunate, given their early goal, the Revs were certainly alive as the halftime whistle appeared close. Then, it all fell apart. Injuries to Gershon Koffie and Je-Vaughn Watson forced the Revs into a pair of first half substitutions, prolonging the first 45 well into stoppage time. A Diaz penalty kick deep into stoppage time all but sealed the FC Dallas' win while forcing the Revs into the locker room beaten and broken.
While Watson was already in the midst of a far-from-impressive performance, the loss of Koffie proved damning to the Revs hopes. Without the 25-year-old on the field, the Revs were left without their primary destroyer. Scott Caldwell has the ability to defend, but does not possess the range of Koffie, a trait that was much-needed as FC Dallas bombed down the flanks.  As FC Dallas dominated the opposing fullbacks with speed and skill down the wing, the Revs' defense was repeatedly shifted out wide, leaving gap after gap for Diaz and Maxi Urruti down the middle of the field.
FC Dallas took those gaps and ripped them apart, exploiting an overmatched Revs defense for four on Tuesday night. Given everything that occurred on Tuesday, it's hard to imagine a scenario in which the Revs leave Frisco with trophy in hand, but the early injuries to Koffie and Watson removed all doubt of who would emerge from Toyota Stadium victorious.
AGUDELO STARS AS REVS FALTER
Generally speaking, Tuesday was not a good night for the Revolution. They were beaten handily. Two starters went down with injuries. They left empty-handed from will likely be their lone chance at claiming a trophy in 2016.
Yet, through all of that darkness, the play of Juan Agudelo left the Revs with some sort of hope. It's a hope that has been felt for so long, but one that could finally be coming to fruition. Maybe, just maybe, Agudelo is figuring it all out.
The Revs forward fired two goals on Friday night, accounting for his team's only two bright spots in the entire match. Agudelo's second was a mere tap-in, one that displayed the intelligence and awareness to dart towards the backpost when the situation arose. His first, though, was a moment of brilliance, as Agudelo spun past his defender effortlessly before slotting a semi-difficult shot into the corner of the net. It could be argued that Agudelo was the only Revs player with a good performance on Tuesday, and his efforts were nearly enough to keep the visitors in it as the second half wore on.
But it wasn't just about Tuesday. Prior to Tuesday's finale, Agudelo scored a goal in each of his last two MLS matches, both Revs wins. Played atop the Revs' diamond formation, Agudelo has slotted in effortlessly alongside Lee Nguyen. The duo have energized a previously-stagnant Revs attack, and Agudelo's recent play has been a major cause.
At just 23-years-old, Agudelo is still growing, still learning, even if he has been on the scene for quite some time. It may be a bit too soon to call for a call-up for the U.S. Men's National Team's October friendlies but, if his current hot-streak continues, Agudelo he may very well earn another international look in the near future. The Revs will be better for it, as the continuously-improving Agudelo may just be the difference for a team still pushing for the sixth and final playoff spot in the East.
FC DALLAS SHOWS A WAY, BUT NOT THE ONLY WAY
Throughout their ongoing two-season run, FC Dallas has become the darling of American soccer. Featuring a young, talented core of South American stars and Homegrown prospects, FC Dallas has surged to the top of MLS while showing that a team doesn't necessarily need big names and star power to compete at the highest level. It's a team based on growing, nurturing and, when ready, unleashing talent, a system many see as ideal for the growth of American soccer. There have been successful teams and young teams, but it hasn't been often that the two have intersected.
It's easy to see why FC Dallas has captured the hearts of many, but it's also important to remember that the club has shown a way, not necessarily the only way.
Tuesday was a breakthrough, yes. It showed that patience, effort and commitment can lead to glory. It was a triumph, of course, but it isn't a condemnation of the other 19 teams in MLS and their way of doing business.
FC Dallas is very much in the thick of a Supporters' Shield race. New York City FC, currently in contention in the East, is built on the backs of three aging European stars, a trio that have shined throughout most of the 2016 season. Toronto FC relies on three in-their-prime internationals, players that were looking to regain form after falling down the pecking order at European clubs. The LA Galaxy are somewhere in the middle as stars like Landon Donovan, Robbie Keane and Steven Gerrard are joined by Gio dos Santos and Gyasi Zardes to formulate a highly-potent mix of both young and experienced talent.
How the 2016 MLS season ends remains to be seen, but it's important to understand the proper context of Tuesday's win. Yes, it is a victory for the FC Dallas way and should steer several clubs towards a model more reliant on in-house development. What it is not, however, is the start of a league-wide revolution, as FC Dallas continues to illuminate one of several possible paths to success in a growing league.