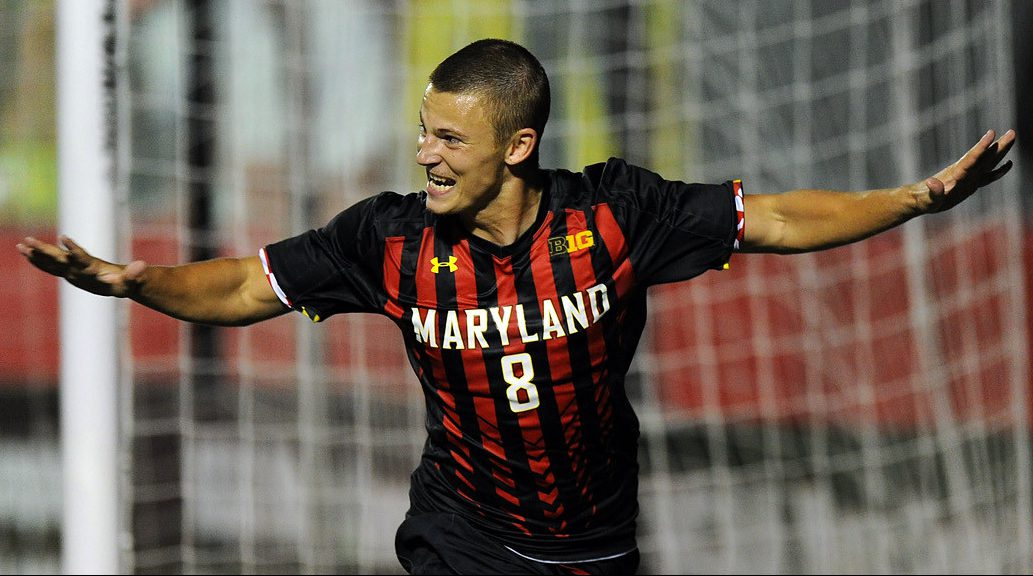 While No. 1 ranked Maryland was able to get it done on the road in Michigan, a number of top teams settled for draws on this weekend in men's college soccer.
The road result wasn't easy for Maryland, however, as a late equalizer from Michigan's Chris Odoi-Atsem took the match into overtime. Suli Dainkeh's strike in the 109th minute that the big win for the Terps.
Elsewhere, hard-fought draws dominated the weekend's results. No. 3 Wake Forest was held at home by Syracuse on Friday, while Notre Dame held No. 4 North Carolina to a scoreless draw. Similarly, Omaha hosted No. 2 Denver on Saturday and earned a well-deserved point.
Here's a closer look at this weekend's college results:
FRIDAY
(3) Wake Forest 1, Syracuse 1
Notre Dame 0, (4) North Carolina 0
(5) Virginia 1, Duke 0
(6) Louisville 0, (10) Clemson 1
(23) Virginia Tech 2, Pittsburgh 1
(25) Portland 1, Loyola Marymount 0
SATURDAY
Omaha 0, (2) Denver 0
(11) Utah Valley 2, UNLV 1
(12) Charlotte 4, Florida Atlantic 0
SIU-Edwardsville 1, (14) Loyola (Chicago) 0
(15) Creighton 0, Providence 1
Lipscomb 1, (19) Florida Gulf Coast 1
Hartford 1, (20) New Hampshire 2
(22) UMass Lowell 1, Albany 0
Radford 3, Campbell 0
UNC-Wilmington 1, Delaware 0
Memphis 2, UConn 0
Butler 2, Marquette 1
Temple 1, UCF 0
UCLA 3, Coastal Carolina 1
SUNDAY
Michigan 2, (1) Maryland 3
(8) Stanford 0, (17) Washington 1
(9) Indiana 2, (18) Michigan State 1
(21) Kentucky 3, Marshall 0
(24) Wisconsin 2, Ohio State 1
(25) Portland 4, San Diego 0
New Mexico 2, South Carolina 1