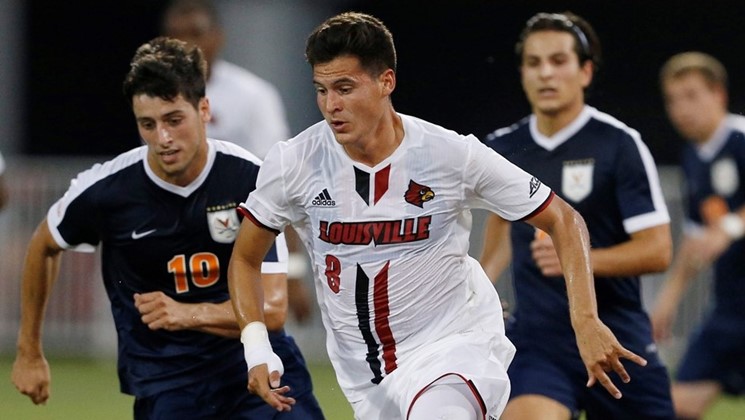 Maryland holds on to the No. 1 ranking for yet another week as the regular season comes to a close in college soccer this weekend. While some teams have two or three games left, most are wrapping up their regular season campaigns.
Maryland vies to hold on to the top spot yet again as the Terrapins face Michigan on Sunday.
The closest matchup this weekend comes on Friday, when the No. 6 Louisville Cardinals take on the No. 10 Clemson Tigers.
In the Big Ten, Wisconsin looks to make a jump in the rankings with a match against Ohio State, the last of the season for the Badgers. No. 9 Indiana faces No. 18 Michigan State in another marquee matchup this weekend.
On the West coast, defending NCAA tournament champions No. 8 Stanford face No. 17 Washington.
FRIDAY
(3) Wake Forest vs. Syracuse, 7 p.m.
Notre Dame vs. (4) North Carolina, 7 p.m.
(5) Virginia vs. Duke, 7 p.m.
(6) Louisville vs. (10) Clemson, 7 p.m.
(23) Virginia Tech vs. Pittsburgh, 6 p.m.
(25) Portland vs. Loyola Marymount, 10 p.m.
SATURDAY
Omaha vs. (2) Denver, 3 p.m.
(11) Utah Valley vs. UNLV, 9 p.m.
(12) Charlotte vs. Florida Atlantic, 7 p.m.
SIU-Edwardsville vs. (14) Loyola (Chicago), 8 p.m.
(15) Creighton vs. Providence, 8 p.m.
Lipscomb vs. (19) Florida Gulf Coast, 8 p.m.
Hartford vs. (20) New Hampshire, 7 p.m.
(22) UMass Lowell vs. Albany, 7 p.m.
Radford vs. Campbell, 7 p.m.
UNC-Wilmington vs. Delaware, 7 p.m.
Memphis vs. UConn, 8 p.m.
Butler vs. Marquette, 8 p.m.
Temple vs. UCF, 7 p.m.
UCLA vs. Coastal Carolina, 10 p.m.
SUNDAY
Michigan vs. (1) Maryland, 1 p.m.
(8) Stanford vs. (17) Washington, 8 p.m.
(9) Indiana vs. (18) Michigan State, 2 p.m.
(21) Kentucky vs. Marshall, 7 p.m.
(24) Wisconsin vs. Ohio State, 1 p.m.
(25) Portland vs. San Diego, 5 p.m.
New Mexico vs. South Carolina, 8 p.m.