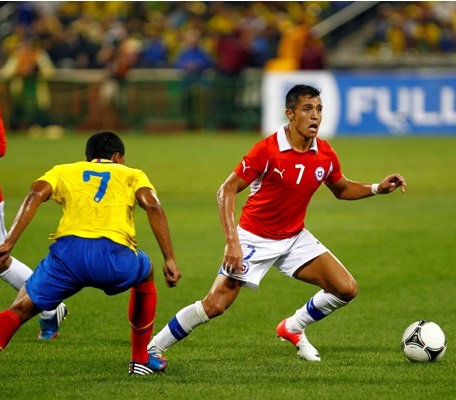 While the top four all avoid one another, plenty of intriguing matches remain on the schedule for match day nine in 2018 CONMEBOL World Cup Qualifying.
Alexis Sanchez, Arturo Vidal, and Chile lead Thursday's schedule as they try to rebound from their recent form against Enner and Antonio Valencia and Ecuador, currently sitting in fifth, two places and two points above their CONMEBOL rivals. While neither team is among the four automatic qualifying spots (Ecuador in fifth sits in a playoff spot), each can help themselves greatly in a packed table by taking all three points.
Currently in the top spot are Uruguay, who face lowly Venezuela at home in their ninth match. The leaders have displayed a potent attack, with Luis Suarez and the attack in prime goal-scoring form. Chasing them are Brazil, who face Bolivia, and Argentina, who take on Peru in a difficult away match.
Colombia try to keep up as well against a Paraguay team seeking to break into the top five in what may be the most entertaining match of the schedule.
Here is a closer look at the ninth round of CONMEBOL's World Cup Qualifying campaign:
ECUADOR VS. CHILE (OCTOBER 6TH, 4:50 P.M. ET, BEIN SPORTS, LIVE)
While Ecuador can be pleased with their WCQ performance to this point, the same can not be said for Chile. The two-time defending Copa America champions have struggled in their 2018 campaign thus far, securing only 11 points through 8 matches and currently residing in the lower half of the table in seventh place. The results aren't as bad as the numbers suggest, with two of their three losses coming to powerhouses Uruguay and Argentina, but a loss to Paraguay and a draw against Bolivia in their two most recent matches have Sanchez and company looking for answers.
They may be in luck with Ecuador. While boasting wins over Argentina and Uruguay (the two teams that beat Chile), Ecuador has lost their last three Qualifying matches to Colombia, Brazil, and Peru. This poor run of form could make them ideal targets for a Chile rebound, though Ecuador will be looking to bounce back and secure three points at home firmly establish themselves as a real contender.
URUGUAY VS. VENEZUELA (OCTOBER 6TH, 6:55 P.M. ET, BEIN SPORTS, LIVE)
In the most lopsided match of this round of fixtures, Luis Suarez and Edinson Cavani will look to keep Uruguay at the top of the table when they face lowly, last place Venezuela.
The Uruguayans have been stellar so far in their campaign, gathering 16 points from their first 8 matches, including strong wins over Colombia and Chile. While their joint-best 16 goals scored surprises nobody, it has been their defense, led by captain Diego Godin, that has been the catalyst for their dominance to this point. The Uruguayans have allowed only 5 goals in their 8 matches, near polar opposites to their opposition on Thursday.
Venezuela has been poor by any standard, but even worse when measured up to Uruguay. They've failed to win any of their first eight matches, managing only two draws against Peru and, shockingly, Argentina. This en route to a competition-worst goal differential of -12, with 9 goals scored but a whopping 21 goals allowed. It would take a phenomenal performance from this young defensive roster to stop Suarez and earn any points in Uruguay.
PARAGUAY VS. COLOMBIA (OCTOBER 6TH, 7:20 P.M. ET, BEIN SPORTS ESPANOL, LIVE)
James Rodriguez leads his side in another intriguing match-up against Paraguay on match day nine.
The Colombians have fared well in their early qualification, currently resting three points behind Uruguay in the 4th and final direct qualification slot. Rodriguez and company have had an almost perfectly predictable campaign, beating every team they should and losing to the only three teams ahead of them in the table in Brazil, Argentina, and Uruguay. This bodes well for them against Paraguay as they'll surely be favorites despite Paraguay putting on a solid display themselves over the beginnings of qualification.
Paraguay have had much more of a mixed-bag of results than Colombia's predictable run. With impressive performances in draws against Argentina and Brazil, as well as a win over Chile, and a few poor showings in losses to Peru and Uruguay, the Paraguayans sit right on the fringe of the qualifying group of teams.  They've been very solid at home, winning or drawing every game so far, and will present a tough challenge to the Colombians as they seek to establish themselves.
BRAZIL VS. BOLIVIA (OCTOBER 6TH, 8:55 P.M. ET, BEIN SPORTS, LIVE)
It has been business as usual for Neymar and Brazil, with strong performances only marked by a single blemish, a 2-0 loss to Chile to open qualification. Since then, Brazil has won or drawn every match, including recent victories over Colombia and Ecuador in September's matches. With their talent-laden team, they'll face a much easier challenge on Thursday against Bolivia as they attempt to keep pace a point behind Uruguay at the top of the table.
Bolivia as expected has not shared Brazil's success to this point. With their only two wins coming over Peru and Venezuela (the only two teams below them in the table), expectations are low heading into Thursday's match. While offensive the team has scored the same amount of goals as Argentina to this point, the difference lies in defense, where the relatively aged back line has surrendered 13 goals, good for third-bottom in the competition and negating any gains the attack has made.
PERU VS. ARGENTINA (OCTOBER 6TH, 10:40 P.M. ET, BEIN SPORTS, LIVE)
Another mismatch of sorts, though not as blatant as Venezuela and Uruguay, Argentina will be heavy favorites even in Peru for Thursday's match.
While wins over Paraguay and Ecuador are impressive, and while certainly better at home than away, Peru's anemic attack has scored the fewest goals in the competition thus far and faces a difficult test against an Argentina team that, led by their Manchester-heavy back four, has surrendered only 6 goals so far. Also against them is their lackluster defense that has thus far surrendering 15 goals, second-worst in the competition. They may have found a stroke of luck here, however, as Messi and the Argentina attack have struggled to find scoring form, only managing 9 goals so far.
Still, the low-scoring matches haven't hurt Argentina much, as they're comfortably third in the table, only a point behind leaders Uruguay. After an initial loss to Ecuador in their opening match, Argentina have gone unbeaten with impressive results such as victories over Colombia, Chile, and Uruguay as well as a draw against Brazil. But visiting Peru represents a difficult challenge as the hosts are notoriously difficult to beat in their home country. Messi and company will need to be at their best and step up their goal-scoring form to leave with all three points.