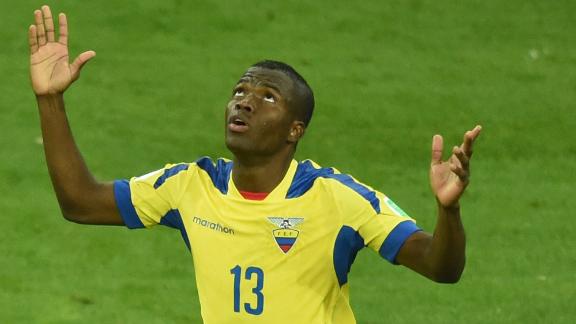 Ecuador vs. Chile was all lined up to be an exciting match and it was, though maybe not exactly as expected. In an incredibly entertaining twist, though likely not to him, Enner Valencia provided the biggest story of the night not on the pitch, but by escaping it.
It all began as the Ecuadorian forward was nearly detained by lawyers at a training session at the Atahualpa stadium in Quito, Ecuador ahead of Thursday's match.
Valencia allegedly owes $17,000 in overdue child support payments for his five year old daughter in Ecuador, according to the mother's lawyers. Valencia was ultimately not arrested and his legal team made no comment regarding the allegations.
But the most amazing twist was yet to come. Valencia started for Ecuador in the match against Chile, a 3-0 victory for his team, and was subbed off in the 82nd minute. That's when it happened.
As Valencia reached the sideline, he was approached by police reportedly seeking to detain him. The Ecuadorian medical team quickly placed Valencia on a cart and wheeled him away from chasing police to a waiting ambulance as the Everton forward made his escape.
While nobody can say what will happen next and while the allegations are serious if true, the incident generated a hilarious video of Valencia's dash for freedom.
De Ripley. Enner Valencia salió en camilla, casi lo arrestan y lo llevaron con prisa a la ambulancia y así salió del estadio. Que cosas. pic.twitter.com/I7VnAWYLC3

— Andrés Muñoz Araneda (@andresmunoza) October 6, 2016