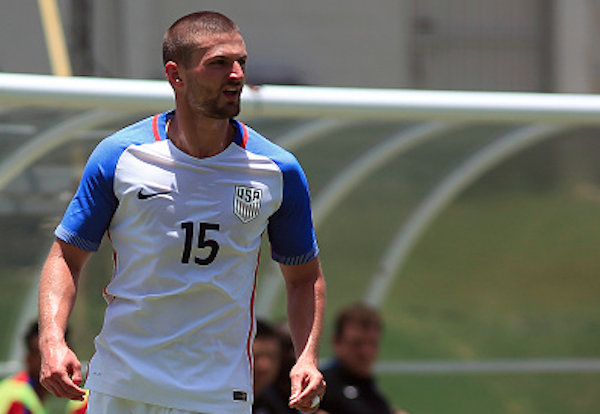 Heading into the upcoming pair of friendlies, the U.S. Men's National Team has several competitions running throughout the lineup. Perhaps the most important spot up for grabs, though, is one in the central midfield. Jurgen Klinsmann is looking towards Danny Williams or Perry Kitchen to provide one of those answers, while claiming a spot on the roster heading towards the Hexgonal.
For the upcoming friendlies, Williams and Kitchen are Klinsmann's primary options in the central midfield, where one of the two will likely join Michael Bradley as an option heading into a vital stretch of games. The two players typically charged with the position, Kyle Beckerman and Jermaine Jones, are a combined 68-years-old. The former, whose late career resurgence saw him become an integral part of the national team, is inching towards the end of his international career. The latter, whose bulldog mentality was vital during the Copa America and 2014 World Cup, continues to be hampered by injuries that have robbed him of a large chunk of the MLS season.
Like several other players looking to lock up a more consistent national team spot, Klinsmann is looking for either Williams or Kitchen to step up and finally provide an answer to several lingering questions.
"When you talk about a No. 8, there's Danny Williams now, who has, so far, played a very, very good season at Reading. Now is your moment," Klinsmann said. "You haven't been with us, you weren't part of the Copa America. Perry Kitchen is coming back in. Prior to those World Cup qualifier games, he had a little bit of an injury. They know that it's all about timing."
Throughout the Copa America run, Bradley locked down a more deep-lying role, a position that allows him dictate the game while taking advantage of his passing ability. He remains the primary No. 6 in what will likely be a continued 4-4-2 alongside a more attacking player like Sacha Kljestan. However, there is room for competition and, possibly, a spot on the field depending on the situation.
Bradley's relationship with Jones has always been a bit up-and-down, as the two have never fully been on the same page when it comes to transitioning from defense into attack. The TFC midfielder's rapport with Beckerman, though, has always been much simpler. The long-time RSL star stays back and does the dirty work, allowing Bradley to drift when he feels it is necessary to open the attack.
Both Williams and Kitchen offer something a bit different to a position where a lot would be asked of them. In Williams, the U.S. would add a player that brings a bit more to the attacking side while also possessing defensive chops. The 27-year-old midfielder fired five goals for Reading last season, and has already notched one this season for the Championship club. Williams' long-range stunner against Brazil last year was a display of confidence and swagger, while serving as a lone highlight of a demoralizing loss.
However, Williams is battling to erase a negative perception, one stemming from last year's loss to Costa Rica. Given the chance to ease some concerns following a CONCACAF Cup loss to Mexico, Williams provided his worst performance in a USMNT jersey in a 1-0 loss. The entire team was flat, but Williams stood out, misplacing pass after pass while failing to truly make any positive contribution on what needed to be a bounce-back match. He's been left out of the first team picture ever since, but now faces a chance to redeem himself with this latest call-up.
While Kitchen isn't a player known for firing 40-yard screamers, he does provide consistency. Far from the flashiest player, Kitchen does the dirty work as a true defensive midfielder. At 24-years-old, he also has age on his side, while his recently awarded captaincy at Heart of Midlothian demonstrate his leadership qualities. With Kitchen, you know what you get: a rock-solid presence that has the maturity to lead when called upon.
In several ways, the two are similar to their predecessors. Like Jones, Williams offers a bit of risk and reward. He has shown that he can make the occasional lapse of judgement, including an on-field scuffle with a Reading teammate last season, but Williams' has the ability to change a game with a goal or with his ability to stick in defensively. Like Beckerman, Kitchen is a safer option, one who will never truly lose you a game. He makes the right decision and steps up when called upon, offering a steady presence in a position that may just require it more than any on the field.
Klinsmann will assess the two of the coming days, as both have been given the chance to step up and lock down what could be a vital role as the U.S. heads towards its most important stretch of the World Cup qualifying cycle.
"(Jones) wants to be here yesterday. It's always that way. When a player is not available, it doesn't matter in which position, that's the opportunity for the next player to make his case," Klinsmann said. "Jermaine wasn't there for the last couple of games, so Sacha came in, and Sacha only came in because someone else was injured and unavailable and he used that opportunity.
"They know that the roster might look different four weeks from now," he added. "Don't miss that moment. Make your impression and that's why we tell them that every training session has a lot of meaning for us and, hopefully, they can make their place."