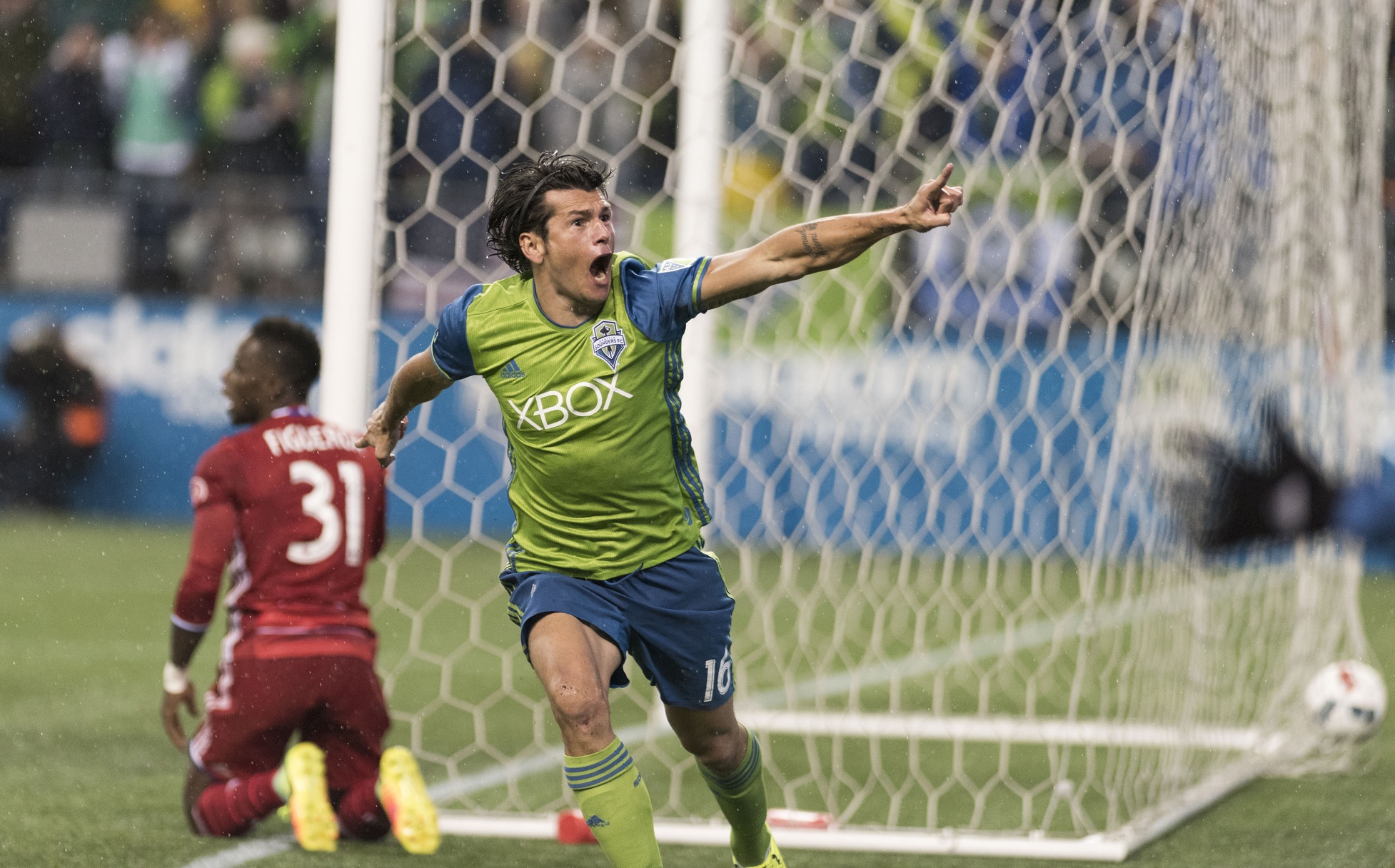 It wasn't the attack many foresaw at the beginning of the year, but the three-man unit leading the Seattle Sounders on Sunday looked downright frightening.
For years, the Sounders relied on a two-pronged attack of Clint Dempsey and Obafemi Martins. On Sunday, it was a three-headed monster of Jordan Morris, Nelson Valdez and Nicolas Lodeiro. It was a rookie, a high-priced newcomer and one of the more criticized Designated Player signings in MLS, a trio that formed an astoundingly vicious attacking unit that terrorized FC Dallas in a 3-0 win.
The match, the first leg of the Western Conference semifinals, started somewhat slow, much like the Sounders season. FC Dallas, the league's top team, was compact and consistent in preventing the Sounders from finding space. Then, in the 50th minute, Valdez — who scored the winner against Sporting KC on Thursday night — struck again and changed the game.
"The second half was unbelievable. We started to play," Valdez said after the game. "I think we played one of our best times in a long time. I think so at least. Day by day, we get better. The last game was one game where we were scared to take the goal. Now it's two games, it's an 180-minute game, maybe more. We need to be concentrated. We did a good job defensively. We got three goals. It's a good advantage for us."
"He's awesome, both on and off the field," Morris said of the Paraguayan forward. "He's a great person to have in the locker room, such a great character. He works so hard every day and he's been rewarded with these two massive goals. He's scored big goals. Big players score big goals, and he's a big player. He doesn't listen to what anyone says, he just works hard. Every time he steps on his field, he gives his all. He deserves those two goals."
Goals from Lodeiro soon followed, helping the Sounders amass a massive advantage. Lodeiro's first, in particular, was a strong example just how far the team has come since its march out of the bottom of the Western Conference.
After blazing past defenders down the left side, Morris cut towards the endline. The rookie then squared a pass towards the center of the box, leaving Lodeiro with what was likely the easiest tap-in of his career. It was a picture-perfect sequence, one that showed a connection between two players the Sounders expect to rely on for years to come.
"The first few games, we were still figuring each other out," Morris said. "I wasn't making the runs when he wanted me to. It's been awesome. He's done so well. He helps me out a lot. He's given me a lot of assists so I was glad I could pay him back. "
"There's a great chemistry from the moment I arrived. We talk a lot," Lodeiro added of Morris. "He's a great person. We talk about soccer all the time. What you see on the pitch, it starts in practice."
Thanks to the new system, which is listed as a 4-2-3-1, Morris is pushed out wide rather than playing in his preferred central position. The move allows Valdez to get his back to goal and hold the ball, opening up space for playmakers like Morris and Lodeiro to dart down the wing into open space.
Morris, who started the season out wide with little success, says the new system is a bit different than what he is used to. His instructions are now to stay higher and not track back as far as he did to start the season. As a result, he frequently finds himself on the ball with just a fullback to beat, opening up the game for the former Stanford star to use his blazing speed.
So far, it's worked. Morris is making an impact on the left side, beating defenders left and right to open up space in the box. Lodeiro is both creating and scoring while continuing to add a new dimension to the Sounders attack. Finally, Valdez — a player who failed to score a single regular season goal — now has two in as many playoff games, both big goals as the Sounders pursue an ever-elusive MLS Cup.
Now, the task is closing things out. Even without Mauro Diaz, FC Dallas is an elite team, especially on home turf. The Sounders attack is now tasked with taking the show on the road and, ultimately, into the Western Conference finals.
"We won the lottery winning this game with a clean sheet with three goals, but we still haven't really won anything yet," Valdez said. "We need to be prepared for the game going back to Dallas. There is a reason they finished first place. They're a good team. We can't take anything for granted."