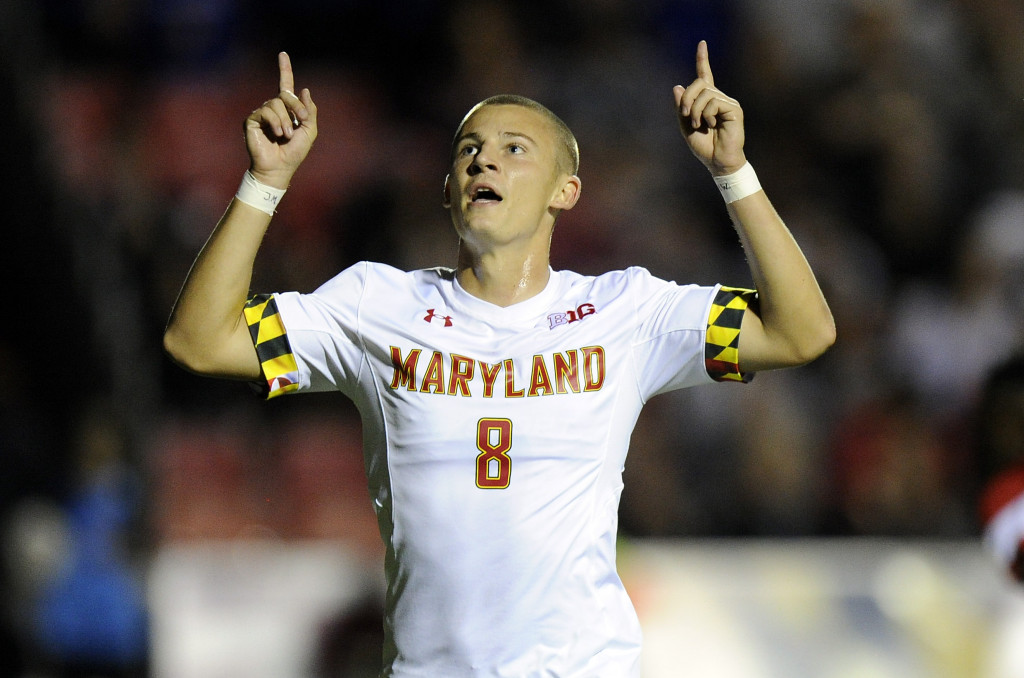 Many players who transfer from smaller colleges to national powerhouse programs struggle to acclimate to the new environment and increased level of competition. Gordon Wild has not only survived in his first season after transferring to mighty Maryland, he has thrived.
In his sophomore season, his first with the Terrapins, Wild has been nothing short of phenomenal. Through 16 matches, the German forward has scored a team-high 14 goals, the third-highest total in the country, with six of those coming in the form of game-winners.
The German-born forward is careful to spread the credit around for his success at Maryland with his teammates, who have helped make the Terrapins the top-ranked team in the nation.
"Well, first of all, of course our talent. We have incredible talent on this team, but also our mindset with our humility and our respect for every other opponent," Wild told SBI. "We treat every opponent with the same respect, or at least try to. I think that's what makes us special."
"Individually, I'm a forward so my job is to score goals and help the team," Wild added. "Sometimes I'm not able to do that, but sometimes I get lucky and I'm able to help my team with some goals and some assists."
His goals and assists are a big reason for the Terrapins blazing start to the season, as evidenced by the hat-trick he scored in Maryland's 3-2 win over Delaware on Tuesday, a win Wild capped with an overtime winner. The Terps have topped the SBI College Soccer Top 25 since mid-September, remaining unbeaten so far this year with a 14-0-2 record. The team is currently in the midst of a 11-match winning streak, largely thanks to Wild, who reminds Terrapins head coach Sasho Cirovski of another forward that is now plying his trade in MLS.
"He gives us a goal-scoring threat that we haven't had since Patrick Mullins left," Cirovski told SBI, comparing Wild to the former Terrapin and current D.C. United striker. "As a result, that's made our team reach another level this year. He's high-character, hard-working with a gifted left foot."
A Leonberg, Germany native, Wild initially chose to ply his college trade stateside at the University of South Carolina Upstate. In his freshman season with the Spartans, Wild tied for the lead in goals scored nationally with 16 in just 15 matches played while tallying two assists as well. Although he had great success at the small Division 1 school, Wild knew he had to continue pushing his development to new heights.
"Pretty much the whole idea of transferring came after my first season at Upstate ended," Wild said. "Just talking to my coach and also, of course, analyzing the season I had and the potential I have, I just came to the conclusion that I want to go to a bigger school, a bigger program, and challenge myself a little bit more.
It's clear in talking to Wild that the mutual respect between he and Coach Cirovski was a major factor in his decision to join the Terrapins. He believes the coach has elevated his game to new levels and attributes a great deal of his growth to principles Cirovski has instilled in him since joining the program.
"After I visited a couple of schools, especially after Sasho brought me in, which was actually my last visit, I was pretty sure that I would end up here," Wild said. The same night I texted my mom and said, 'Hey mom, this is what's good here and this is probably the best possible situation for me.' So far, I'm here three months already now and there hasn't been one day where I was regretting my decision. All in all, I'm extremely happy here and I'm grateful to be here."
"The standards he has for us. He demands from us every day to come out and give 100%, and he really means it," Wild added. "He has an incredible passion for soccer and for this program. He takes very much pride in it and it reflects on us and reflects on me. He challenges me every day to become better. He tells me to improve my movement and other things. Just getting challenged every day, and also with the kind of players that I'm playing with just makes me a better player."
Alongside his coach, Wild is quick to praise his early arrival to Maryland, as well as teammates for their assistance during his transitional period, stating that both were major contributing factors in his ability to effectively adjust and thrive.
Given the chance to get to school a bit early, Wild began getting acclimated to his new teammates, making the transition an easy one. Time on the field and in the gym helped him prepare for the level of soccer he was set to face, and he has since thrived in his first season in the Big 10.
Wild's amazing success in his sophomore year with potentially the nation's top team has raised eyebrows around the nation and has transformed him from relative unknown to full-fledged professional prospect. Sources tell SBI that Major League Soccer has taken notice of Wild, and scouts have pushed him into the conversation for a Generation adidas contract as a projected first-round pick if he turns pro after this season and signs with MLS.
Wild was quick to downplay thoughts of making the leap to the pro game after the current season, instead preferring to focus on continuing to grow and finding success in the present.
Though a leap to the professional game is secondary in his mind, Wild certainly doesn't lack for ambition. When asked about his and the team's goals for the rest of the season, Wild made clear that the ceiling for the Terrapins was nothing short of winning a third a national championship for coach Cirovski.
"That's a difficult question," Wild said. "Right now we're having a really special year and stuff like that pretty much distracts you from what our main course is. I also spoke with Sasho and over the last few years there have been a few scenes where some of the guys got a little bit of a big head and were distracted and I don't want that to happen. I'm fully 100% concentrating on what's happening now. I love this school, this is by far the best time of my life so far both off the field and on the field. Right now, I really mean that, I'm 100% focused on playing here and just giving everything I have.
"So far we're undefeated and of course some guys have games where they're struggling but that's normal playing a lot of games," he added. "But with this talent we've got on this team and with everything around, with our fans, it's very unique and, in my opinion, we've got a 100% chance to go the distance."