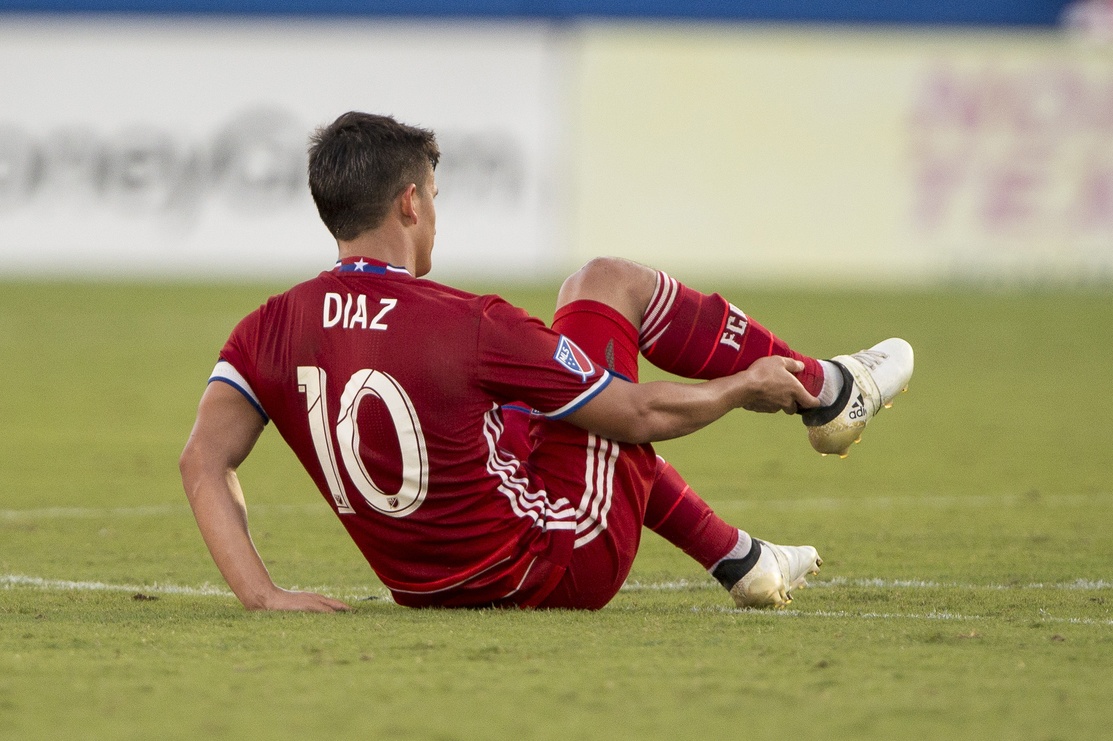 FC Dallas' treble hopes took a major hit on Sunday, and now, with the playoff looming, it's up to Oscar Pareja to now pick up the pieces by reconstructing his team for the stretch run.
Mauro Diaz looks set to miss the rest of the season with an Achilles injury, depriving FC Dallas of its focal point. Throughout the 2016 season, Diaz has jockeyed neck-and-neck with Sacha Kljestan for the title of MLS' best playmaker, and his injury certainly changes how FC Dallas approaches the postseason. In the team's U.S. Open Cup final win, Diaz was a virtuoso, running the game while leading FC Dallas to its first trophy in years. Pareja's side cannot and will not be the same without Diaz as the team pushes towards what could be a historic treble, but FC Dallas does have the pieces to compete going forward.
In the nine matches Diaz didn't start this season, FC Dallas has almost exclusively relied on a 4-4-2 formation. It's a tactical setup that offers a significantly different look than their commonly-used 4-2-3-1, but without Diaz as the linking piece in the middle of the three, Pareja's side just does not have the playmaker required to make things tick. Carlos Lizarazo is an option of FCD wants to go like-for-like, but the 25-year-old midfielder has played just eight times this season.
Up top, FC Dallas has obvious options in Maxi Urruti and Tesho Akindele, a duo that has started as a tandem in a bulk of the games that have been played without Diaz. Veteran Carlos Ruiz's late-season addition now suddenly looks more valuable, especially after his goal on Sunday night. The Guatemalan veteran offers Pareja an option off the bench, as FC Dallas boasts three forwards with vastly different games. Urruti brings the technique, Akindele brings the speed and Ruiz brings the veteran guile that always seems to pop up at the right time.
The middle of the field is also fairly straightforward. Depending on how serious his injury is, Kellyn Acosta should partner with Carlos Gruezo in deeper roles. Without Diaz in front of them, the two will have much more attacking responsibility. Of everyone on the field, Acosta and Gruezo now face the most pressure, as they are charged with linking the defense to the attack without a superstar just a short pass a way.
In addition, questions remain on the wings. A bulk of Diaz's missed matches came early in the season. It was a time when FC Dallas could simply rely on Fabian Castillo, whose game-changing abilities can now be found in the Turkish league. With Akindele pushed into the attack, Mauro Rosales slides into the lineup opposite Michael Barrios. With nine goals on the season, Barrios has been a solid option throughout. The questions, though, lie with Rosales, as the 35-year-old has been used almost exclusively as a substitute throughout the season, though his four starts this year have all come in the past two months.
Should Rosales remain a bench option, Pareja could opt to leave Akindele in a wider role while starting Ruiz, although it remains to be seen how effective the Guatemalan could be for 90 minutes. Pareja could also push Ryan Hollingshead back into the midfield. Hollingshead has been somewhat of a renaissance man for FC Dallas this season, but has truly claimed the left back position in recent months. Maynor Figueroa would slot in seamlessly in defense should Hollingshead move forward.
Pareja has options, but none of them look as sweet as having Diaz running the game from the center of the field. FC Dallas remains a contender, as should be expected from a potential Supporters' Shield winner. However, the club will now have to play a vastly different game than the free-flowing style that has defined them this season. Without Diaz, FC Dallas will likely have to grind out results while relying on some wily veterans if they hope to continue to push towards what could be a historic season.