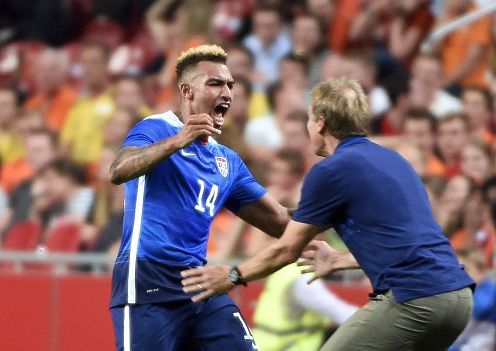 September qualifiers served as Sacha Kljestan's international rebirth. After several years away from the U.S. Men's National Team, the midfielder made an unlikely return to the fold as an injury replacement. Although he appeared to be little more than an additional name on the roster, Kljestan shined while all but solidying his spot with the national team going forward.
It's a natural progression, as players rise and fall throughout the cycle, with some drifting further and further away from the national team picture. Now, with one of the biggest games of the qualifying cycle looming, two more familiar faces are looking to reclaim a spot with the first team after several months away.
The past year or so hasn't been an easy one for Danny Williams or Timmy Chandler, at least on the international level. Following a disastrous performance against Costa Rica following the backbreaking CONCACAF Cup loss to Mexico, Williams was seemingly left behind, save for an appearance with a USMNT B-team against Puerto Rico back in May. Chandler, meanwhile, fell down the fullback pecking order a bit following an unsuccessful Gold Cup run. The Eintracht Frankfurt star hasn't suited up for the U.S. since last July's lackluster display against Panama in the Gold Cup third-place match.
Now, with a pair of friendlies looming, the duo have been given a second chance to send a message to Jurgen Klinsmann ahead of the Hexagonal round of World Cup qualifying.
"For Danny Williams, we recognize his good performances over the last two months with Reading. Now the task is to come in here and show us you're a difference maker when you get on the field," Klinsmann said. "Timmy Chandler is playing a good role at Frankfurt right now, and he has a similar possibility. Now coming into the national team, they know what that have to do. The national team always has an open-door policy. Young, old, it doesn't matter. But if you come in and get the opportunity, then you have to grab it. You have to put a stamp on it. That's what Sacha did, that's what Pulisic is doing. He's making a difference when he comes on the field, it doesn't matter if it's from the bench or from the beginning.
"Now when the players come in they know it's a competition, and at every position we have very good competition. So if they want a spot, I expect them to get their message across. I'm sure everyone wants to be in the starting XI in Columbus on November 11."
While the most recent memories of Williams on the international stage have been poor ones, the midfielder has shined on the club level. After featuring 39 times for Reading last season, the 27-year-old has started 10 of the Championship club's first 11 matches to start the season. In that time, Williams has provided a goal after reportedly drawing interest from Premier League clubs over the summer.
The key for Williams will now be to show that the Reading version of himself. It's a much different version than the one displayed in a 1-0 loss to Costa Rica last year, as Williams served as a perfect example of a post-CONCACAF Cup hangover. In a match that served as an obvious let-down, Williams was among the most lackluster, giving the ball away several times as Los Ticos pressured throughout the match. It was a far cry from the Williams seen just one month prior, when the midfielder uncorked one of the best USMNT goals in recent memory in a friendly against Brazil.
As he returns to the picture, Williams now faces a battle in the central midfield. Michael Bradley has assumed the role of USMNT No. 6, a position that takes advantage of his ability to make plays from a withdrawn role. Recently-named Hearts captain, Perry Kitchen remains one of the heir apparents to the deep-lying role, while youngster Lynden Gooch will almost certainly see time throughout the pair of friendlies. Meanwhile, younger options like Caleb Stanko and even Kellyn Acosta remain as possible options even if they haven't been brought to the most recent camp.
Chandler's positional situation is similar. Fabian Johnson and DeAndre Yedlin have all but locked down spots as starting fullbacks, while Acosta's display at left back during September qualifiers keep him in the mix for a spot going forward. On the current roster, both Steve Birnbaum and Geoff Cameron served as full back fill-ins in recent months alongside Matt Besler, who was not called in to the most recent roster.
That makes Chandler's task a difficult one, as the Eintracht Frankfurt fullback looks to lock down a role. A spot as a backup appears to be his ceiling for the time being, but even that could be a difficult task. What Chandler has on his side is his positional versatility, as he can feature at either left or right back should Klinsmann call on him.
Chandler's international absence has been lengthy, but it was one that should have come to a conclusion this summer. After earning a call-up to the USMNT's Copa America squad, Chandler missed out due to injury after helping lead Eintracht Frankfurt out of relegation trouble. This season, Chandler and Eintracht are off to a better start, as they currently sit eighth in the Bundesliga table through six games.
With a combined 47 caps between them, Williams and Chandler are not new faces. However, with a clash with Mexico looming, it's up to two of them to show that they are new players that are now capable of reclaiming a spot on a constantly evolving USMNT squad.
"These types of games are there to have players compete for their spots on the national team," Klinsmann said. "I think Sacha Kljestan is a very good example. He took that chance. He really jumped on it, and that's what we expect from players when they come in. We expect those that aren't in the starting XI to push to be difference makers. Players who get a chance to come can't just accept going with the flow. We need to see whether or not they are able to make a difference. That's how you make your case.
"So you have some players that you would just love to have a closer eye on for those 10 days, and this is the opportunity now to do that. We're very curious to see how they perform."