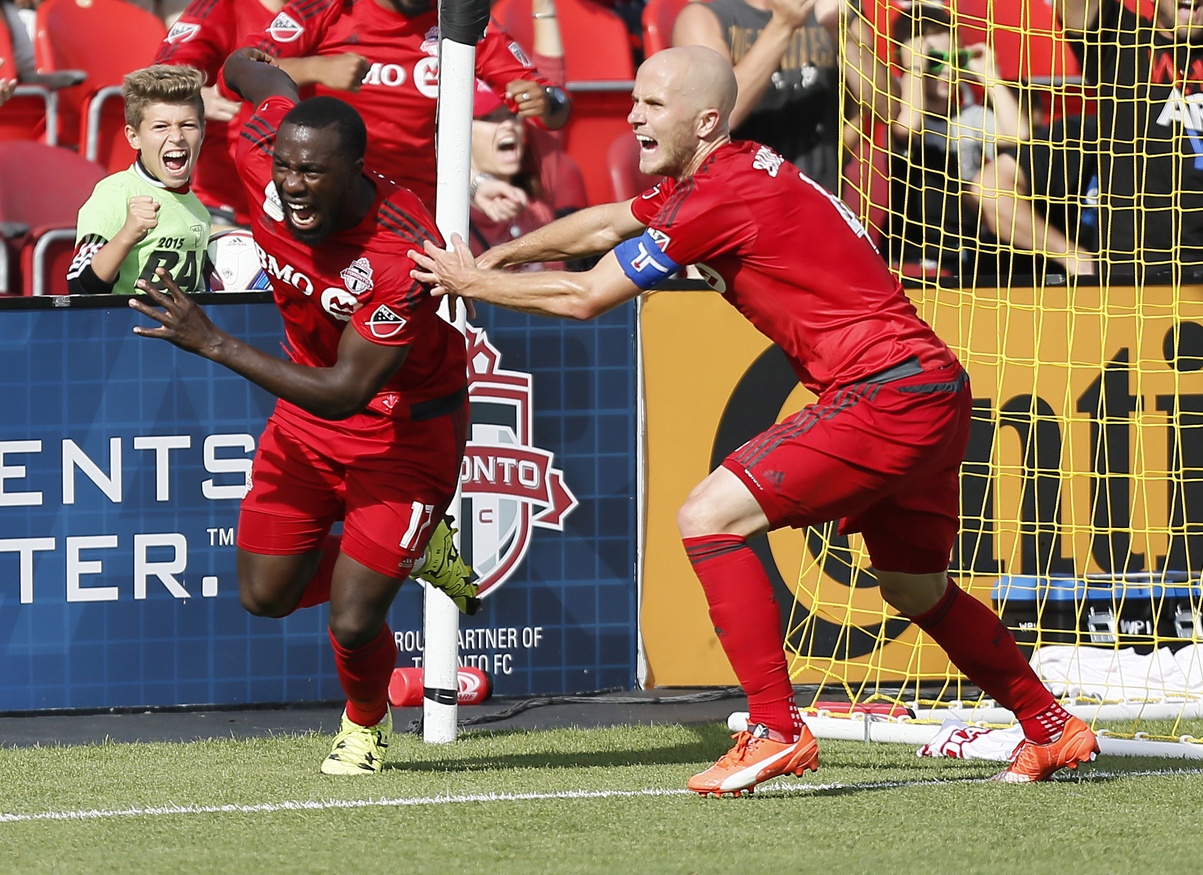 Michael Bradley generally remains calm, stoic, composed. His game on the field very much reflects his attitude off of it, as the Toronto FC midfielder looks to remain level-headed through the soaring highs and resounding lows. However, on Sunday, even the unflappable Bradley was forced to admit that something just feels right for both himself and teammate Jozy Altidore.
On Sunday, Bradley and Altidore provided their latest masterclass to push Toronto FC past New York City FC and into the first all-Canadian conference final series. Playing in his deeper role, Bradley marshaled the midfield ease against a listless NYCFC team, while Altidore fired his third goal in as many postseason games as TFC smashed NYCFC, 5-0, on the day to complete a 7-0 aggregate beatdown. It was another spectacular performance from the duo, who are seemingly firing at the most opportune time.
Mexico and Costa Rica loom for the U.S. Men's National team, who face two of the most difficult World Cup qualifying clashes to start the Hexagonal round. That makes Bradley and Altidore's recent surge all the more welcome as the two face major challenges ahead for both club and country.
"We're very excited. You probably get sick and tired of me saying it, but this is what it's all about: to play in big games," Bradley said. "To play in games where everything is on the line and where everybody is watching. Tonight was certainly one of those nights, Friday is another one. We'll then get another one in Costa Rica on Tuesday and we'll finish there and be back here for two incredible games with Montreal. You play all year to get to this point, and you get a group of guys that have embraced the challenge. I couldn't be more proud."
Altidore and Bradley's efforts on Sunday helped seal what proved to be another special moment for the Canadian club. TFC entered the day with a 2-0 aggregate lead following a pair of late goals in Toronto, one of which came off the foot of the in-form Altidore. An early pair of Sebastian Giovinco goals all but sealed the deal before Altidore fired yet again, scoring his 13th goal in 17 appearances from making his return from injury at the end of July.
The 27-year-old forward will always have his doubters. Injury issues will always remain a concern as Altidore continues to battle to keep a consistent bill of health following a series of hamstring woes that deprived him of several summers. However, the numbers, at least at the moment, couldn't be more convincing.
Toronto FC boss Greg Vanney says Altidore's recent push isn't anything new, though. Even if the goals weren't flowing as much as he would have liked, Vanney says that Altidore was always a vital piece, even if it was one used to open up the door for others to shine. Even at Altdiore's lowest moments, Vanney says he was pleased to see just how hard Altidore worked to get back to what he was capable of doing.
That work is paying off, and TFC is benefiting in a major way.
"He's scored a lot of goals in a lot of big games going back a long time," Bradley said of his TFC and USMNT teammate. "Jozy is such an important guy for this team, for the national team. What he gives the team is so unique in terms of his ability to score, to be a good football player. You can play with him because he has good feed. His physical package is incredible. The way that he works, and so, again, people try to act like Jozy became a good player in the last two months, but the narrative, in my opinion, is not quite accurate.
"He doesn't really deserve scrutiny," added Vanney. "He's a player that's had some issues in terms of injury, and sometimes those aren't the player's fault…Since he's come back, he's been impossible for anyone to deal with, especially in one-on-one situations or as a target forward. He's putting the ball in the back of the net. Having him out there has been huge and hopefully he can keep building on the momentum."
Bradley's contributions, meanwhile, are a bit more hidden, but just as important.
For years, Bradley's position remained a debate. Was he a No. 10, capable of unlocking a defense with a final ball in the opposing half of the field, or was he a No. 6, a player charged with aiding the defense while spraying the ball to more dangerous options?
On Sunday, Bradley furthered his case for the latter. Played in a deeper role, the USMNT midfielder made several vital tackles while adding several interceptions in the middle of the field. Bradley took weapons like David Villa, Frank Lampard and Andrea Pirlo out of the game, running the midfield with a combination of defensive fervor and attacking intelligence that saw him pick apart the center of the field with the precision of a surgeon.
For Bradley, the job is to protect the centerbacks by preventing those in front of him from creating like he aims to do. That is done through organization, energy and, in Bradley's case, pure soccer intelligence. It's a role that will be vital against Mexico, and Bradley feels more than ready to play it.
"I'm able to give the team balance," Bradley said. "I'm able to come away with tackles and interceptions, organize players around me and be able to step up and close things down and make sure we can keep things in their end when we have the ball, to move around in that space in front of the centerbacks, to make sure the attacking players get the ball in moments that are good for them. There's a lot that goes into it. I enjoy the challenge, game in and game out, of playing there, and trying to make a big difference.
"I think he's had a great season," Vanney added, but the last couple games in particular, he's been off-the-charts good."
Jurgen Klinsmann will be happy to see it. Both Altidore and Bradley figure to be in the starting XI when the U.S. takes the field on Friday against Mexico. The two veteran options have played in countless big games before and appear more than ready to take the challenge against El Tri.
For Bradley, Friday provides just the latest round of excitement. The midfielder is looking forward to playing big match after big match as World Cup qualifying and the MLS playoffs intertwine, beginning with what should be a special match with the USMNT's biggest rivals.
"It's a very big game. U.S.-Mexico is like no other," Bradley said. "The build-up, the atmosphere, the passion, the emotion, everything about it makes it a special night."