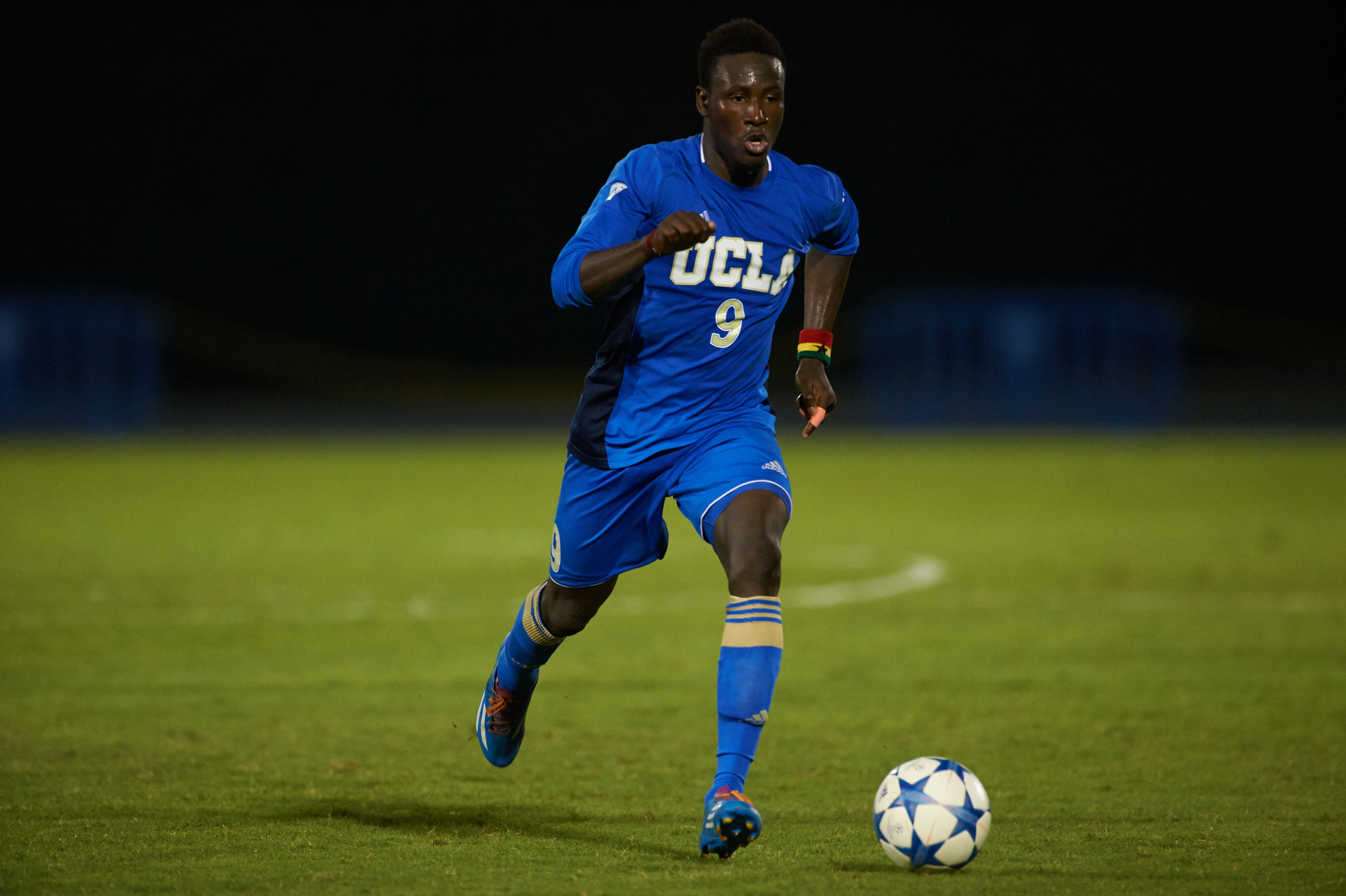 With the first round in the books after Thursday's kickoff, the 2016 NCAA Men's College Cup is officially underway.
In an exciting slate of play-in games, goals were plentiful, as five of the round's 16 matches saw three or more shots hit the back of the net. Two matches went to penalties, including a stunning 17-penalty thriller between Southern Illinois University Edwardsville and Michigan State, an exciting match between Portland and New Mexico, and a narrow escape for Florida Gulf Coast over South Florida.
UCLA emerged victorious from their clash with Colgate behind a big day from star forward Abu Danladi, who tallied a goal and assist in the Bruins postseason opener. It was Jose Hernandez that opened the scoring for the Bruins, assisted by Jackson Yueill, but Colgate quickly struck back as Zach Pagani leveled the score. Willie Raygoza then received an assist from Danladi to make the score 2-1 in favor of UCLA before Danladi scored one himself to make it 3-1 and ultimately put the match out of reach. Bruno Scodari would add one more for Colgate,leaving the halftime scoreline at 3-2, and Kike Poleo would tally one more late for the Bruins to send them through to the next round with a 4-2 victory.
But the most exciting result of the first round belonged to SIUE, who outlasted Michigan State in an astonishing penalty shootout after remaining tied 1-1 through regulation. Austin Ledbetter converted not once, but twice, in the 11-round penalty shootout, winning the match for the Cougars. The penalty shootout secured an impressive comeback for SIUE, who fell behind early when Mike Marcantognini put the Spartans up in the 40th minute. Keegan McHugh played regulation hero for the Cougars, as his 67th minute strike leveled the scoreline and carried the match into penalties. SIUE advances to the second round and advances their unbeaten run to 13 matches.
Here's a closer look at the scores from the first round of the College Cup:
NCAA TOURNAMENT
First Round (Thursday, November 17)
Providence 2, Delaware 1, (READ)
Creighton 3, Tulsa 0, (READ)
South Florida 2 (0), FGCU 2 (3) (OT), (READ)
Darmouth 1, St. Francis 0 (OT), (READ)
South Carolina 1, Mercer 0, (READ)
Boston College 1, Fordham 0, (READ)
New Mexico 0 (6), Portland 0 (5) (OT), (READ)
San Diego State 1 (5), UNLV 1 (6), (READ)
CSUN 0, Pacific 1, (READ)
Vermont 4, Rider 1, (READ)
Loyola Chicago 2, Illinois-Chicago 0, (READ)
UCLA 4, Colgate 2, (READ)
Akron 2, Villanova 0, (READ)
Virginia Tech 1, Eastern Tennessee State 0, (READ)
Michigan State 1 (8), SIUE 1 (9) (OT), (READ)
Coastal Carolina 2, Radford 1, (READ)