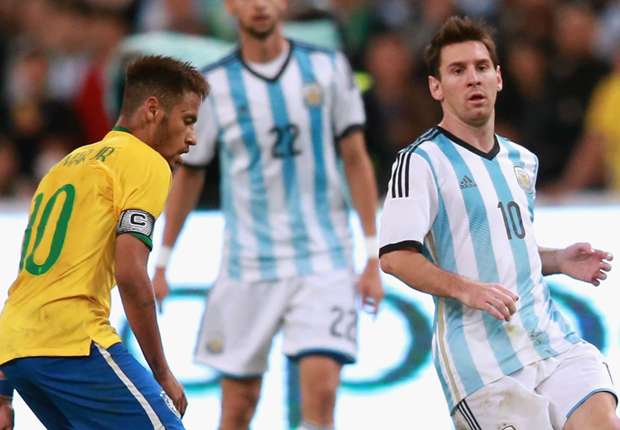 One of the the world's biggest rivalries is set to write its latest chapter, and this one comes with an interesting twist that comes as a result of a controversial decision from FIFA.
South American giants Argentina and Brazil are ready to lock horns once again in a CONMEBOL World Cup Qualifier on Thursday, and leading the way respectively will be Barcelona superstars Lionel Messi and Neymar. While their world-class abilities and team's storied beef would warrant watching this historic battle on their own, there is an added wrinkle that will make the game even more intense. Argentina is currently out of the World Cup Qualifying picture after Chile leapfrogged it in the standings following FIFA's decision to dock Bolivia's points for fielding an ineligible player. As a result, Messi and La Albiceleste have the pressure of an entire nation as they head into Brazil.
The impact of that forfeiture ruling from FIFA will hover over more than just that one game. Chile is aiming to capitalize on the lifeline provided by trying to beat Colombia, which sits in front of the reigning CONMEBOL champions in the standings, in another surely-intense fixture. The 11th round of qualifying will also see Bolivia try to move past its international embarrassment by beating fellow cellar dweller Venezuela.
Thursday's other two games include also hold some intrigue. Peru, which benefited from FIFA's decision, will attempt to keep its slim hopes of qualifying alive with a game against adversely-affected Paraguay. Meanwhile, Uruguay and Ecuador tussle in a showdown of the second- and third-placed teams.
Here is a closer look at the 11th round of CONMEBOL World Cup Qualifying:
COLOMBIA vs. CHILE (3 p.m. – beIN Sports, beIN Sports Espanol)

There is no room for comfort for either of Colombia and Chile. Not if they want to avoid potentially falling out of the World Cup picture.
So much is on the line for both Colombia and Chile when they face off at Estadio Metropolitano Robert Melendez in Barranquilla in the day's very intriguing first game. Only one point separates the fourth- and fifth-placed sides in the table, but failing to come out with a victory here would put them in danger of getting leapfrogged by Argentina and Paraguay.
If Los Cafeteros are to win in front of their home crowd, they will likely have to do so without two of their top players. Defensive midfielder Carlos Sanchez is a question mark after picking up an injury earlier this week, and winger Juan Cuadrado will not be available due to yellow-card accumulation. Head coach Jose Pekerman could, however, count on Radamel Falcao after calling the in-form striker back into the squad.
Chile, meanwhile, will be missing star forward Alexis Sanchez after he picked up an injury in practice. Nonetheless, La Roja knows it cannot afford another sub-par outing or poor result, especially after FIFA gave the Chileans a forfeited win against Bolivia to push them into the top half of the standings.
URUGUAY vs. ECUADOR (6 p.m. – beIN Sports en Espanol)
Scoring, let alone beating, Uruguay at Estadio Centenario has proven quite the task for visiting teams, but that is exactly what Ecuador is looking to accomplish.
Ecuador is hoping to become the first side to score on Uruguay in Montevideo in this qualifying campaign when they clash in a battle of two of the top three teams in the table. La Tricolor, which currently trails second-placed Uruguay by three points, defeated Los Charruas, 2-1, when they met in Ecuador a year ago, but repeating that feat on the road will require a strong performance on both sides of the ball.
Uruguay has been extremely tough in its home games to this point, compiling an impressive 5-0 record while scoring 14 goals and conceding a whopping total of zero. Oscar Tabarez's men have won all but one of those matches by multiple goals, including fixtures against Colombia and Chile, but might not be at full strength in this one. Leading South American goal-scorer Edinson Cavani is fighting to get fit from a thigh injury sustained over the weekend, and the knock could force him to miss this encounter.
PARAGUAY vs. PERU (6:30 p.m. – beIN Sports Connect)
One team was helped by FIFA's recent ruling, one was hurt by it. Now how they respond could determine their fates in this qualifying campaign.
Paraguay welcomes Peru in a match-up of two teams that want to close the gap on the top half of the table after being affected differently by FIFA's recent ruling. Los Guaranies dropped from sixth place to seventh after Bolivia's forfeiture, and are in need of maximum points in order to avoid getting left further behind. The good news for Paraguay is that it has never lost a qualifier to Peru at Estadio Defensores del Chaco in Asuncion, and that there should still be lingering confidence after last month's surprise road victory over Argentina.
For La Blanquirroja, the chances of reaching a World Cup have increased but are still slim. Peru currently sits in eighth place with 11 points after September's loss to Bolivia was turned into a win, and it needs to pull off an upset victory over Paraguay in order to stay within striking distance of the pack. Attacking midfielder Christian Cueva will likely have to play a big part if Peru is to pull it off, but he is coming into the match in excellent form after a riveting one-goal, three-assist outing for Sao Paulo over the weekend.
VENEZUELA vs. BOLIVIA (6:30 p.m. – beIN Sports Connect)
It has been a tough couple of weeks for Bolivia given its embarrassing hiccup, and Venezuela might only make things worse.
Bolivia has been reeling since FIFA decided to turn a home win against Peru and road tie with Chile into a pair of 3-0 losses due to La Verde fielding an ineligible player in Nelson Cabrera in those games. The only way to start moving past the international embarrassment, which has resulted in some Bolivian officials resigning from their posts, is to pick up a road win against the last-placed Venezuelans at Estadio Monumental de Maturin.
Venezuela will be eager to prevent that from happening, as it is also desperately seeking to give its people something to cheer about. La Vinotinto has had a miserable qualifying campaign to this point with zero victories and just two draws, and ending that winless run would move it out of the South American basement and serve as a good way to head into the final game of the year.
BRAZIL vs. ARGENTINA (6:45 p.m. – beIN Sports)

The soccer heavens have robbed the world of more regular showdowns between brilliant superstars Lionel Messi and Neymar. Thankfully, they have provided a dramatic and mouthwatering meeting to help compensate.
The two South American powerhouses and arch-rivals close out this round of matches when they lock horns at Estadio Mineirao in Belo Horizonte. There is pressure on both sides to prevail in this one, but La Albiceleste is especially in need of a victory after slipping into sixth place thanks to FIFA's ruling against Bolivia. The struggling Argentines will have a boost, however, as Messi returns to the fray after missing last month's qualifiers with injury.
Neymar will attempt to outdo his Barcelona teammate in order to lift table-leading Brazil to victory at home, but has the challenge of trying to do so at the site of O Canarinho's most traumatic and lopsided loss in World Cup history. It has been 28 months since Brazil endured that 7-1 embarrassment against Germany, but the wound will be reopened and nightmares revisited if there is anything less than a triumph vs. Argentina.