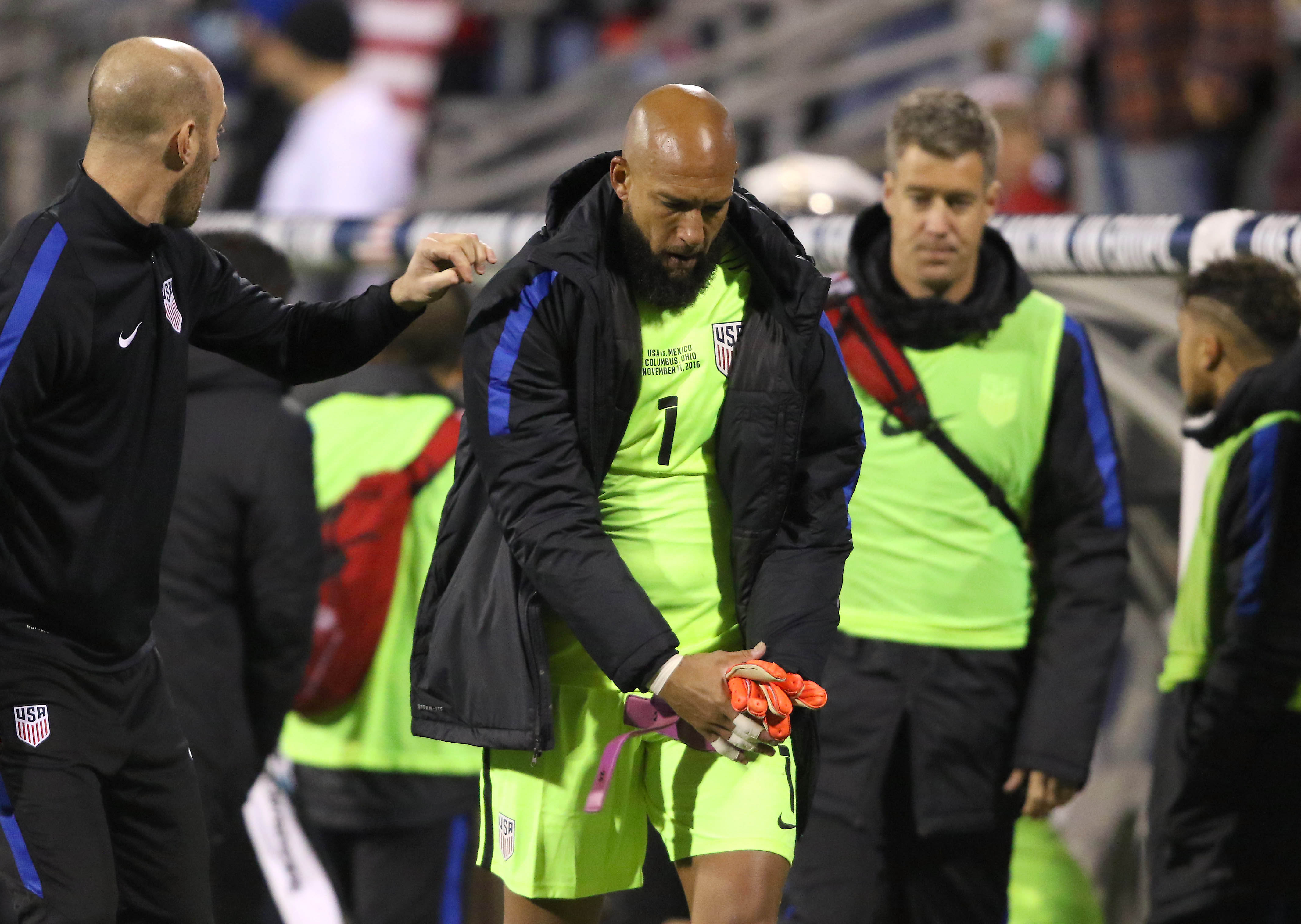 When the U.S. Men's National Team takes on Costa Rica on Tuesday, it is likely that Jurgen Klinsmann will have to count on someone other than Tim Howard in goal.
Howard was substituted late in the first half of the U.S.'s historic 2-1 loss to Mexico on Friday after suffering a groin injury while taking a goal kick. The 37-year-old received treatment and tried to play through the pain for a few minutes, but eventually had to be removed from the CONCACAF World Cup Qualifier. He was replaced by Brad Guzan in the 40th minute.
Now questions about Howard's health for the upcoming road game in Costa Rica have been raised, though it seems improbable that the veteran can recover in a matter of four days.
"At the moment I don't feel like I can (play in Costa Rica), but we'll see what happens," said Howard after the match at Maprfre Stadium in Columbus, Ohio. "I don't know, I'm not a doctor. It's sore. I'll let the adrenaline wear off, and see what the scan says in the morning and go from there."
U.S. head coach Klinsmann also envisions it being tough for Howard to get back to 100 percent.
"He pulled his muscle. I think he's not able to come with us to Costa Rica," said Klinsmann. "We'll get an MRI tomorrow morning. He's so experienced that he knows that it's not looking that good."
The sight of Howard going down and word of him needing an MRI is bad news for the Colorado Rapids, who will play in the MLS Western Conference Finals later this month. If Howard ends up missing an extended period of time, he could be sidelined for one or both of the Rapids' legs against the Seattle Sounders.
The first game between the Rapids and Sounders is in Seattle, Washington, on Nov. 22.