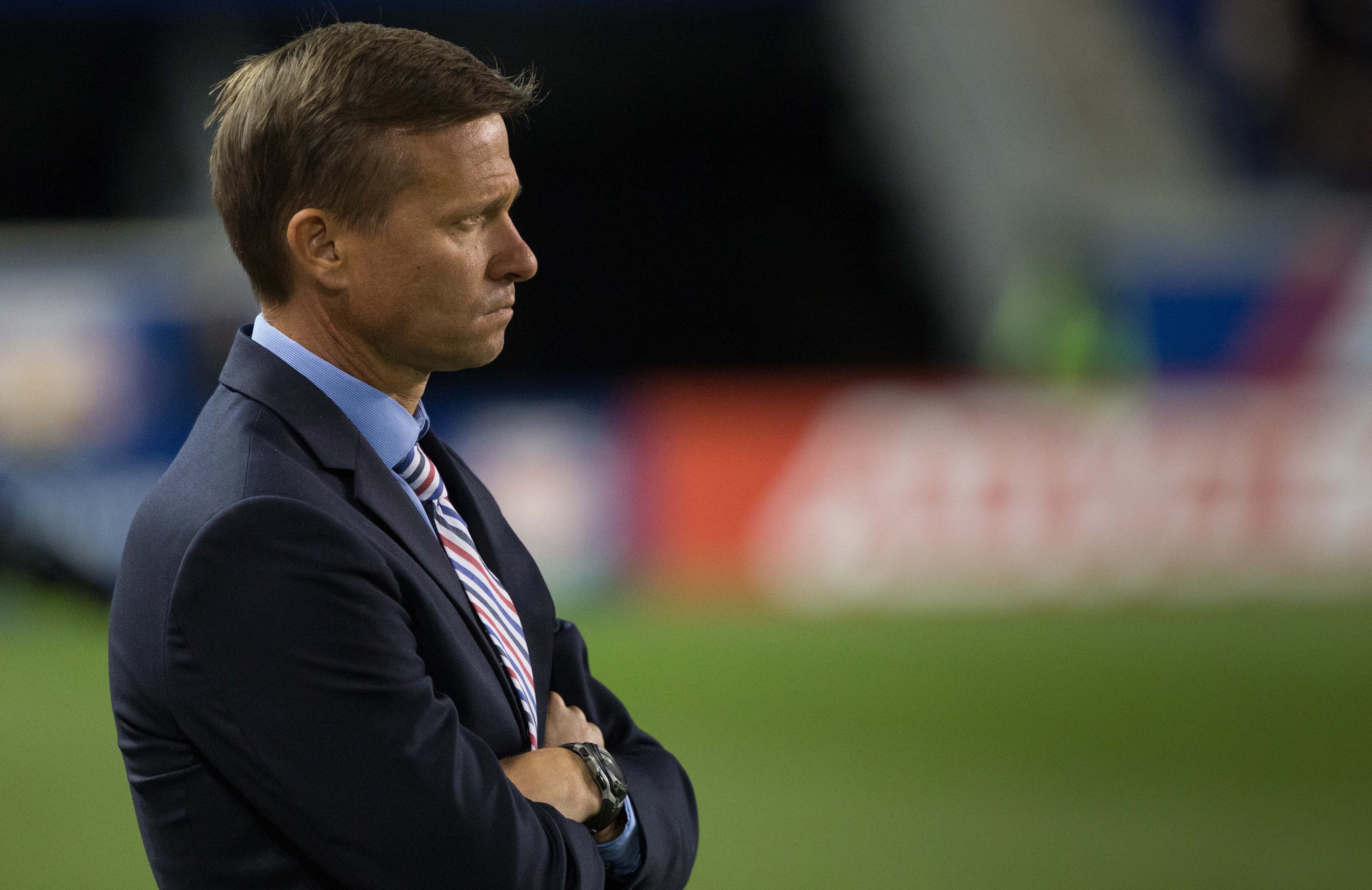 HARRISON, N.J. — A frustrated and disappointed Jesse Marsch sat in front of the press inside the bowels of Red Bull Arena on Sunday night confused. He had just witnessed his New York Red Bulls crash out of the playoffs early, and could not put a finger on why exactly his team was unable to come up with the necessary plays that would have ensured advancement.
The answer was simple, however. He was outcoached.
The Red Bulls went into Sunday knowing they needed to score at least one goal in order to keep their MLS Cup dreams alive, but they wound up getting knocked out of the postseason following a 2-1 home loss to the Montreal Impact. The match may have been close, but the two-legged Eastern Conference Semifinals series proved not to be after Ignacio Piatti smashed a left-footed shot past goalkeeper Luis Robles in the 51st minute to give the Impact an all too crucial away goal.
With Piatti's strike, the Red Bulls needed to score three in the span of 39 minutes to save their season. They could not. Not against an Impact side that became even tighter and more compact at the back. Not even with MLS MVP finalists Bradley Wright-Phillips and Sacha Kljestan leading the charge.
"I don't know. I don't know," said Marsch when asked what the Red Bulls did differently in the series than they had during the 20-game unbeaten run that they entered the playoffs with. "We dried up. I don't know why. I don't know how. We had the game under control. Again, every statistical category was in our favor.
"Listen, they fouled us like crazy in this series, which makes it hard to find a rhythm, I guess, but I don't know why. I don't know why."
The why can be explained simply: the Red Bulls were too predictable and easy to defend against. Part of it is on the players for not coming through over the course of 180 minutes, but Marsch shoulders equal parts, if not more, of the blame.
Knowing his side needed a goal just to force extra time after losing, 1-0, in the first leg in Montreal and understanding that the Impact would sit back, Marsch still bafflingly opted to go with a conservative lineup. Yes, he deployed Gonzalo Veron on the left flank in place of the struggling Mike Grella, but both of the attacking players could have and should have been on the field from the onset.
Instead, Grella was left on the bench as Marsch went with rookie Alex Muyl, the author of a whopping two goals this season, at right midfield. With that move, Marsch was prioritizing industry over creativity. He was being reactive not proactive. He was more worried about conceding a goal than scoring one.
"When we're down basically the whole series and trying to fight back and now they're just hanging on and waiting to counter, it makes it a very dangerous game," said Marsch. "That's why our tactical approach was so cautious, because we didn't want to put ourselves in this situation. To be fair, I think the game plan and everything that was laid out was there for us. We just weren't able to make plays."
One might see the rationale behind not wanting to surrender a road goal that would force you to score three, but that way of thinking versus this type of opponent is flawed because it handcuffed and limited the Red Bulls' attack. The club needed a goal no matter how you looked at it, and sitting more dangerous kinds of players like Grella and Daniel Royer in favor of Muyl was ill-advised. It was made to look even worse by Marsch's perplexing decision to leave things as is at halftime, opting to make substitutions only after Piatti scored.
Sure, you could point to the Red Bulls winning the lion's share of possession on Sunday, but how many clear-cut opportunities did they generate? Not many. In fact, Bush was not really tested from the run of play and finished with three saves on the night.
Making Marsch's approach to the game even more head-scratching was the fact that left back Kemar Lawrence was ruled out with an injury picked up during the week. Lawrence's absence robbed the Red Bulls of their best attacking fullback, and forced them to have to use Sal Zizzo as a makeshift replacement. Like the offensively-challenged Chris Duvall at right back, Zizzo got forward to serve as a passing outlet but added little else to the attack.
That played right into the hands of the Impact, who made it a point to mark Kljestan and Wright-Phillips tightly while also closing down the middle of the field. Biello and his staff gambled on the Red Bulls' wide players failing to create much danger in the final third, and the Impact were dead on with that bet.
Next to nothing came from the outside, and there was space left in behind to exploit.
"They like to push the fullbacks up and leave their centerbacks in the back with Dax (McCarty)," said Impact head coach Mauro Biello. "We wanted to take advantage of that on the break, and we did in today's game."
As is the case with his players, Marsch will learn from this unsavory experience. It is easy to lose sight of the fact that this was just his third season as head coach of a club, especially since he has had so much success since joining the Red Bulls and implementing their trademark high-press style.
Nonetheless, mistakes were made on his part both with the lineup and during the game, and they proved to be very costly.