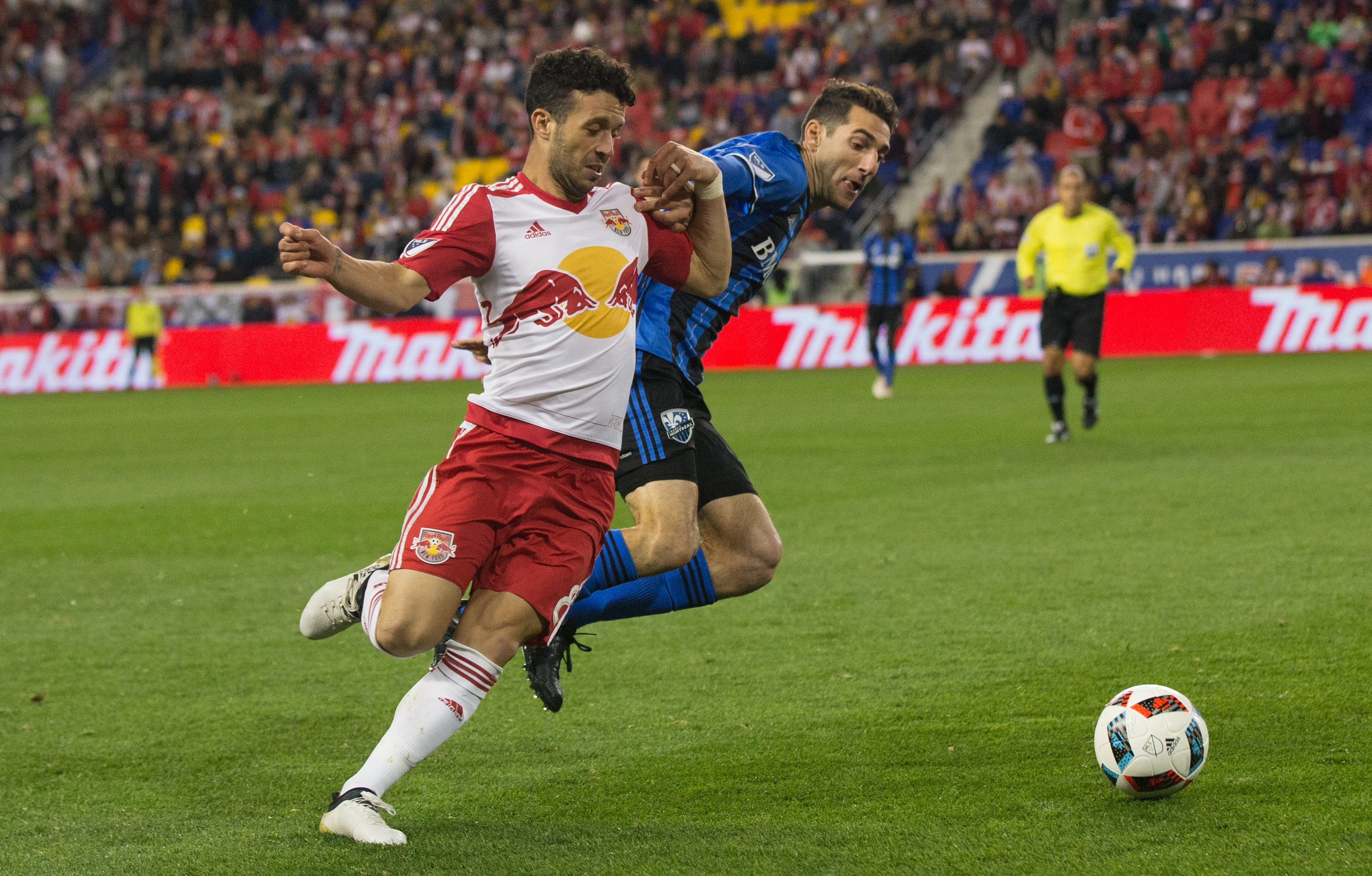 Ignacio Piatti walked the walk before talking the talk in the last round of the playoffs, but do not expect him to get much love from some of the members of the club he eliminated about a week-and-a-half ago.
The New York Red Bulls were surprisingly knocked out of the postseason by Piatti and the Montreal Impact in the Eastern Conference Semifinals by a 3-1 aggregate score, and what grabbed plenty of attention aside from the result were the Argentine's pointed postgame comments about Jesse Marsch's side. Piatti said in the locker room after the 2-1 road win in the second leg that the Red Bulls were a good regular-season team but a weak playoff team, and cited the past two MLS campaigns as proof of that.
The verbal jab admittedly stung most of the Red Bulls. For some because it was true and for others because they deemed it unnecessary.
"People say whatever they want to say. Maybe they are too happy and they say some stupid things," said former Impact and current Red Bulls midfielder Felipe at the latter club's end-of-season availability. "Last year they were on vacation and we were in the playoffs, in the (conference) final and this year it's them. We are in the quarterfinals (of the CONCACAF Champions League). They got to the final and they lost. They've got to remember things that are in their own house and worry about their own problems because, before they achieve anything, they've got to look at what we've achieved before.
"I don't think Montreal has really accomplished anything other than the Canadian Cup, and I won two of them, too, scored in the final. I think they've got to look at themselves and start to worry about themselves because this is the only thing they worry about: talk about other teams."
Red Bulls star striker Bradley Wright-Phillips was not aware of Piatti's words until asked about them, but like Felipe was bothered.
"He said that? That's petty," said Wright-Phillips. "There's a lot of things I could say about Montreal, but I wouldn't. He should be a better winner than that because he's a great player. That's petty, but his opinions are his."
Other veteran members of the Red Bulls were not as incensed over the snide comments made by the Impact's playmaker, who scored both goals in the decisive leg at Red Bull Arena on Nov. 6.
To them, what Piatti said had truth behind it. The Red Bulls had finished with the best regular-season record in the east during each of the past two years, and won the Supporters' Shield in 2015, but they still could not translate that success into an MLS Cup Final appearance, let alone a win, once the playoffs rolled around.
"Probably a little bit uncalled for but I don't think he's wrong," said Red Bulls captain Dax McCarty of Piatti. "I think he's completely fair in that assessment because we haven't won in the playoffs and we've been very good in the regular season. I respect the guy for calling it how he sees it."
Red Bulls goalkeeper Luis Robles, who has helped the club get to but not past the conference finals twice since 2014, agreed.
"The part that stings about it is I can't refute it right now," said Robles. "If I had an MLS Cup to point to then I could say, 'This guy is an idiot.' But unfortunately his comments sting because they're accurate. He made plays, his team made plays, and I hope them the best of success for the rest of the season.
"But if there's any sort of negative or hostile feeling towards it? No, because he's probably saying what everyone is thinking anyway."