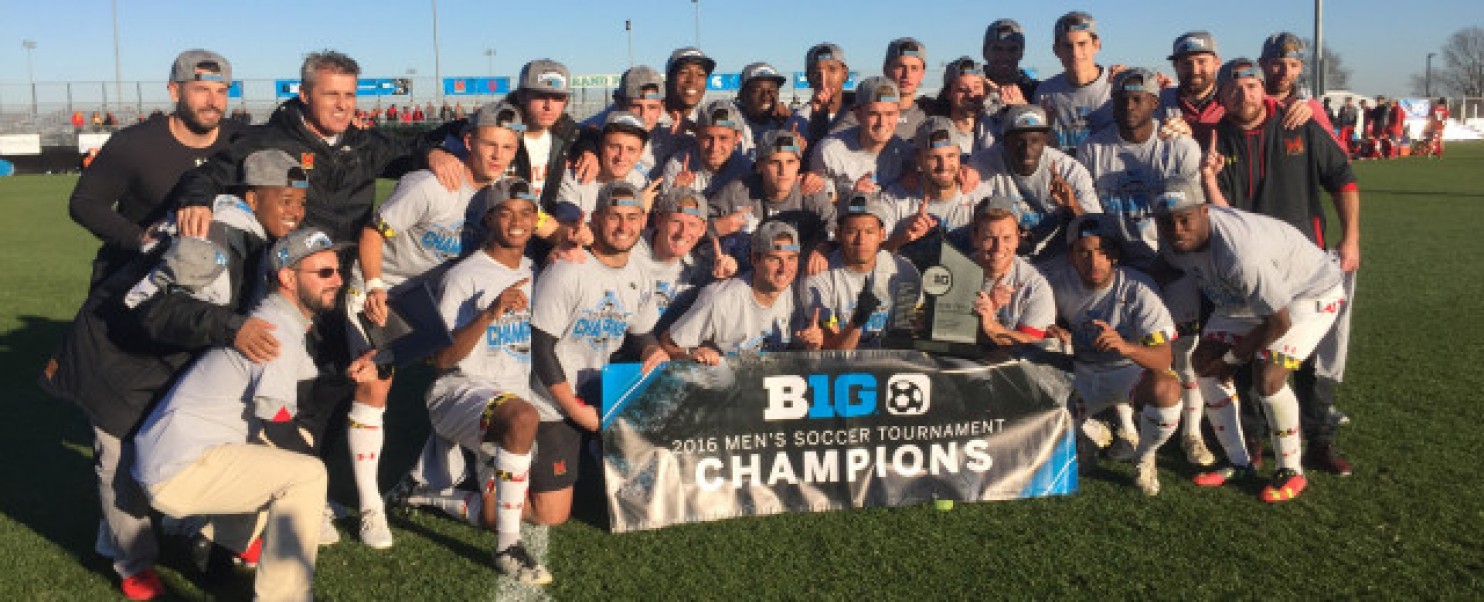 College Cup 2016 offers a number of dominant teams the chance to secure a title they so desperately crave, while also allowing weakened dynasties a chance to resurface as champions.
The most widely favored teams this season are Maryland, Wake Forest, Clemson, and Stanford, but yet a favorable bracket could see Florida Gulf Coast or Michigan State through to the final rounds in Houston.
The first round of College Cup action kicks off on tonight, with the winners moving on to meet the top 16 teams in the country on Sunday.
Here is a closer look at how the tournament stacks up, including the schedule, our sleeper picks, players to watch and tournament predictions:
2016 NCAA TOURNAMENT
All 1st-round matches set for Thursday
MARYLAND BRACKET
5 p.m. – Dartmouth vs. St. Francis; winner at (8) Syracuse on Sunday.
7 p.m. – South Florida vs. Florida Gulf Coastal; winner at (9) North Carolina on Sunday.
7 p.m. – Providence vs. Delaware; winner at (1) Maryland on Sunday.
8 p.m. – Creighton vs. Tulsa; winner at (16) Kentucky on Sunday.
PLAYERS TO WATCH – Julian Gressel (Providence), Gordon Wild (Maryland), Amar Sejdic (Maryland), Riggs Lennon (Creighton), Albert Ruiz (FGCU), Miles Robinson (Syracuse), Wyatt Omsberg (Dartmouth), Matt Danilack (Dartmouth)
SLEEPER – Creighton. Creighton is back to their top form from early this season after a mid-year slump, and is capable of pulling off a win over Kentucky to advance and face Maryland in the Round of 16.
FAVORITE – Maryland. The unbeaten record speaks for itself. Although anything can happen, Maryland is undoubtedly the most likely to take home the 2016 College Cup.
SBI PICKS – Maryland beats FGCU, Creighton and Syracuse fall out in the Round of 16.
——————————
CLEMSON BRACKET
1 p.m. – South Carolina vs. Mercer; winner at (3) Clemson on Sunday.
6 p.m. – Boston College vs. Fordham; winner at (14) Albany on Sunday.
8 p.m. – San Diego State vs. UNLV; winner at (6) Denver on Sunday.
9 p.m. – New Mexico vs. Portland; winner at (11) Washington on Sunday.
PLAYERS TO WATCH –Daniel Musovski (UNLV), Benji Michel (Portland), Reagan Dunk (Denver), Diego Campos (Clemson)
SLEEPER – Washington. The defensive quality that Washington brings to the postseason is vital in getting results and turning upsets.
FAVORITE – Clemson. Led by Diego Campos, this team and their longstanding pedigree as a top performer has the easiest path to the quarterfinals.
SBI PICKS – Clemson defeats Washington, Albany and Denver fall out in the Round of 16.
——————————
STANFORD BRACKET
7 p.m. – Vermont vs. Rider; winner at (12) Virginia on Sunday.
8 p.m. – Loyola vs. Illinois; winner at (13) Notre Dame on Sunday.
8 p.m. – UCLA vs. Colgate; winner at (4) Louisville on Sunday.
10 p.m. – Cal State vs. Pacific; winner at (5) Stanford on Sunday.
PLAYERS TO WATCH – Tomas Hilliard-Arce (Stanford), Adam Najem (Akron), Tim Kubel (Louisville), Ethan Kutler (Colgate), Brandon Aubrey (Notre Dame), Jon Gallagher (Notre Dame), Mohamed Thiaw (Louisville), Jackson Yueill (UCLA)
SLEEPER – Notre Dame. With a couple of standouts to help separate them, paired with a favorable Round of 32 matchup, Notre Dame could see themselves through to the quarterfinals.
FAVORITE – Stanford. Last year's champions are likely to go far again in 2016, standing out as by far the strongest in their bracket.
SBI PICKS – Stanford beats Notre Dame, Louisville and Virginia fall out in the Round of 16.
——————————
WAKE FOREST BRACKET
1 p.m. – Michigan State vs. SIUE; winner at (15) Butler on Sunday.
2 p.m. – Coastal Carolina vs. Radford; winner at (2) Wake Forest on Sunday.
5 p.m. – Akron vs. Villanova; winner at (7) Indiana on Sunday.
6 p.m. – Virginia Tech vs. Eastern Tennessee State; winner at (10) Charlotte on Sunday.
PLAYERS TO WATCH –Zach Zandi (Villanova), Miguel Polley (Villanova), Grant Lillard (Indiana),  Ian Harkes (Wake Forest), David Goldsmith (Butler)
SLEEPER – Michigan State. The Big Ten tournament run that MSU put together serves as precedent for another possible deep run.
FAVORITE –Wake Forest. One of the easiest roads to the quarterfinals will only be made easier by the talent and focus Wake Forest has exemplified in 2016.
SBI PICKS – Wake Forest beats Indiana, Butler and Charlotte fall out in the Round of 16.
——————————
COLLEGE CUP
SBI NCAA FINAL FOUR PICKS –Maryland, Clemson, Stanford, Wake Forest.
SBI NCAA FINAL PICK – Maryland beats Wake Forest.
————–