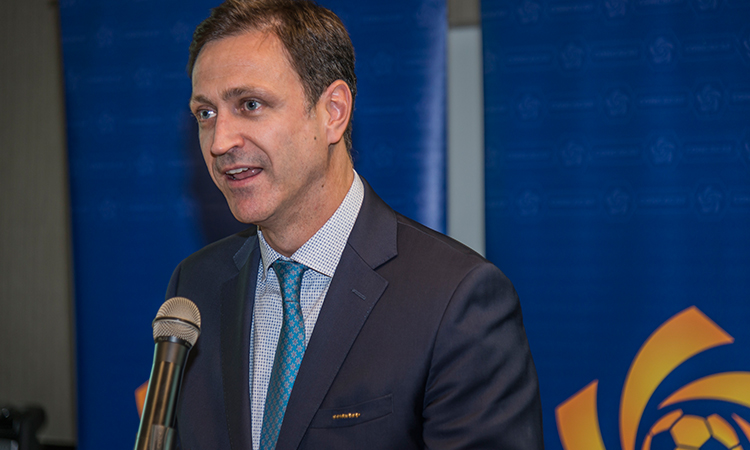 With the 2026 World Cup set to feature 48 teams for the first time, a joint World Cup bid may be exactly what's required to have enough available hosting sites, a prospect welcomed by CONCACAF leadership.
CONCACAF general secretary Philippe Moggio talked up a potential joint bid from the United States, Mexico, and Canada for the 2026 World Cup while speaking to ESPN Deportes, stating that a pooling of resources may be what's needed to make hosting the tournament a reality. With the tournament comprising 80 matches instead of 64, there is a greater strain on hosting sites and a greater number could be required to make up the difference, which CONCACAF officials believe is best achieved by the proposed joint bid.
"No matter where it's going to be played, the fact the World Cup is getting larger in terms of nations playing the tournament, will involve the fact there will be a need for more stadiums to be played in." said Moggio. "There aren't many countries in the world which can say they will have no problems in hosting this kind of competition. This makes co-hosting bids, such as the one in our region and with three countries involved, more feasible."
"It's still too early to decide on feasibility," he continued. "However, we have three countries in our region, with Mexico, the United States and Canada, which have a better chance of matching the requirements together, not only when it comes to logistics, but also competitive level."
The comments echo a similar sentiment from new CONCACAF president Victor Montagliani, who also supports the prospect of a joint bid to bring the World Cup back to North and Central America for the first time since the US-hosted 1994 edition of the tournament.
But CONCACAF's sense of cooperation only extends so far. While the confederation is open to more joint-hosted Copa Americas such as last summer's Centenario, Moggio does not see a future for joint World Cup qualifying as a whole.
"Cooperation with CONMEBOL is important, all things considered. We saw it with the success of Copa America [Centenario], which was a huge hit for both CONCACAF and CONMEBOL," he said. "The idea of cooperation in tournament organisation is always there and we are in our best disposition to explore different opportunities. However, when it comes to consider merging our Confederations and look for a joint World Cup qualifying pool, I don't think there's space for changes.
"We have not had any talks on that matter, neither between Confederations nor at the FIFA level."